Cheap Trick concluded their impressive late seventies output with their fourth studio album, Dream Police. This album follows the breakthrough success of the live album, Cheap Trick at Budokan, which was released earlier in 1979 and went triple platinum in the United States. Further, the live singles, "I Want You to Want Me" and "Ain't That a Shame", were both charting hits and helped open up the group to a mainstream audience. With this momentum, Dream Police went on to become the group's best selling album and the first to reach the Top Ten on the charts in the United States.
Cheap Trick was formed in 1973 in Rockford, Illinois, formed in 1973 by guitarist Rick Nielsen, who had been performing locally with various bands since the early sixties. One former band, Fuse, released an album in 1970 and featured bassist Tom Petersson and drummer Bun E. Carlos, who also became founding members of Cheap Trick. By 1975, the group enlisted Robin Zander on lead vocals and recorded their first demo tapes which led to them signing with Epic Records the following year. In early 1977, the band released their self-titled debut album, followed by In Color later that year and Heaven Tonight in mid 1978. While none of these three albums made the Top 40 in America, they were each critically acclaimed and especially well received in Japan, which propelled the band to tour in that country and record At Budokan, which was originally intended as a Japan-only release.
Tom Werman, the original A&R man who discovered Cheap Trick in 1976, produced In Color, Heaven Tonight, and Dream Police. On this latter album, Werman and the group expanded their sound into more complex songs with richer arrangements, including some synthesized orchestration. These sessions also included several outtakes, which would appear on re-issues of Dream Police. These included several tracks with alternate lead vocals among band members, the song "It Must Be Love" which was later covered by Rick Derringer, and the song "Next Position Please" which became the title track of Cheap Trick's 1983 album of the same name.

Dream Police

by

Cheap Trick
Released: September 21, 1979 (Epic)
Produced by: Tom Werman
Recorded: Record Plant, Los Angeles, 1978–1979
Side One
Side Two
Dream Police
Way of the World
The House Is Rockin' (With Domestic Problems)
Gonna Raise Hell
I'll Be with You Tonight
Voices
Writing on the Wall
I Know What I Want
Need Your Love
Group Musicians
Robin Zander – Lead Vocals, Guitar
Rick Nielson – Guitars, Vocals
Tom Petersson – Bass. Vocals
Bun E. Carlos – Drums, Percussion
The album is a bit top-heavy, with the best songs on Dream Police being right up front. It begins with Nielsen's impressive title track, a hyper and exciting rock song, topped off with a persistent synth string section. With a lyrical theme touching on the ultimate stoner paranoia, there is much packed into this less-than-four-minute song making it, ultimately, a satisfying and unique track which reached the Top 40. Co-written by Zander, "Way of the World" is a suitable follow-up to the fantastic title song as another complex and upbeat rocker. Originally composed and recorded under the title, "See Me Now", Zander and the group employ rich vocal patterns to complement the thick wall of distorted guitars and synths by Nielsen and just enough post-production effects (without over doing it) by Werman.
Like its title suggests, "The House Is Rockin' (With Domestic Problems)" is a pretty straight-forward rock n' roll track, with this good-time feel contrasted by the theme of serious real-world issues. Neilsen shines brightest on this track with crisp and excellent guitar riffs along with several well-executed, overdubbed leads, including an extended outro that contains a short, "borrowed" guitar phrase from Aerosmith's Joe Perry. At first, "Gonna Raise Hell" seems like almost a parody of Kiss in its simple rock drive and shouted vocals. Starting with the simplest beat and bass riff by Petersson, the song morphs into a more dance-oriented track, especially during the expanded, textured instrumental which occupies the final third of this nine and a half minute track.
Side Two of Dream Police is filled with songs that show some real promise but seem to ultimately be less-than-developed. The only track on which all four members are credited compositionally, "I'll Be with You Tonight" is a rock jam which is pleasant enough but contains very little lyrical or musical substance. The pop hit "Voices" starts with sound effects of whispered voices before breaking into a moderate ballad ala George Harrison. Petersson's bass lines keep everything interesting but Zander's vocals may be a bit too melodramatic on this single, which reached number 32 in the US.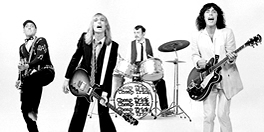 "Writing on the Wall" is a fun song musically as an upbeat, pure rocker that moves at 100 miles per hour from start to finish. Nielson provides a fine middle guitar jam over some faux crowd noise and Zander has a nice vocal rant at the end which, unfortunately is faded out a bit too quickly. On "I Know What I Want", Petersson takes on lead vocal duties in what appears to be a pure attempt at new wave pop that could have been developed into something a little stronger. With the exception of Nielson's lead guitar, this song overall falls short of the mark. Rounding out the album is "Need Your Love". A long intro, starting with Carlos's steady drum beat and the gradual addition of other steady instrumentation layered on top alternates with the thumping counter-melody which finds a nice hard-rock core. Mostly a sonic texture piece, this closing track has a bit of a jam at the end to end the album on a strong note.
A four track EP entitled Found All The Parts was released in mid 1980 and consisted of previously unreleased material. One side of the record contained live recordings and the other side had studio recordings. The live tracks were a faux live cover of The Beatles' "Day Tripper", and "Can't Hold On", a bluesy track performed at Budokan concerts in 1978. The studio tracks were "Such A Good Girl" and "Take Me I'm Yours", which the record claims were recorded in 1976 and 1977, respectively. However, while they were older songs, they were recorded with Jack Douglas in early 1980. A total of nine tracks were recorded with Douglas, and remain obscure as they have only been issued on compilations, promotional samplers, and contest giveaways. For years, there was a false rumor that this was an album that had been rejected by Epic Records.
Dream Police spawned Cheap Trick's arena-headlining 1980 tour and landed them a gig with former Beatles producer George Martin for their follow-up All Shook Up. While not as successful commercially, this album commenced a very prolific and diverse decade for the group.
~

Part of Classic Rock Review's celebration of 1979 albums.