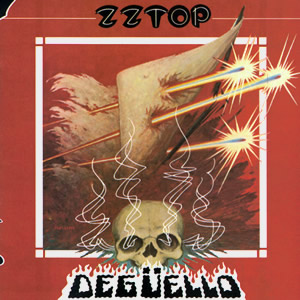 ZZ Top came back from an extended break to close out the 1970s with Degüello, their sixth studio release. Mirroring the group itself, this album is as much about an attitude and lifestyle as it is about the actual music (a prime example is that the extended, three year break was used to grow the signature beards of Billy Gibbons and Dusty Hill). All this being said, there are real gems on this funk and blues influenced record, which borrowed its name from the Mexican Army bugle call at commencement of the Battle of the Alamo in 1836. The title may also be analogous to the group's approach of wielding their electric-blues signature sound to reach a new level of pop/rock achievement.
ZZ Top got started in 1969, with the release of a couple of singles composed by Gibbons. The group's self-titled debut album was released in 1971, followed by Rio Grande Mud and Tres Hombres the following two years. A live album and a couple of more studio albums were released in the mid seventies, highlighted by the critically-acclaimed Tejas in 1976. Following a worldwide tour to support the album, the band planned a 90-day tour, which was ultimately extended to be two years long.
In 1979, ZZ Top signed a new contract with Warner Bros. Records, with Degüello being the first release of this new contract. The album was produced by the group's long time manager Bill Ham, who first met the band when they opened for The Doors at a concert in Houston and remained with ZZ Top right up until their breakup in 1996.

Degüello

by

ZZ Top
Released: November 14, 1979 (Warner Bros.)
Produced by: Bill Ham
Recorded: 1979
Side One
Side Two
I Thank You
She Loves My Automobile
I'm Bad, I'm Nationwide
A Fool For Your Stockings
Manic Mechanic
Dust My Broom
Lowdown in the Street
Hi Fi Mama
Cheap Sunglasses
Esther Be the One
Group Musicians
Billy Gibbons – Lead Vocals, Guitars
Dusty Hill – Bass, Keyboards, Vocals
Frank Beard – Drums, Percussion
Degüello opens with a cover of Sam & Dave's 1968 Soul hit "I Thank You", written by Isaac Hayes and David Porter. ZZ Top's version takes the Soul roots and treats it with Texas flavored blues-boogie, with Gibbons vocals being extra rough but potent. "She Loves My Automobile" is more blues with the added synthesized horn arrangement by Hill complimenting Gibbon's bluesy guitar solos.
"I'm Bad, I'm Nationwide" is more rock oriented than the previous tracks with a cool drum shuffle by Frank Beard. The song is cut a bit rough with the overdubbed guitars, but this ultimately adds to the overall charm of the song, which was released as a single. A cool outro goes into a bit of a funk with a backing clavichord by Hill. The fine beat-driven ballad "A Fool for Your Stockings" is sonically different than anything else on the album, with a few excellent, mood-driven guitar instrumentals above dry and pointed bass and drums. Side One ends with "Manic Mechanic", a unique and almost Frank Zappa-esque track with oddly-produced spoken vocals over strong rock and funk riffing.
Like the first side, the second starts with a cover. Robert Johnson's "Dust My Broom", was made most famous by Elmore James in the 1950s and ZZ Top's version sticks pretty close to that version with a pure, standard blues arrangement and some slide guitars. "Lowdown In the Street" is back to a more edgy approach, with an interesting vocal arrangement that complements the main riff. "Hi Fi Mama" features Hill's only lead vocals on the album and he employs a Little Richard-type hyper approach to the vocals. Musically, there is a nice back-n-forth between Gibbons' guitars and Hill's synth horn arrangement.
The album's climax comes with "Cheap Sunglasses", built on a consistent groove which has been derided as either a rip-off of Edger Winter's "Frankenstein" or Blind Faith's "Had to Cry Today" (or both). No matter the case, this is a musical highlight for the band, with a long, cool, middle section built on a bass groove and key riffs with some bluesy lead guitar by Gibbons and great drumming by Beard throughout. After a final verse, the song slowly dissolves through scaled back groove. "Esther Be the One" is the most like a standard late seventies pop/rock song, with a full arrangement of dual guitars, keyboards, and a great bass groove to top off the album.
The platinum selling Degüello reached the Top 40 on the charts and sparked the group's first tour of Europe in 1980. More importantly, it re-ignited ZZ Top's career and introduced the band to a new radio audience, which brought even more popularity through the early 1980s.
~

Part of Classic Rock Review's celebration of 1979 albums.