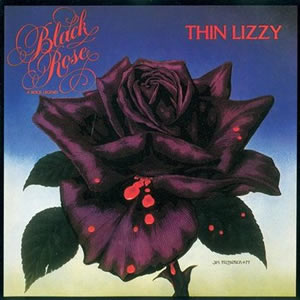 Perhaps the last great classic album by Thin Lizzy, the 1979 release Black Rose: A Rock Legend, peaked at number 2 on the U.K. album charts, making it the band's most successful album commercially. Produced by Tony Visconti, the rich sound established on the group's previous albums continues and is built upon by the eclectic songwriting of lead vocalist and bassist Phil Lynott. Thin Lizzy has been hailed as the first true rock band from Ireland, and Lynott took this privilege seriously by composing several songs through their career which were rooted in Irish tradition, starting with the famous Irish traditional folk song, "Whiskey in the Jar",  which was Thin Lizzy's first charting hit in 1972. On Black Rose, the closing title song contains a seamless medley of Irish standards and Celtic mythology, presented within a top-notch rock arrangement that makes this album one of a kind.
Thin Lizzy recorded their commercial breakthrough, Jailbreak, in 1976. On this album, the group established their signature twin guitar sound with guitarists Brian Robertson and Scott Gorham and the success of the album saw the group touring alongside bands Like Aerosmith and Rush. However, Lynott contracted hepatitis and the tour had to be cancelled. The following tour was again cancelled, this time when Robertson got a hand injury resulting from a drunken brawl, which ultimately resulted in artery and nerve damage. The 1977 album, Bad Reputation, was recorded as a trio, but Robertson did rejoin the band for the critically acclaimed Live and Dangerous in 1978. However, the strain between Robertson and Lynott ultimately resulted in the guitarist being replaced by blues-inspired journeyman Gary Moore.
Lynott and Moore had played together in a band called Skid Row in the late sixties right before Lynott formed Thin Lizzy. In 1974 Moore briefly joined Thin Lizzy during a tour in 1974 and was a replacement for Robertson during a tour in 1977. Black Rose saw the first actual recording to feature Moore, who offered a shredding contrast to Gorham's more traditional style, but advanced the dual guitar sound to a level not seen by the band before or after.

Black Rose: A Rock Legend

by

Thin Lizzy
Released: April 13, 1979 (Vertigo)
Produced by: Tony Visconti
Recorded: Paris and London, December 1978–February 1979
Side One
Side Two
Do Anything You Want To
Toughest Street in Town
S & M
Waiting For an Alibi
Sarah
Got to Give It Up
Get Out of Here
With Love
Róisín Dubh (Black Rose):
A Rock Legend
Group Musicians
Phil Lynott – Lead Vocals, Bass
Scott Gorham – Guitars, Vocals
Gary Moore – Guitars, Vocals
Brian Downey – Drums, Percussion
The album commences with the thundering rhythms by Lynott and drummer Brian Downey before the two guitarists break into the first of many harmonized guitar riffs. Recorded in Paris, the song uses rapidly rhyming lyrics during the verse which yield to a more traditionally constructed chorus. Above the outro thumps, Lynott adds some distant vocals stating "Elvis is dead" and the brief start of "Blue Suede Shoes" before it completely fades out. the collaborative "Toughest Street in Town" leans more towards early eighties style hard rock as it massages the band's "tough guy image" in a rather trite fashion with a chanting hook but still some slightly interesting lyrics,
"Like a rat in a pack it attacks from the back through a crack in a track and you take a smack…"
A long drum roll introduces the unique composition "S & M", which is driven by flange-drenched rapid funk music and starkly brutal lyrics. This track was co-written by drummer Downey, who provides a consistent shuffle throughout and also adds a slight drum solo later. "Waiting for an Alibi" is pure upbeat rock and probably the best constructed pop/rock track on the first side. The first single released from Black Rose, the song features further harmonized guitars by Moore and Gorham and well-crafted, poetic lyrics by Lynott. "Sarah" completes side one as a ballad with slightly Latin rhythms dedicated to Lynott's then-newborn first daughter. This song sounds different than anything else on the album due to the instrumental arrangement and additional session musicians, including a pre-fame journeyman harmonica player called Huey Lewis. Moore's fine, sharply contrasting lead guitar after the second verse/chorus temporarily brings the song back into the hard rock realm.
A bluesy intro by Gorham introduces "Got to Give It Up" before the song rockets into another strong rock song with more great lead guitars. Apparently glimpsing his own dire fate, Lynott wrote the song about resolving to get on the wagon but failing to do so. Almost as a response to the previous song, "Get Out of Here" offers a more rigid counterpoint. This song was co-written by Midge Ure, who would later join the band as a full member. A bit corny, but still a fun listen musically, the song is filled with pessimistic lyrics;
"I used to be a dreamer but I realized that it's not my style at all / In fact it becomes clearer that a dreamer doesn't stand a chance at all…"
"With Love" is a desperate song with a dark feel overall where guest bassist Jimmy Bain supplies a boogie bass pattern under the dualing lead guitars. The closing "Róisín Dubh (Black Rose): A Rock Legend" is a wild Irish rock odyssey by Lynott and Moore where everyone in the band is at the top of their game performance-wise. Consisting of a blend of traditional songs fused together by original riffs, Rolling Stone recently called this "the best Irish rock song of all time". Completing the tribute to the Emerald Isle, Lynott name-drops some famous Irish artists during the improvised outro, including James Joyce, Oscar Wilde, and Van Morrison.
While Black Rose was a critical and commercial success, Thin Lizzy could never quite ride the success as their bad luck continued when Moore abruptly left the band later in 1979. The band recorded three more studio albums to mediocre receptions before  Thin Lizzy's breakup in 1983. Tragically, Lynott died three years later due to complications from substance abuse, solidifying this album as the group's final masterpiece.
~

Part of Classic Rock Review's celebration of 1979 albums.