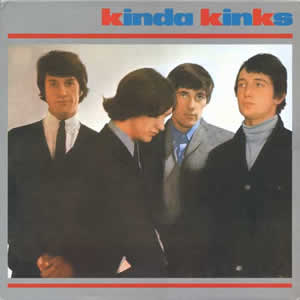 The Kinks sophomore effort is often overlooked in their catalog due to the popularity of their recently released debut and the critical acclaim of later albums. But the rapidly recorded Kinda Kinks is a fine album with decent tracks, advanced sonic qualities, and mainly original compositions, which cause some to deem this, "the first proper Kinks album". The album was rapidly recorded in between touring and released in the UK on March 5, 1965, just two weeks after recording wrapped and 50 years ago today.
In 1963, The Kinks were formed in London, by brother guitarists Ray Davies and Dave Davies along with bassist Pete Quaife. The band originally went through a series of lead vocalists, including a young Rod Stewart, before Ray Davies took on the main vocal duties. In late 1963, the band was introduced to American record producer Shel Talmy, who helped The Kinks secure a recording contract with Pye Records the following year. Soon after, Mick Avory was brought on as the permanent drummer, completing the quartet which would remain in place through most of the 1960s. In 1964, the group released four singles, the most successful being "You Really Got Me", released in August, and "All Day and All of the Night", released in October, both of which were Top Ten hits on both sides of the Atlantic. Their late 1964 debut LP, Kinks, consists largely of covers with a few tracks written by Davies or Talmy.
With the success of the singles and album, the group toured extensively through the winter of 1965, including a tour of Australia, New Zealand, and Eastern Asia. Upon returning to England, recording began promptly on this album, which would ultimately include 10 of 12 original compositions. Also recorded but left off the album were three tracks penned by Ray Davies, including the fine song craft of "Set Me Free", the beat-driven rocker with stream-of-conscious vocal lines "Everybody's Gonna Be Happy", and the very catchy and unique "Who'll Be the Next In Line". On Kinda Kinks, they started to stray beyond the boundaries of strict R&B and blues-based rock into the early workings of the hard rock sound.

Kinda Kinks

by

The Kinks
Released: March 5, 1965 (Pye)
Produced by: Shel Talmy
Recorded: Pye Studios, London, February 1965
Side One
Side Two
Look for My Baby
Got My Feet on the Ground
Nothin' In the World Can Stop Me Worryin' 'Bout That Girl
Naggin' Woman
Wonder Where My Baby Is Tonight
Tired of Waiting for You
Dancing in the Street
Don't Ever Change
Come On Now
So Long
You Shouldn't Be Sad
Something Better Beginning
Bonus Tracks
Set Me Free
Everybody's Gonna Be Happy
Who'll Be Next in Line
Group Musicians
Ray Davies – Lead Vocals, Guitars, Piano
Dave Davies – Guitars, Vocals
Pete Quaife – Bass, Vocals
Mick Avory – Drums
The album commences with "Look for My Baby" with a style that is a bit sixties, standard pop (harmonized vocals and call-response) but top-notch at that. The listener is immediately struck by the great sounding drums, a tribute to Talmy's great production. "Got My Feet on the Ground" was co-written by Dave Davies, who also provides some strained but effective lead vocals on this upbeat and snappy pure rocker.
The album takes a somber turn with, "Nothin' in the World Can Stop Me Worryin' 'Bout That Girl", a dark folk/blues with a single guitar and vocal through the first verse and a slight arrangement afterwards with acoustic bass and muted snare snaps. The cover, "Naggin' Woman", is Rolling Stones influenced as much, if not more, than the original blues source. While pin-point guitars are not quite up to snuff, they are close enough for rock n' roll. "Wonder Where My Baby Is Tonight", contains a piano driven riff which is locked in with Quaife's choppy bass. This is lyrically shallow but interesting musically, especially with the advanced bridge section which previews some of the advanced Kinks arrangements of future years.
The smooth and cool hit, "Tired of Waiting for You", is the true highlight of the album, led by the complex drum beat of session drummer Bobby Graham and the two chord march riff of Dave Davies during the intro/chorus hook section. Ray Davies' fine vocals soar above the masterful changes of the inventive verse sections. The song was recorded in mid 1964 and was intended as a single but held over until this album in 1965. When released, it became the group's third Top Ten hit and their highest single for the next 18 years until the 1983 hit, "Come Dancing", from State of Confusion.
After a rocked out, almost new wave version of the oft-covered, "Dancing in the Street", comes the fine, "Don't Ever Change", with a folksy, slight Beatles vibe. This forgotten gem from the Kinks early years, contains a nice mixture of acoustic and electric guitars with a consistent, upbeat drum shuffle by Avery and a unique vocal pattern which varies in tempo and intensity while music remains steady behind. The short, "Come On Now", has the makings for a good rock song but seems a bit under cooked, while, "So Long", is pure acoustic folk and the first place where Ray Davies' vocals are left natural and pure. In contrast, "You Shouldn't Be Sad", is an upbeat, poppy, and utterly trite song, perhaps the only real filler on the album. The album concludes with, "Something Better Beginning", a slight ballad with a bit of melancholy tone and fine chord progressions in a classic lover's lament with a unique title and approach.
According to Ray Davies, the band was not completely satisfied with Kinda Kinks, due to the rushed production which resulted in some songs being underdeveloped. However, these tracks have stood up well over this past half century, which is evident by the number of tracks (seven) later covered by major rock acts. Starting with, The Kink Kontroversy, in late 1965. The Kinks continued their stylistic shift, continuing a diverse career which would continue for decades.
~
Part of Classic Rock Review's celebration of 1965 albums.