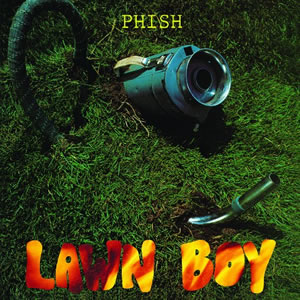 Continuing to forge their unique fusion rock sound, Phish's sophomore effort, Lawn Boy, is chock full of diverse diddys and extended jams. Predating the group's major label signing, the album was originally released on vinyl and independent, using different independent labels for each medium. Led by guitarist and vocalist Trey Anastasio, the resulting work is laid back, and light throughout, but not without moments of real musical prowess and intensity, especially during the instrumental jams.
Following the self-release of the group's 1989 debut double LP, Junta, Phish was rapidly becoming a favorite live act in New England. They had developed a unique rapport with their dedicate audience, which would come to be known as "Phans". These antics included secret cues and special jams initiated by the four "granola rockers".
Phish won the studio time used to record this album when they finished first-place in a "Rock Rumble" contest in Burlington, VT. Subsequently, the songs were recorded and mixed at Archer Studios in Winooski, VT on 2″ analog tape, with the group performing mostly of the takes live with few overdubs or extra effects. Lawn Boy was the first of many Phish albums to enlist Tom Marshall, a childhood friend of Anastasio's, as lyrical composer. Marshall would go on to co-write nearly 100 Phish original compositions.

Lawn Boy

by

Phish
Released: September 21, 1990 (Rough Trade)
Produced by: Phish
Recorded: Archer Studios, Winooski, VT, May–December 1989
Track Listing
Group Musicians
The Squirming Coil
Reba
My Sweet One
Split Open and Melt
The Oh Kee Pa Ceremony
Bathtub Gin
Run Like an Antelope
Lawn Boy
Bouncing Around the Room
Trey Anastasio
Lead Vocals, Guitars
Page McConnell
Piano, Keyboards, Vocals
Mike Gordon
Bass, Vocals
Jon Fishman
Drums, Vocals


"The Squirming Coil" begins the album, initially as piano/vocal ballad. After the brief intro, the song has a classic Genesis feel and approach with odd, quiet, but excellent musical interludes. The track ends with solo piano by Page McConnell, which lasts for about a minute. "Reba" is side one's extended track, starting as a rather frivolous sing-songy tune with the repeated catch line; "bag it, tag it, sell iot to the butcher in the store…" The extended, jazz inspired jam in the mid-section is really quite impressive, including an extended guitar lead by Anastasio which is a highlight of the earlier part of the album. The song's main theme returns in a creative way as a faded-in, Patriot-like march with drum rolls and whistles that lead to the final outro.
Drummer Jon Fishman compose "My Sweet One", with a unique Bluegrass melody built on his rapid drumming. Between the verses there is some variety in phrasing and style, also returning to the good, down home harmonies which drive this track. "Split Open and Melt" is built on the funky bass riff of Mike Gordon while Fishman maintains a complex beat. The song employs the group :Giant Country Horns", which are a bit off key (apparently intentional) to give the song a wild ambiance and assure that it probably couldn't be played the same way twice.
The album's original second side begins with "The Oh Kee Pa Ceremony", Anastasio's Country/jazz fusion instrumental with odd, added ambient party noise in the background. "Bathtub Gin" was co-written by Suzannah Goodman and is infectious an groovy in its musical approach. Here, chord changes are used for maximum effect while the beats are steady and consistent and the main melody is fine and enjoyable. "Run Like an Antelope" is the second side's extended track and is built on a long intro that features deadened guitar notes, bouncy bass and an entertaining piano lead by McConnell, Next, a subtle but fantastic guitar lead by Anastasio drives the heart of this near-instrumental as the vocals do not arrive until way late in the song after the intense and extremely frenzied jam session.
"Lawn Boy" is a lounge-type song which remains true to its style throughout the two and a half minute duration. This title track was later re-mastered and remained a fan favorite throughout their career. The album ends with its strongest track. "Bouncing Around the Room" has great rhythms and harmonies, all built on Gordon's crisp bass line and Fishman's clicking percussion. This backdrop works well to showcase the fine vocals and, after two short verses, the song enters its extended climax as it subtly builds both complex vocals and musical intensity to end the album superbly.
Lawn Boy was re-released on Electra Records in 1992 and was eventually certified gold in 2004. This followed their 1991 major label debut of A Picture of Nectar and the group's rapid national and international rise in popularity.
~

Part of Classic Rock Review's celebration of 1990 albums.