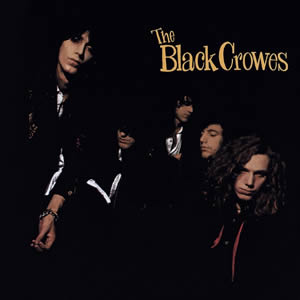 The Black Crowes' impressive debut brought old-school, blues-flavored rock to the forefront in 1990. A quarter century after its release, Shake Your Money Maker is still the group's best-selling album and its timeless qualities and genuine song-craft have helped it to maintain its sonic potency. With a blend of classic British blues and American Southern music elements, The Black Crowes released an authentic and original record, which Classic Rock Review has chosen as our Album of the Year for 1990.
In the mid-eighties, vocalist Chris Robinson and guitarist Rich Robinson formed the original incarnation of the group called Mr. Crowe's Garden. Based in
Marietta, Georgia the group played pop and classic southern rock before eventually turning towards 1970s-era blues rock. Through the late eighties, the brothers Robinson remained at the core of the band which had several revolving supporting members, including rhythm guitarist Jeff Cease.
In 1989, The Black Crowes successfully auditioned with Def American records and began recording their debut with producer George Drakoulias. The group recorded original compositions which the Robinsons' had written during the previous half decade, including a few tracks that were omitted from the album, such as "Don't Wake Me". Drakoulias brought in veteran musician Chuck Leavell, formally of the Allman Brothers Band, to add session piano and keyboards to the album.

Lawn Boy

by

Phish
Released: January 24, 1990 (Def American)
Produced by: George Drakoulias
Recorded: Soundscape Studios, Atlanta & several studios in Los Angeles, 1989
Track Listing
Group Musicians
Twice As Hard
Jealous Again
Sister Luck
Could I've Been So Blind
Seeing Things
Hard to Handle
Thick n' Thin
She Talks to Angels
Struttin' Blues
Stare It Cold
Live Too Fast Blues
Chris Robinson
Lead Vocals
Rich Robinson
Guitars
Jeff Cease
Guitars
Johnny Colt
Bass
Steve Gorman
Drums


Rich Robinson's big guitar riff sets the album's tone from the top with "Twice As Hard". The slow, bluesy riffs are complemented by a slight touch of slide guitar by Cease through this excellent and entertaining pure rocker. "Jealous Again" is a more pop-oriented, in the Rolling Stones-vein, and presents a more dominant presence for vocalist Chris Robinson. Critics of the time tended to typecast The Black Crowes, were immediately typecast as descendants of the Stones and other British rockers, such as the Faces.
That critique was certainly merited as "Sister Luck" returns to the Stones' vibe, this time as a ballad. In fact, this track comes dangerously close in title and temperament to the Stones' classic "Sister Morphine" from Sticky Fingers. in contrast, "Could I've Been So Blind" is definitely a more modern, straight-forward rock track with good rhythmic rudiments by bassist Johnny Colt and drummer Steve Gorman. This particular song dates all the way back to the Mr. Crowe's Garden era. "Seeing Things" is an impossibly slow Southern blues ballad, with a strong piano and keyboard presence by Leavell to complement the core rock elements. Chris Robinson vocals are exceptional on this track and he is joined by a background Gospel chorus, forecasting arrangements of future Black Crowes' albums.
While the cover song "Hard to Handle" is driven by the rock drumming of Gorman, this song's underlying structure is classic funk. Although originally recorded by of Otis Redding, its inclusion is an implicit shout out to Grateful Dead fans, as that group made the track a live mainstay a couple of decades earlier. In any case, The Black Crowe's version is masterful and was a hit, reaching number 26 on the Billboard pop charts. "Thick n' Thin" follows as a frenzied, upbeat blues rocker with heavy guitar chorus riffs and a very entertaining mid-section pushed along by the groovy bass of Colt. Written by Rich Robinson when he was a teenager, the solo intro to "She Talks to Angels" is an intricate acoustic guitar part. Chris Robinson wrote the lyrics about a "goth girl" in Atlanta who was "into heroin" and it contains some profoundly sad lines;
"She keeps a lock of hair in her pocket, she wears a cross around her neck, the hair is from the little boy and the cross is someone she has not met, not yet…"
After this dramatic high point, the album does lose some momentum down the stretch. "Struttin' Blues" seems to bring the album back up too quickly and feels really frivolous in comparison to the previous track. "Stare It Cold" is in much the same Stones-vein as "Jealous Again" but with plenty of room for short guitar licks in between the verses. It all concludes in the tradition of hidden tracks on nineties albums, with a distant rehearsal-like bluesy track with slight arrangement that fades in and out quickly in less than a minute and a half.
Shake Your Money Maker peaked at number 4 on the Billboard 200 and has sold more than 5 million copies. It launched The Black Crowes into top-tier status with national tours and further successful albums throughout the 1990s.
~

Part of Classic Rock Review's celebration of 1990 albums.