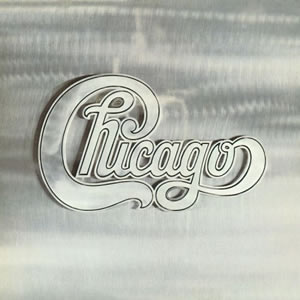 Officially titled Chicago, the second double-length album by the group with the same name saw their full immersion into mainstream success while still building on their fusion of rock, funk and jazz. This album also saw expanded participation by many of the seven group members, in composing the songs and suites. While the album is interesting and entertaining, it is not without some filler and flaws as at times the group tries too hard to forge messaging, which sometimes comes off awkwardly or forced.
Then known as Chicago Transit Authority, the group released their self-title debut double LP in the Spring of 1969. That album was critically acclaimed for its groundbreaking musical approach but did not spark much initial interest on the radio. After its release, the actual city of Chicago transportation department claimed the name as proprietary and threatened a lawsuit, so the group shortened their name to simply, Chicago.
The album was recorded in less than a month during August 1969 for an early 1970 release. Like the opening album, the compositions are once again mainly provided by guitarist Terry Kath and keyboardist Robert Lamm. However, Chicago II also features a seven-part suite by brass arranger James Pankow as well as the first composition by bassist/vocalist Peter Cetera, who would provide a growing role in the group's sound as the 1970s progressed.
Chicago II by Chicago

Released: January 26, 1970 (Columbia)
Produced by: James William Guercio
Recorded: Columbia Studios, New York & Hollywood, August 1969
Side One
Side Two
Movin' In
The Road
Poem For the People
In the Country
Wake Up Sunshine
Ballet for a Girl in Buchannon
Side Three
Side Four
Fancy Colours
25 or 6 to 4
Memories of Love
It Better End Soon
Where Do We Go From Here
Group Musicians
Terry Kath – Guitars, Vocals
Robert Lamm – Keyboards, Vocals
Peter Cetera – Bass, Vocals
James Pankow – Trombone, Brass Arrangements
Lee Loughnane – Trumpet, Flugelhorn, Vocals
Walter Parazaider – Woodwinds, Vocals
Danny Seraphine – Drums, Percussion
Chicago II is a bit top-heavy with some of the best material on the first two sides. Side One starts with Pankow's celebratory horns of "Movin' In", which crams in plenty of jazz-style improv sections on this fine opening track. Kath's "The Road" starts with a complex riff pattern before settling into a funky ballad led by Cetra's vocals. "Poem For the People" starts with deliberative solo piano by Lamm, who composed the song. When it fully kicks in, it is a soulful song with nice, mellowly picked guitar interludes and a core meaning. The side concludes with "In the Country", which may be the first example of an extended filler as the track gets very repetitive and quite corny as it goes along.
The second side starts with "Wake Up Sunshine", a direct, happy-go-lucky track by Lamm which could've been (and should've been) a hit for the band, This is one of the most accessible and pop-oriented as well as one of the shorter tracks and ends with a cool, industrial-like organ part. Pankow's multipart suite, "Ballet for a Girl in Buchannon" follows, starting with the classic single "Make Me Smile", which bookends the medley. This features driving acoustic, funky bass, good vocals throughout and animated drums by Danny Seraphine. Next comes "So Much to Say, So Much to Give", a waltz-like bridge section with lead vocals by Lamm. "Anxiety's Moment" and "West Virginia Fantasies" are a couple of horn-drivren instrumental sections before the music cleverly dissolves into "Colour My World", a simple but brilliant tune sung by Kath and featuring a long rotating, piano riff. The section ends with flute solo by Walter Parazaider and would go on to be a hit single on its own. The piece concludes with the bass-driven "To Be Free" and the reprise section "Now More Than Ever" and a military-like drum march by Seraphine to the end.
Side Three starts with "Fancy Colours" starts with percussive chimes and a long, psychedelic organ. After slow slosh through the first verse, song breaks into a Broadway-like 6/8 with plenty of flute parts for the main hook of this track. "25 or 6 to 4" is one of the most indelible Chicago tunes, with a rock oriented core bass, drums, and guitars. The horns play a reserved but effective role, led by the trumpet of Lee Loughnane. The nin-plus-minute suite "Memories of Love" contains orchestral arrangements by Peter Matz, who co-wrote the crooning love song with Kath.
The fourth and final side starts with another extended suite, this time a rock/jazz fusion called "It Better End Soon", co-written by Lamm, Kath, and Parazaider. The track seems to have been intentionally built for live shows and was kind of manifesto for the group's political viewpoints. The album concludes with "Where Do We Go from Here", the first track composed by Cetera and is a more pleasant and uplifting track than its predecessor while still being a bit preachy on world affairs.
Chicago II was an instant hit on both sides of the Atlantic, reaching the Top 5 in the US and the UK. Followed by their third consecutive double album, Chicago III in 1971, the band would release about one album per year through the seventies and had continued commercial success through most of that decade.
~

Part of Classic Rock Review's celebration of 1970 albums.