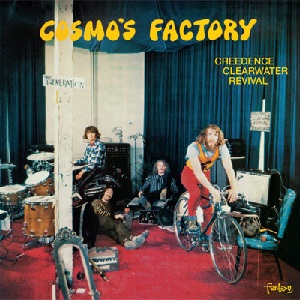 If nothing else, Cosmo's Factory is a unique and unconventional album in its structure and approach, as it starts out oddly and packs all its pop/rock firepower towards the back end. That being said, this still ranks as one of the finest albums by the prolific Creedence Clearwater Revival and captures the band near their peak musically and creatively. The album was also a worldwide success commercially as it topped the album charts in six nations and was certified Gold less than six months after its release.
The fifth studio album over a span of just two years, Cosmo's Factory follows a prolific year of 1969 which saw three albums released by CCR. Recording for this album actually began in late 1969 with the first of three "Double-A-Side" singles which came out ahead of this album, with each one reaching the Top 5 on the US pop charts. Each of these successful singles were written by guitarist and lead vocalist John Fogerty while four out of the remaining five non-single tracks are cover songs.
The album's title comes from a warehouse in Berkeley, CA which the group used as rehearsal space early in their career. Drummer Doug Clifford (whose nickname was "Cosmo") called this practice space "The Factory" because they practiced every day, like going to a regular job.

Cosmo's Factory

by

Creedence Clearwater Revival
Released: July 25, 1970 (Fantasy)
Produced by: John Fogerty
Recorded: Wally Heider Studios in San Francisco, Late 1969–June 1970
Side One
Side Two
Ramble Tamble
Before You Accuse Me
Travelin' Band
Ooby Dooby
Lookin' Out My Back Door
Run Through the Jungle
Up Around the Bend
My Baby Left Me
Who'll Stop the Rain
I Heard It Through the Grapevine
Long as I Can See the Light
Group Musicians
John Fogerty – Lead Vocals, Guitars, Piano, Sax, Harmonica
Tom Fogerty – Guitars
Stu Cook – Bass
Doug Clifford – Drums
For all the hits on Cosmo's Factory, the listener has to wait nearly a quarter of the album's running time to get to one. The seven-minute-plus "Ramble Tamble" was the last song composed for the album and the only Fogerty original not released as a single. It starts with quasi-funky beat which quickly changes to a hoe down rhythm by guitarist Tom Fogerty and bassist Stu Cook. After some short vocal sections, the song enters a long musical rock intermediary which builds in intensity as it goes along and, when it finally breaks, it returns to the main beat by Clifford and one more quick verse. Next comes "Before You Accuse Me" a pure blues cover of a song originally by Bo Diddley, with this version having a little of the CCR "swamp" attitude on top.
Incredibly, CCR toured constantly while recording their five albums between 1968 and 1970. "Travelin' Band" portrays this side of the band as a pure, fifties style rocker with Fogerty's vocals conjuring Jerry Lee Lewis and/or Little Richard in the hyper scream mode. The song reached the Top 10 on both sides of the Atlantic. "Ooby Dooby" is a Roy Obison cover that seems odd and out of place this early in the album, although its fifties style does fall in place with the previous track. Starting with "Lookin' Out My Back Door", the album gains momentum and continues to improve right to the end. On this return to the traditional sound of CCR, the dual guitars of the Fogerty brothers are a highlight along with its great melody which delivers the colorful imagery of the lyrics.

"Run Through the Jungle" has a psychedelic beginning with well treated guitars, piano and kick drum. The song's body features the best bass performance by Cook thus far on the album, a cool rock riff throughout, and a later distorted harmonica lead which gives it a live, blues-club feel. "Run Through the Jungle" and "Up Around the Bend" were featured as the second Double-A single in April 1970. This later track is the most straight-forward, direct pop/rock song on the album, complete with cool guitar riffs and a fantastic hook. "My Baby Left Me" follows as an upbeat R&B track, which seems to fit better with the CCR sound than the cover tracks on the first side of the album. Here there are great guitar sounds and animated symbol-centric drums.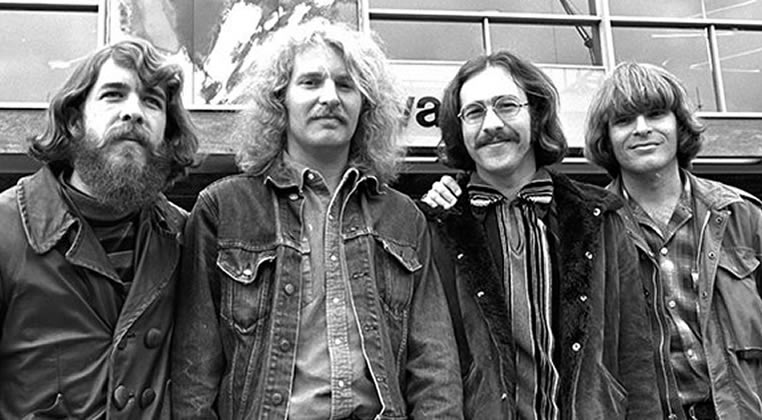 The album finishes with Fogerty's two finest originals wrapped around an extended version of the Marvin Gaye classic "I Heard It Through the Grapevine". On this eleven-plus-minute jam the group does a decent job at being cohesive yet spontaneous with the main section featuring a "spooky" sounding bass by Cook and strategic rolls by Clifford. the pure folk "Who'll Stop the Rain" adds yet another dimension to this very diverse album, with a potent message, simple riff and structure and another great melody by John Fogerty. "Long as I Can See the Light" is a bluesy, electric piano ballad with very soulful vocals by Fogerty. It starts with a steady drum beat, which betrays the overall tone of this Motown-inspired track that features some sax behind the verses and then a full-fledged solo later. This excellent closer puts a bow on this album perfectly.
Cosmo's Factory only grew in stature and commercial viability throughout the years, eventually selling over four million copies. However, it was later revealed that internal tensions began within the group during these sessions and, after two more years and two more albums, Creedence Clearwater Revival disbanded leaving a short, but potent, legacy.
~

Part of Classic Rock Review's celebration of 1970 albums.