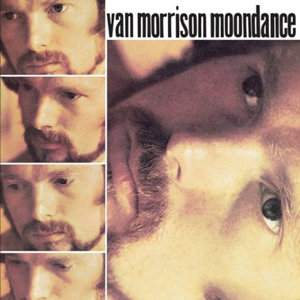 We've covered more music from the year 1970 than from any other year at Classic Rock Review. Through these nineteen articles covering twenty-three different albums, we've observed some of the finest rock groups as they branched out to embrace some roots or otherwise raw musical genres. Through all that great music, we believe that no one hit the sweet spot like Van Morrison and the most and authentic, entertaining and timeless effort of his long career, Moondance. Morrison blends diverse styles such as jazz, folk rock, country, R&B, and American soul with potent melodies and pristine arrangements, all on a cohesive album which always sounds fresh. For these reasons, we have chosen Moondance as our album of the year for 1970.
Morrison's previous album, Astral Weeks, was filled with impressionistic, stream-of-consciousness tunes and was recorded in just a few sessions in New York City in late 1968. After that recording, Morrison and his wife decided to move to upstate New York, where the composer began writing songs for a follow-up album. Despite the critical acclaim of Astral Weeks, its improvised nature did not lead to much commercial success and Morrison looked to strike a balance between musical integrity and audience accessibility.
Coproduced by Lewis Merenstein, fresh musicians were recruited for Moondance, starting in the summer of 1969. While all the tracks were composed by Morrison on acoustic guitar, he entered the studio with no written arrangements, leaving room for this album to grow organically with any riffs or fills generated spontaneously through jam sessions. The result is a record of renewal and redemption which is every bit as authentic as its predecessor while shedding that album's dark and gloomy feel, as Morrison employs simple memories and nature motifs lyrically.

Moondance

by

Van Morrison
Released: February 28, 1970 (Warner Bros.)
Produced by: Van Morrison & Lewis Merenstein
Recorded: A & R Studios, New York, August–December 1969
Side One
Side Two
And It Stoned Me
Moondance
Crazy Love
Caravan
Into the Mystic
Come Running
These Dreams of You
Brand New Day
Everyone
Glad Tidings
Primary Musicians
Van Morrison – Lead Vocals, Guitar, Harmonica
John Platania – Guitars
Jeff Labes – Piano, Keyboards
Jack Schroer – Saxophones
Colin Tilton – Flute, Saxophone
John Klingberg – Bass
Gary Mallaber – Drums, Percussion
The lyrics of Moondance seem to be symbiotically linked through the individual tracks with certain elemental themes reappearing throughout. One of these primary elements is water and nowhere is it more prominent than on the opening track "And It Stoned Me". This nostalgic song about a day of adolescence in Ireland, speaks of walking to a fishing hole, getting caught in the rain, and ultimately receiving some H2O rejuvenation. Each lyrical line is filled with vivid yet poetic images and emotions while the moderate yet soulful rock sound features sax accents and a dual lead section featuring Morrison's acoustic guitar and the piano of Jeff Labes.
The pure jazzy title tune is built on a walking bass pattern of John Klingberg, subtle piano chords by Labes and a great overall melody by Morrison. It later features a jazzy sax lead by Jack Schroer The lyrics of "Moondance" are specifically a tribute to the autumn season as well as romance in general and this hit song did not actually chart until 1977, seven years after its release. "Crazy Love" features Motown inspired, high pitched soul vocals which were accomplished by Morrison getting as close to the microphone as possible. This song is also the  to feature Gospel-style backing singers while the music is very reserved with acoustic, bass, and brushed drums.
"Caravan" is a pure celebration of radio portrayed through a moderate rock backing and very intense vocalization. After two verses comes the first of two improvised bridge sections that bring this song to a new level along with syncopated beats and punching brass. The side one closer "Into the Mystic" paints an indelible picture of life on the water where Morrison again returns to his youth in the port city of Belfast. The mood of this subtle folk tune is driven by a cool but direct bass line, strummed acoustic, and a building array of other instruments added ounthe duration, including a foghorn-mimicking alto saxophone for great effect.
"We were born before the wind, also younger than the sun / Ere the bonnie boat was won as we sailed into the mystic…"
The album's second side contains some lesser known but quality songs. The Top 40 hit "Come Running" is upbeat, almost country in its approach, especially with the boogie-woogie piano by Labes, a two chord guitar pattern by John Platania and the first real affirmative presence by drummer Gary Mallaber. The track is not very complex lyrically but this is intentional as it works as an upbeat counter to some of the deeper songs from the first side. "These Dreams of You" portrays upbeat blues with bass rhythm, slide acoustic, and harmonica by Morrison. On "Brand New Day", the tone is excellent even if the vocal melody seems a bit recycled. Nonetheless, this track is definitely a spiritual, Gospel influenced, song of redemption with rich backing harmonies.
The energy returns fully on "Everyone", which starts with a cool harpsichord by Labes that persists through repetitive, beat driven pattern of this song of pure celebration. Colin Tilton provides flute flourishes throughout this Baroque-styled track which is an ode to the power of music. The album concludes with "Glad Tidings", featuring the most pronounced bass line, exceptional drumming, subtle saxophones and squeezed out electric guitar notes all behind Morrison's clarion vocals. While many songs on this album revisit the past, this one is set firmly in the present day of 1970 as Morrison sends "glad tidings" from his new home in New York.
Moondance was a critical and commercial success, peaking in the Top 40 in charts in both the US and the UK. It has continuously sold well during the four and a half decades since its release, eventually certified as triple platinum in sales. Later in 1970, Morrison released the follow-up album, His Band and the Street Choir, which feature "Domino", the song which ultimately became Morrison's biggest hit ever. Through the 1970s and into decades beyond, he released a succession of fine albums but none have reached quite the level of esteem as our album of the year, Moondance.
~

Part of Classic Rock Review's celebration of 1970 albums.