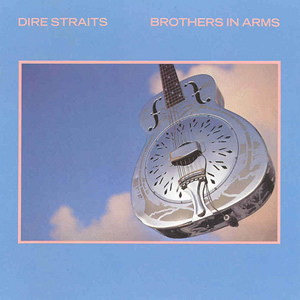 Dire Straits reached their commercial peak and achieved worldwide fame with their fifth studio album, Brothers In Arms. All the songs on this album were composed by lead vocalist and guitarist Mark Knopfler and he and the group honed their signature sound of r&b and jazz with an increased sense of pop song craft that ultimately paid off as the album dominated charts worldwide and won two Grammy awards. It is also notable for being one of the first directed towards CD sales by offering extended versions of some songs and, as a result, Brothers In Arms became the first CD ever to sell over one million copies in that medium.
Early in the 1980s, Dire Straits had a couple of successful albums with 1980's Making Movies and 1982's Love Over Gold. The latter of these two featured long and experimental songs with extensive piano and keyboard Alan Clark's piano and keyboard work and was the first Dire Straits album produced by Knopfler. The group embarked on an extensive world tour before taking a break in late 1983 and early 1984.
Recording for Brothers In Arms took place on the Caribbean island of Montserrat during the Winter of 1984-85. The album was co-produced by Neil Dorfsman, who made good use of the limited space of the small studio. During the sessions, group drummer Terry Williams was replaced by Omar Hakim, who reportedly recorded all of the album's drum parts in just two days. A second keyboardist, Guy Fletcher, also joined the group for the first time during recording.

Brothers In Arms

by

Dire Straits
Released: May 13, 1985 (Vertigo)
Produced by: Neil Dorfsman & Mark Knopfler
Recorded: AIR Studios, Montserrat, November 1984–March 1985
Side One
Side Two
So Far Away
Money for Nothing
Walk of Life
Your Latest Trick
Why Worry
Ride Across the River
The Man's Too Strong
One World
Brothers in Arms
Group Musicians
Mark Knopfler – Lead Vocals, Guitars
Alan Clark – Piano, Keyboards
Guy Fletcher – Keyboards, Vocals
John Illsley – Bass, Vocals
Omar Hakim – Drums
The opening track, "So Far Away", was also the album's lead single, reaching the Top 20 in the UK. The song features a very simple but effective structure, with two complementing guitar patterns and subtle vocals by Knopfler. Lyrically, the track speaks of distance in a relationship, whether it be real or symbolic. The only song to feature a co-writer and co-lead-singer, "Money for Nothing" was co-written by Sting (credited as Gordon Sumner). The song was a pure pop attempt that paid off big time, as this catchy dance track with a crunchy riff became the group's most successful single. The lyrics were inspired by a conversation Knopfler heard while in an electronics store in New York City, with the words delivered entirely as a third person narrative.
"Walk of Life" is the best pure pop song on the album and the high point of danceable pop before the album comes down to a more mellow level. Musically, it is built a classic Hammond organ line by Clark along with a contrasting Western-style guitar by Knopfler. The melodic lead vocals are nicely complemented by interesting backing vocal patterns, which made for another smash hit worldwide and the group's biggest commercial hit in their native UK. Starting with a signature saxophone by Michael Brecker, "Your Latest Trick" is Adult contemporary at its best, utilizing fine electric piano chords and a steady bass by John Illsley along with jazzy, clicking percussion by Hakim. "Why Worry" may be the finest overall song on this album, as a quiet and reserved ballad with finely picked guitars throughout. It starts with a long, subtle guitar intro and remains mellow throughout, building only slightly during the chorus with a nice, descending keyboard line in between verse sections. Poetic lyrics persist throughout;
"Why worry, there should be laughter after the pain, there should be sunshine after rain, these things have always been the same, so why worry now…"
The album's second side has less pop pursuit with several tracks lyrically focused on militarism. "Ride Across the River" contains a very slight reggae beat and distant horns throughout the long, story-telling song. "The Man's Too Strong" is an acoustic, outlaw country-style track with interesting hard electric guitar riffs after each chorus, while "One World" is much weaker musically with a totally 80s style of fretless bass, standard funk guitar, simple beats and cheesy keys. The album concludes with the title track, "Brothers in Arms", which starts with a dramatic key swell before settling in with a slight guitar lead in the vein of Pink Floyd. Later, the track contains calm but effective melodies before the keys and lead guitars carry the mood through most of the second half of the song.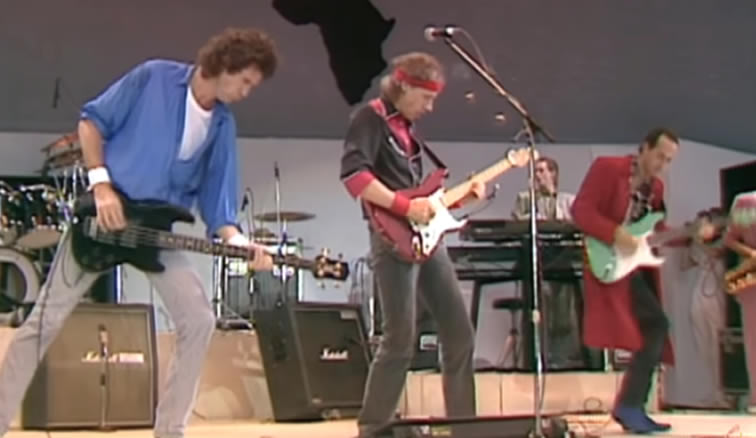 Early in 2015, Brothers In Arms re-entered the UK Album Charts, making it a total of 356 weeks it has spent on those charts. It is one of Earth's best-selling albums, having sold over 30 million copies worldwide. Another successful world tour followed, including 21 straight nights playing in Sydney, Australia in 1986. However, another long break after the tour led to a temporary breakup of the band, and they would not release another studio album until 1991, six years after Brothers In Arms.
~

Part of Classic Rock Review's celebration of 1985 albums.