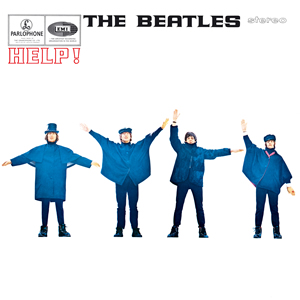 Their fifth overall studio album, Help!, is perhaps the final of The Beatles' pop-centric, "mop-top" era records released over the course of 30 months. Still, the group did make some musical strides on this album, most particularly a stylistic move towards folk and country on several tracks and the addition of piano and keyboards, performed by John Lennon and Paul McCartney on a few songs. Released in conjunction with their second feature-length film (of the same name), Help!, contains fourteen tracks split evenly between seven that were featured in the film (side one) and seven other 1965 studio tracks on the original second side of the LP.
Already a relentlessly hard working group, The Beatles' American and worldwide breakthrough in early 1964 only served to expand their schedule as their label and management looked to fully capitalize on their unprecedented popular success. During March and April of 1964, the group members filmed A Hard Day's Night as they played themselves in a "mock-umentary" about their sudden success where the Beatles showed a knack for comedy. That film was accompanied by their third studio LP with each being very well received. During the summer of 1964, the Beatles embarked on an international tour through Europe, Asia, and Australia, followed by a 30-concert tour of the United States. Returning to Abbey Road studios, the Beatles recorded and released their fourth studio LP, Beatles for Sale in late 1964, which had a much darker tone than any of their previous work.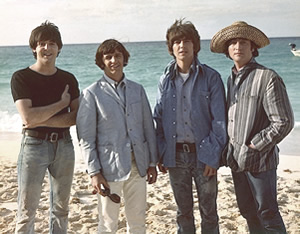 In early 1965, the group filmed the movie, Help!, which included a much larger budget than the previous year's A Hard Days Night. As a result, this movie was filmed in color and at many disparate locations including various places in England, the Bahamas, and the Austrian Alps. However, the richer plot and cast served to alienate the band members who stated that they felt like "guest stars" or even extras in their own film, despite the fact that the drummer, Ringo Starr, plays a central part in the plot.
Music for the film and album was produced by George Martin who, for the first time, employed "track bouncing" techniques for overdubbing. Distinct versions of the record were released in the UK and North America (we focus on the long since canonized British LP version in this review). The North American (Capitol Records) release was of EP length and features some orchestral scores produced by Dave Dexter, with omitted songs later appearing on the US versions of Beatle VI and Rubber Soul. On the other end of the spectrum, a few songs that were recorded intended for the film were not used in either the movie or on the album, including the tracks "If You've Got Trouble", "That Means a Lot", "Yes It Is", and an early version of, "Wait", a song re-recorded for Rubber Soul later in the year.

Help!

by

The Beatles
Released: August 6, 1965 (Parlophone)
Produced by: George Martin
Recorded: EMI (Abbey Road) Studios, February–June 1965
Side One
Side Two
Help!
The Night Before
You've Got to Hide Your Love Away
I Need You
Another Girl
You're Going to Lose That Girl
Ticket to Ride
Act Naturally
It's Only Love
You Like Me Too Much
Tell Me What You See
I've Just Seen a Face
Yesterday
Dizzy Miss Lizzy
Group Musicians
John Lennon – Guitar, Piano, Vocals
Paul McCartney – Bass, Piano, Keyboards Vocals
George Harrison – Guitars, Vocals
Ringo Starr – Drums, Percussion, Vocals
The title track storms in with a sudden vocal explosion of the distinct intro section of "Help". Written by Lennon to express his personal difficulties with the Beatles' sudden success, the song contains a desperate message lyrically but an excited and frantic approach musically and tonally, making for a strange but effective mix of emotions throughout. The descending bass and guitar line during the chorus is the most effective and interesting element of this fine track which became the group's tenth #1 pop hit. McCartney's, "The Night Before", features a nice mixture of guitars and electric piano, adding an overall twang effect to the background. The sharp beat and rhythm is kind of boilerplate Beatles at this point in their career but this song does feature a unique, duo guitar lead by McCartney and George Harrison.
"You've Got to Hide Your Love Away" is a loose tribute to Bob Dylan which features a tremendous sound that is at once simple but still fills the room. Lennon constructed this not as a lovey-dovey song, but as an introspective track where he delivers totally distinct vocals and gives early Beatles fans a glimpse into what group would the later become. Aside from Lennon's strummed acoustic, the song musically features simple, layered percussion and an earthy, ending flute solo by guest John Scott. "I Need You" is an early, forgotten gem by Harrison that features sweet sounds, such as a cool guitar pedal effect, and somber vocals.
Later on the first side, the Beatles revert back to some of their traditional styles. "Another Girl" includes some bluesly slide guitars, possibly influenced by Brian Jones, as well as a nice little solo lead at the very end. But otherwise, the track was garden variety and had not ever been played live by any Beatle until April 2015, over 50 years after it was recorded. Lennon's "You're Going to Lose That Girl" was a bit more popular, in somewhat the same vein of the female vocal groups of the day, with its backing vocal chorus call-and-response. "Ticket To Ride" is not only the only track to exceed three minutes in length, but may well be the finest overall song on the album. There are inventive and entertaining blends of sound throughout and droning rhythms with steady but interesting drum patterns by Starr during the verse/chorus sections that work seamlessly with Harrison's ringing guitar riff and Lennon and McCartney's harmonized melodies. The song transitions to a few upbeat bridge sections which transition back with a slight solo guitar flourish. Lyrically, the song caught some controversy due to its sexual connotations, but nonetheless topped the charts on both sides of the Atlantic when it was released ahead of the album in April 1965.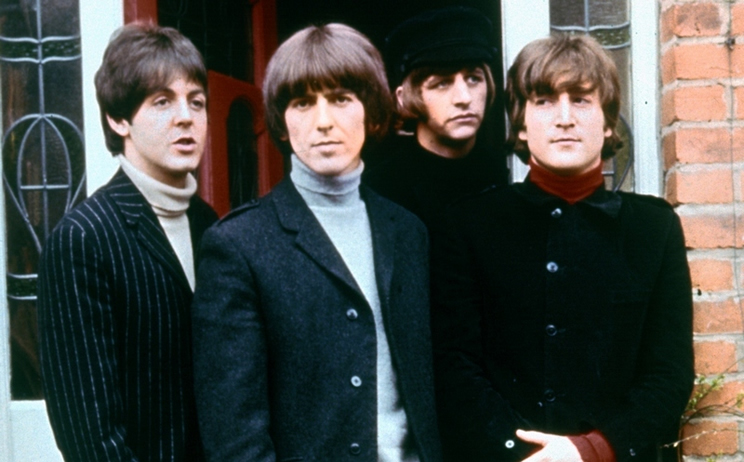 The album's second side features two tracks which made up one of the oddest inverted 45 singles ever. The cover "Act Naturally", with lead vocals by Starr is a country-flavored acoustic track and complete change of pace for the group, which was originally issued as a single with McCartney's "Yesterday" occupying the 'B' side. Of course, "Yesterday" became one of the most popular songs in music history, even though its solo performance by McCartney with string quartet and non-rock-n-roll approach was considered a significant risk by the band at the time. It is a song that hits every note in your emotions and a universal song that makes one feel a little nostalgic no matter what age. McCartney says he received the entire melody in a dream and hurried to a piano to play the tune before he forgot it, using the filler theme "Scrambled Eggs".
The remaining songs on side two are relatively lesser known, albeit interesting. "It's Only Love" is a short blend of Byrds-meet-Roy Orbison with a slight preview of the psychedelic flower-power English pop to come. Harrison's "You Like Me Too Much" is another retro-sounding tune with a hi-hat and double piano holding the beat and a bridge section which features trade-offs between lead guitar and piano by Lennon and Martin. On "Tell Me What You See", complex percussion rules the day through the first two verses and an electric piano section at end. "I've Just Seen a Face" features a great intro with dueling acoustic guitars, fantastic vocals by McCartney, and a fast-paced skiffle beat throughout. If anything, this track shows how the Beatles can take common instruments, voices and tools to  make unique and divergent sounds. The Larry Williams cover, "Dizzy Miss Lizzy" concludes the album as a groovy early sixties jam which, if anything, shows that this is still the "Beatles" after the unconventional track, "Yesterday". This song is also notable as the final cover song on a Beatles album until 1970's Let It Be, which included the traditional folk song, "Maggie Mae".
Beyond spawning three #1 singles, Help! became an album chart-topper as well as a multi-platinum seller worldwide. Following the album's release, The Beatles embarked on their third US tour, which opened with the classic Shea Stadium performance on August 15, 1965 that shattered all previous attendance records. Following the tour, the group took some time to focus on their next album, which would become the classic Rubber Soul late in 1965.
~
Part of Classic Rock Review's celebration of 1965 albums.