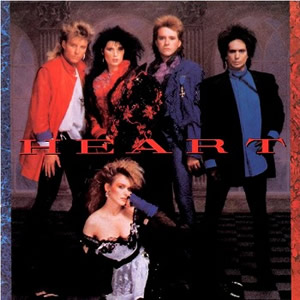 In 1985, Heart made a dramatic comeback, fueled by an equally dramatic alteration to their traditional sound. A successful hard rock band in the late 1970s, the group had nearly fallen off the face of popular music in the early 1980s before deciding to make a transition towards more mainstream pop/rock. The result was their self-titled record, Heart, which brought this American group its greatest commercial success, reaching quintuple platinum status and becoming their first and only chart topper.
Led by sisters from Seattle, lead vocalist Ann Wilson and guitarist Ann Wilson, Heart found instant success with their 1976 debut album Dreamboat Annie and the follow up Little Queen the next year. However, some legal entanglements between early labels caused the group to lose some commercial momentum before bouncing back with the double-platinum selling Dog and Butterfly in late 1978. After a trio of less-than stellar releases in the early 1980s, along with a short foray by Nancy Wilson into motion pictures, the group moved to Capitol Records and decided to makeover their image and their music.
Heart was the second album to feature the rhythm section of bassist Mark Andes and drummer Denny Carmassi, following their respective debuts on 1983's Passionworks. Produced by Ron Nevison, the album also used several outside musicians and songwriting teams to write and record a good portion of the material in a concerted effort to reach mainstream pop audiences. In doing so, the group all but abandoned the acoustic and folk sounds which were present in much of their early work.

Heart

by

Heart
Released: July 6, 1985 (Capitol)
Produced by: Ron Nevison
Recorded: The Record Plant, Sausalito, CA, January–April 1985
Side One
Side Two
If Looks Could Kill
What About Love
Never
These Dreams
The Wolf
All Eyes
Nobody Home
Nothin' at All
What He Don't Know
Shell Shock
Group Musicians
Ann Wilson – Lead Vocals
Nancy Wilson – Guitars, Mandolin, Vocals
Howard Leese – Guitars, Keyboards, Vocals
Mark Andes – Bass Guitar
Denny Carmassi – Drums
Right from the jump, Heart delves into a full, 1980s hair band aura with the opener, "If Looks Could Kill". Driving rhythms and clichéd lyric hooks rule the day, and this is not the last time they cover this territory, but overall may be the finest of its type. The fine, "What About Love", begins with a slow and dramatic synth entrance leads to a fine verse with Ann Wilson's vocals nicely floating above these richly orchestrated (albeit fake) strings. While the song is steady in its approach, it still has strong teeth, especially during the guitar lead by Howard Leese and during the outro which features excited vocals by Ann Wilson and a driving bass by Andes. "What About Love", which was originally recorded by the Canadian rock group Toronto, was a Top Ten hit for Heart.
An original composition by the group, "Never" was another Top Ten hit. With a good mixture of bright keyboards and crunchy, distorted guitar riffs, the song features simple vocal hook which is one of the best on the album. A fresh musical arrangement during the third verse also adds some nice variety to the track. Co-written by Martin Page and Bernie Taupin, "These Dreams" was the biggest hit of all, becoming Heart's first single to hit number one on the Billboard charts in early 1986. This fine, upbeat ballad is the only track to feature Nancy Wilson on lead vocals, who had a bit of cold when she recorded the track resulting in the happy accident of distinct raspy vocals. The track also features fine drum accents by Carmassi and a bridge section which is uplifting even as song maintains its dreamy, romantic vibe.
Bookending the sides of the original album, "The Wolf" is a straight-forward, driving rocker where Ann Wilson's vocals reach new heights and Leese provides some interesting, double-tracked guitar textures, while "All Eyes" has a sound that reverts back slightly to a bluesy, hard rock seventies sound, with Nancy Wilson's guitar work leading the way. "Nobody Home" is the closest to a power ballad on the album. Driven by an electronic piano which leads the way under Ann Wilson's melodic vocals, the song gives the album that added dimension as a sweet but sad song complete with a soaring lead guitar by guest Frankie Sullivan.
"Nothin' at All" leads into the final section of the album and serves as Heart's final high-water mark. Another mid-eighties pop rocker, this popular tune has a more subtle rock rhythm held together by Leese, Andes, and Carmassi, in much the same vein as eighties-era Journey. Unfortunately, the album finishes with two of its weakest tunes. "What He Don't Know" does offer some decent rock elements musically, with acoustic verses over a choppy rhythmic beat, but falters due to its totally trite lyrics. The closer, "Shell Shock", seems to have even less substance as a formulaic rocker, which may strike a certain mood, but has little true musical substance.
Beyond topping the American charts, Heart also charted well in the UK (#19) and other national charts. Heart's follow-up album, Bad Animals in 1987, continued in much the same musical direction and scored further commercial success for the group.
~

Part of Classic Rock Review's celebration of 1985 albums.