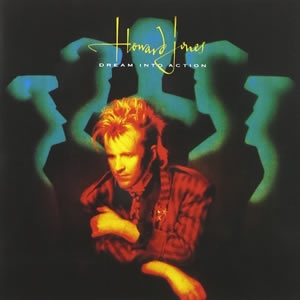 At first glance, Dream Into Action by Howard Jones may seem like a typical, mid-1980s synth pop album. However, a deeper listen reveals that there is much substance to the authentic material composed by Jones for his second release. Loaded with mainly up tempo and optimistic tunes, the album was a big hit back in its day as it fit in well with the pop scene of 1985. But strip away the synths and the slick production, and you still have some fine melodies and solid singer-songwriter type songs.
Jones started in the music business when he and his three younger brothers formed a band called Red Beat in the late 1970s. Howard had been playing piano since about age seven and later attended the Royal Northern College of Music. After launching a solo career in 1983, Jones rented out the famed Marquee Club in London so that record label executives could see him perform, a successful strategy as he signed with Warner Music shortly afterwards. Jones scored a Top 40 hit with the single "New Song", released in advance of his debut album, Human's Lib, which reached #1 in the UK and double platinum in sales. A 1984 single, "Like to Get to Know You Well" became an official anthem of that summer's Olympic games and, subsequently, a worldwide hit.
Dream Into Action was recorded in England in late 1984 with famed producer Rupert Hine helping forge the sound. Jones composed all the songs on the album and played most of music with the exception of bass guitar, played by his brother Martin Jones. Shortly before the album's release in early 1985, Jones performed alongside Stevie Wonder, Herbie Hancock, and Thomas Dolby in a synthesizer jam at Grammy Awards ceremony, setting him up for the pop success to come.

Dream Into Action

by

Howard Jones
Released: March 23, 1985 (Elektra)
Produced by: Rupert Hine
Recorded: Farmyard Studios, Little Chalfont, England, 1984–1985
Side One
Side Two
Things Can Only Get Better
Life In One Day
No One Is to Blame
Dream Into Action
Like to Get to Know You Well
Assault and Battery
Look Mama
Bounce Right Back
Elegy
Is There A Difference?
Automaton
Hunger For the Flesh
Primary Musicians
Howard Jones – Lead Vocals, Piano, Synths, Drums, Percussion
Martin Jones – Bass Guitar
TKO Horns – Saxophones, Trombone
The positive and upbeat, "Things Can Only Get Better", starts the album in typical Howard Jones fashion. Synths dominate and there is a funk groove that persists throughout but the sound is accented perfectly by the horns and vocals. Lyrically, everyone can relate to the feelings described in this song, which was a Top 10 hit on both sides of the Atlantic. The equally catchy "Life In One Day" offers some sage advice in its main hook along with a danceable groove and a chorus from the backing female vocal trio collectively known as Afrodiziak.
The ballad "No One Is to Blame" is about unfulfilled desires and attractions. A stripped down version appears on this album with just vocals, a piano and a simple back beat, allowing the haunting nature of the message to fits nicely with the minimal production. The song was later re-recorded and remixed by Phil Collins and Hugh Padgham into what some may say is a "superior" mix, which became another big hit for Jones. However, what is gained in the added techniques is lost the simplistic beauty of the original version.
The title track, "Dream Into Action" is purely an exercise in synth sounds and beats, like an anthem to 80's synth pop. "Like to Get to Know You Well" contains a strong melody, a steel drum effect, and more feel good happy lyrics about getting to know someone more than in just a superficial way. An interesting song overall which begins strong but unfortunately finishes weakly with a way too long, repetitive chorus. "Assault and Battery" finishes the original first side (on the US version) as the underrated gem of this album. Jones' piano and synths are in contrast but work well nonetheless and the track departs from the imagery of previous songs with their positive spin and advice to live every day to it's fullest. This one explores the morality of killing animals for food;
"Children's stories with their farmyard favorites. At the table in a different disguise…"
The album's second side contains lesser know songs which are still interesting and entertaining. "Look Mama" has a funky bassline and rhythms with lyrics which delve into every teenager's thoughts when they are dealing with an overprotective parent. There are lots of layers of sound in this one, it's not monochromatic in any way. "Bounce Right Back" has an odd mix of sinister sounding synths and quasi rap lyrics  and once again, is giving some advice.  This time on the wisdom of keeping your cool and watching what you say and do because, "those crazy words you fling from your mouth will bounce back on you some day." The ethereal sounds of "Elegy" are in contrast to anything else on this album, as are the dark lyrics that speak of suffering and wishing for death.
We return to the bouncy, catchy melody on "Is There A Difference?", with the theme being a philosophical discussion about whether our apparent differences really matter in the overall scheme of things. "Automaton" appropriately sounds like a machine with odd, syncopated sounds accenting the vocals. An indulgence in synths,  this tune is about a robot who looks human, but is empty inside. The album wraps with "Hunger For the Flesh", another philosophical rant where Jones explores the human tendency to nourish one's body at the expense of nourishing one's soul. The synth sounds in this one roll and roar like a thunderstorm and flood of Biblical proportions with Jones' vocals being perhaps the most earnest on this closer.
Dream into Action went on to become Jones' most successful album, reaching #2 in his home UK and #10 in the US, where it stayed on the charts for an entire year. Eventually his fame subsided but, in the late 1980s, Jones began practicing Nichiren Buddhism and credits his daily chanting as having a profoundly positive effect on his life.
~

Part of Classic Rock Review's celebration of 1985 albums.