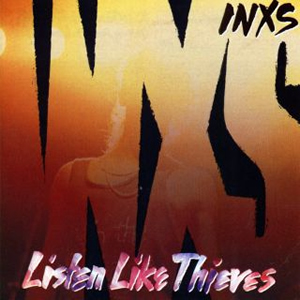 INXS forged their most successful rock formula on, Listen Like Thieves, the 1985 album which would set the pace for the group's most successful commercial run through the late eighties and early nineties. The sound they forged on this fifth studio album morphs traditional rock with a dance production value along with the lyrical themes are upbeat and optimistic, portraying a feeling of opportunity and forgiveness. Commercially successful, the album spawned five single releases, including the group's first US Top 10 hit.
INXS originated in an Australian high school in 1977, when keyboardist Andrew Farriss recruited vocalist Michael Hutchence into his band, which also included bassist Garry Gary Beers. Eventually, this early band merged with another group that included guitarist Tim Farriss (Andrew's older brother) and multi-instrumentalist Kirk Pengilly. Once INXS was fully established, a third Farriss brother, drummer Jon Farriss rounded out the lineup. The band began regularly supporting fellow Australian band Midnight Oil and enlisted that group's manager, Gary Morris. Early in 1980 the band signed a five-album record deal with a Sydney independent label and INXS released their first single, "Simple Simon"/"We Are the Vegetables". Their self-titled debut album was released later in 1980 and featured their first Australian Top 40 single as the album itself went gold and reached the Top 30. A year later, Underneath the Colours was released to similar success but the individual members decided to take a short break from the band to pursue other musical projects.
In mid-1982, the group recorded and released the international album Shabooh Shoobah, which brought the group to the attention of Western audiences due to popular singles and videos on the new network MTV. The band travelled to England to record their fourth album, The Swing, which was released in April 1984 and continued their worldwide ascent in popularity, especially after an extended European tour later in 1984.
For Listen Like Thieves, INXS morphed their sound from new wave towards a more straight-ahead rock direction. Produced by Chris Thomas, the album was the first to be recorded in the band's home country since 1981's Underneath the Colours. Leading up to the album's release, the group played some high profile concerts including an Australian performance for British Prince Charles and Princess Diana as well as a featured spot in the Australian version of Live Aid.

Listen Like Thieves

by

INXS
Released: October 14, 1985 (Atlantic)
Produced by: Chris Thomas
Recorded: Rhinoceros Studios, Sydney, Australia, August 1985
Side One
Side Two
What You Need
Listen Like Thieves
Kiss the Dirt
Shine Like It Does
Good + Bad Times
Biting Bullets
This Time
Three Sisters
Same Direction
One x One
Red Red Sun
Group Musicians
Michael Hutchence – Lead Vocals
Andrew Farriss – Guitars, Keyboards
Tim Farriss – Guitars
Kirk Pengilly – Guitar, Saxophone, Vocals
Garry Gary Beers – Basss
Jon Farriss – Drums, Percussion
Most songs on Listen Like Thieves were composed by Andrew Farriss and Michael Hutchence. However, the title track is credited to all six members of INXS. With dramatic storytelling and an effective vocal performance, this atmospheric song is musically like a movie clip track for a spy thriller with an edge of good, buoyant bass throughout by Beers. "Kiss the Dirt (Falling Down the Mountain)" sounds like it was inspired by Roxy music, with a subtle rhythm and blues approach and reserved vocals, along with great production and arrangement. This track also features effective, steady drumming by Jon Farriss and reached #15 on the Australian singles chart. "Shine Like It Does" features a smooth, almost soothing melody along with orchestral-style synths, but "Good + Bad Times" unfortunately has a dated, eighties sound and is kind of a throw-away filler. In contrast, "Biting Bullets" is purely like a punk rant, with slight, U2-ish elements.

The album's most popular track is the opening, "What You Need", which offers instant and obvious appeal with its funky synth bass line and guitar rotation along with its upbeat message. The track provides a great hook and short musical interludes, packing much into the three and a half minute duration. Of special note is the R&B progressions, the second of which climaxes with a smooth ending sax solo by Pengilly. "What You Need" was the band's first American Top 10 hit, peaking at #5 on the Billboard pop singles chart. The album's second side starts with "This Time", a song solely composed by Andrew Farriss and featuring a mixture of electric and acoustic guitars along with great melody in vocals and in riff. This track is also advanced in its arrangement and approach and lyrically it centers on the key line;
"this time will be the last time that we will fight like this…"
Tim Farriss's "Three Sisters" is an experimental, instrumental with jungle sound effects which leads into "Same Direction", maintaining the synthesized beats through its long, Oingo Boingo like intro. Like a breath of fresh air, "One x One" has a strong, show time arrangement and, while still synth dominated, this song gets back to the direct rock and funk rhythms of earlier on the album. It all concludes with "Red Red Sun", co-written by Jon Farriss and perhaps the hardest rocking song on the album.
Listen Like Thieves topped the Australian album charts and fell just short of the Top 10 on the US charts. Following the album's release, INXS went on a world tour through North America, Europe, and New Zealand before returing to the studio to record Kick, their most successful album commercially.
~

Part of Classic Rock Review's celebration of 1985 albums.