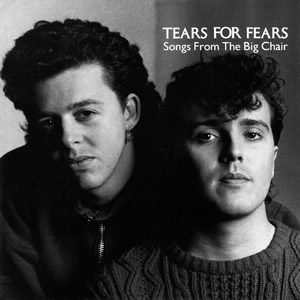 In the 1980s, Tears For Fears was a progressive/new wave project by composer and vocalist Roland Orzabal and bassist Curt Smith. They reached their commercial peak with their second studio album Songs from the Big Chair, which peaked at #2 in the UK and topped the US charts, while spawning four hit singles. Thematically, the album adopts a sort of mellow, electronic, primal-scream-like approach with rich and sophisticated pop compositions on the human condition and emotional healing.
Orzabal and Smith were acquaintances as teenagers and later as session musicians, where they first met future group drummer Manny Elias. After a short stint with the band Graduate, which yielded an album and single release in 1980, they formed a band to the develop a sound similar to Brian Eno or Peter Gabriel. The group got their name from a technique used in primal school therapy, developed by the American psychologist Arthur Janov, and most famous as the inspiration for the album,  John Lennon/Plastic Ono Band. Keyboardist Ian Stanley offered the duo free use of his home studio where Tears For Fears recorded and released three singles through 1981 and 1982, with the third of these, "Mad World", reaching #3 in the UK late in 1982. Their debut album, The Hurting, was released in early 1983 with Stanley and Elias becoming full bandmembers, making Tears For Fears a quartet.
In 1984, the group began working with producer Chris Hughes on a follow-up to their successful debut album, with two singles released late in that year ahead of the early 1985 release of Songs From the Big Chair. The album's title was inspired by a 1976 television film, "Sybil", about a woman with multiple personalities who only found stability when sitting in her therapist's "big chair".

Songs From the Big Chair

by

Tears For Fears
Released: February 25, 1985 (Phonograph)
Produced by: Chris Hughes
Recorded: The Wool Hall, Somerset, UK, 1984
Side One
Side Two
Shout
The Working Hour
Everybody Wants to Rule the World
Mothers Talk
I Believe
Broken
Head over Heels
Listen
Primary Musicians
Roland Orzabal – Guitars, Keyboards, Vocals
Curt Smith – Bass, Vocals
Ian Stanley – Keyboards
Manny Elias – Drums
A regimented percussion introduces and persists throughout "Shout", co-written by Orzabel and Stanley. In contrast to the mechanical instrumentation, the melodic vocals and synth riffs help the song grow in richness as it progresses. Released in November 1984, it was a smash hit on both sides of the Atlantic. "The Working Hour" has a completely different feel, starting with a jazzy saxophone solo and orchestral effects before the song fully kicks in with percussion by Jerry Marotta and grand piano by Andy Davis. It takes two full minutes before the vocal part of the first verse begins in this interesting song which is at once dark, desparate and distant but also warm and inviting.
Another chart topper, "Everybody Wants to Rule the World" makes good use of arpeggios and motifs, which helped make it the cleanest pop song thus far on the album. The song's middle section has a couple of rhythmic guitar sections with a later hard-rock-style guitar lead played by Hughes, who also played a large role in completing this composition. The first single released ahead of this album, "Mothers Talk" is driven by overbearing synths, percussion and chanting vocals, While this song has some new wave elements, these are buried within the thick production.
The second side starts with "I Believe", a lounge-like ballad by Orzabel which stays sad and slow throughout and features Will Gregory on saxophone. The side and album concludes with "Listen", a dramatic track which features long stretches of synth ambiance between vocal lines before it builds to an intense crescendo in the long outro where Orzabel and Marilyn Davis trade distant vocal chants. The middle of the side features a mini-suite where differing versions of the hyper-synth track "Broken" acts as both an intro and epilogue to the track "Head Over Heels". The most melodic and interesting song on the album, "Head Over Heels" also possesses the best musical arrangement and overall composition, especially during the ascending chorus sections with sweet musical overtones and riffs by a variety of instrumentals. The outro to this Top 10 hit finishes with a coda section featuring bouncy bass, main riff and scat vocals until it reaches a climax at very end with a solo vocal line by Orzabal.
Songs From the Big Chair hit the Top 30 in about a dozen national charts across the globe. The band followed-up this worldwide hit with a world tour that lasted over a year before the group took an extended break, not releasing their third album until 1989.
~

Part of Classic Rock Review's celebration of 1985 albums.