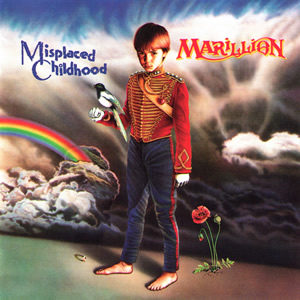 Misplaced Childhood is a 1985 concept album by the British group Marillion, which consists of an LP side continuous pieces of music. Thematically, the compositional lyrics were written by the group's vocalist Fish (born Derek William Dick), who wrote a theme based on elements of lost love lament, and lost childhood. This platinum selling third release by the group has gone on to be their most successful as it topped the charts in their home UK and registered on those charts for 41 consecutive weeks.
The group was formed (originally as "Silmarillion") in 1979 by guitarist Steve Rothery. Fish joined on as vocalist in 1981 with keyboardist Mark Kelly and bassist Pete Trewavas joinig the following year. After releasing a three song demo which caught some attention, Marillion recorded and released their debut album, Script for a Jester's Tear, in 1983. The album peaked in the Top 10 of the UK charts and spawned the Top 20 single, "Garden Party". Former Steve Hackett drummer Ian Mosley joined the group in time to record their the second album, Fugazi, in 1984.
The concept for Misplaced Childhood was sparked during an "acid trip" by Fish when he hallucinated a vision of a child dressed as a soldier. He instantly wrote "a large scrawl of prose" with a mixture of autobiographical, traditional, and popular culture references. The album was recorded in the spring of 1985 in Berlin, Germany and produced by Chris Kimsey. Aside from composing the the music itself, the biggest challenge was getting the songs to flow together seamlessly from one song to the next, with some "link" sections constructed to get from point 'A' to point 'B'.

Misplaced Childhood

by

Marillion
Released: June 17, 1985 (MCA)
Produced by: Chris Kimsey
Recorded: Hansa Ton Studios, Berlin March–May 1985
Side One
Side Two
Pseudo Silk Kimono
Kayleigh
Lavender
Bitter Suite
Heart of Lothian
Waterhole (Expresso Bongo)
Lords of the Backstage
Blind Curve
Childhoods End?
White Feather
Primary Musicians
Fish – Lead Vocals
Steve Rothery – Guitars
Mark Kelly – Keyboards
Pete Trewavas – Bass
Ian Mosley – Drums, Percussion
The opener "Pseudo Silk Kimono" is a subtle, slow, and soft piece, fueled by long synth strings and guitar pedal effects throughout the two brief verses. "Kayleigh" is the signature song on this album and most indelible track from Marillion overall. A perfect song of reflection, which topped our list of Forgotten Rock Gems of the 1980s, the song is dripping with nostalgia and emotion lyrically while it is musically led by the great guitar riffing and fantastic lead by Rothery. Largely ignored in America, the song reached number 2 on the British charts and also ranked high in several other European countries. Most importantly, it holds up well 30 years later as a piece that represents the best elements of eighties rock.


The third song in the side one medley and often added as an epilogue to "Kayleigh" on classic rock radio, "Lavender" is short but dramatic track which found British chart success on its own in 1985. Built on simple, repeating riff, the song borrows a bit from the folk song "Lavender Blue" but with a definitive, prog rock flavor. The five part "Bitter Suite" follows with rapidly changing chapters morphing into each other. "Brief Encounter" features Mosley's rolling drums above Kelley's droning synth, accompanied by a distant lead guitar before "Lost Weekend" marches exclusively to a hi-hat beat along with (mostly) spoken vocals by Fish. "Blue Angel" has a pure old-Genesis-like approach with a slow, repeating riff and exquisite lead guitar over poetic lyrics. "Misplaced Rendezvous" has picked electric guitar and emotive vocals before it morphs into the piano driven "Windswept Thumb" with much the same vibe to conclude the suite. Even though it features stronger rhythms and rock elements with odd timings, "Heart of Lothian" sounds like a natural continuation of the suite with an ethereal, double-guitar lead riff through much of the track before it finally giving way to calm, synth-driven outro to end the first side.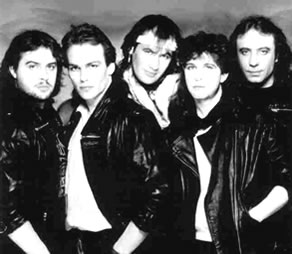 The second side (and musical movement) begins with the percussive orchestra of "Waterhole (Expresso Bongo)" with animated xylophone-like synths by Kelly complimented by Mosley's complex drum pattern and Fish's most strained yet strong vocals thus far. The short "Lords of the Backstage" features odd-timed syncopation as a different variation of "Waterhole" before the album turns to the second extended, five-part suite, "Blind Curve". The opening section is a slow rocker with only one real verse before moving on to "Passing Strangers", a ballad with strong, dark rhythms which concludes with a fantastic, multi-part guitar lead. The "Mylo" section has the same basic vibe but with more melodic and expressive vocals and a later cool synth, which makes this one of the most pleasant sections of the second side. The suite slows with the soundtrack-like "Perimeter Walk" before the climatic ending of "Threshold" where the main theme in "Passing Strangers" returns with much excited tension, not relenting until the song finally resolves with a short guitar outro.
"Childhoods End?" is a pleasant, almost poppy dance song, driven by the bouncy bass of Trewavas along with odd, funky rhythms during the verses. This is complemented by stronger, straight-forward rock choruses which work to make this track different than anything else on the album in musical vibe. The song's title is phrased as a question which is ultimately answered in the negative at the very end of the lyrics. The closing "White Feather" is a new wave flavored, groove rap with animated drums and a uni-directional arrangement before it fades out to complete the album.
During the tour for Misplaced Childhood, Fish would often announce that there is time for only one more track before the band performed the entire album in sequence. Marillion followed up with a less successful fourth album, Clutching at Straws in 1987, before Fish left the band to pursue a solo career. He returned to the group in 2015 to launch the "Farewell to Childhood" tour, where the group plays the full LP to honor its 30th anniversary.
~

Part of Classic Rock Review's celebration of 1985 albums.