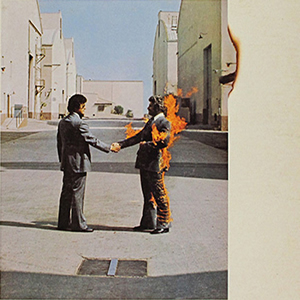 During the writing and production of Wish You Were Here, the members of Pink Floyd were grasping with the their new found stardom and the pressure to deliver another hit album. A serious bout of collective writers block and frequent tour interruptions further added to this pressure over the course of 1974 and early 1975, but eventually the concept came into being and the fine album was completed. While this record was almost totally composed by bassist Roger Waters, and much of its focus is former band member Syd Barrett, this album is really a tour de force for guitarist and vocalist David Gilmour, who contributes some indelible textures, riffs and licks throughout the album.
Following the worldwide success of 1973's The Dark Side of the Moon, the group negotiated a new contract which gave them a reported advance of $1,000,000. While touring Europe in 1974, the group composed three extended songs. Two of these, "Raving and Drooling" and "You Gotta Be Crazy" would be held over and reworked as the tracks "Sheep" and Dogs" respectively on the 1977 album Animals. The third piece, "Shine On You Crazy Diamond" would become the bookend centerpiece around which this loose concept album would be built.
Wish You Were Here was produced by Pink Floyd as a band with the assistance of engineer Brian Humphries, who had previously worked with the group on the 1969 soundtrack album More. Like its predecessor, the album was recorded at the famed Abbey Road Studios. Being that Humphries never worked there before, he encountered some early difficulties.
But the technical difficulties were nothing compared to the incredible coincidence of Barrett showing up during the mixing of "Shine On You Crazy Diamond" which was obviously written about him. Barrett had arrived to attend Gilmour's wedding on June 5, 1975, while all four band members were in the mixing room. Not a single one of them recognized him at first as he had shaved his head and eyebrows. Once they all realized that it was him, it was obvious that he was unable to partake in a normal conversation and had no idea that he was the subject of the song they were mixing that day. This put a damper on the wedding and unfortunately no member of Pink Floyd saw Syd Barrett again until they attended his 2006 funeral.

Wish You Were Here

by

Pink Floyd
Released: September 12, 1975 (Harvest)
Produced by: Pink Floyd
Recorded: Abbey Road Studios, London, January–July 1975
Side One
Side Two
Shine On You Crazy Diamond (I)
Welcome to the Machine
Have a Cigar
Wish You Were Here
Shine On You Crazy Diamond (II)
Group Musicians
David Gilmour – Guitars, Keyboards, Vocals
Roger Waters – Bass, Guitars, Keyboards, Vocals
Richard Wright – Keyboards, Vocals
Nick Mason – Drums, Percussion
The first section of "Shine On You Crazy Diamond" sounds totally new age during the beginning section, which was originally developed as "Household Objects", an experimental piece using ARP synth, Hammond organ and wine glass harmonica. After this long intro, the second instrumental section is much more musically rewarding, built on an indelible four note riff by Gilmour, above which he adds a bluesy lead and below which there is crisp and steady playing by the rest of the group. This second section acts as a kind of overture for the album, with Wright performing a calm synth solo that previews a later piece and Gilmour returning with a more blistering lead. After 8:45, the song proper finally begins with Waters on lead vocals delivering poetic lyrics which describe his take on Barrett's plight. Gilmour adds a superior, double-tracked lead in between the two verses and the final two minutes of the track is dedicated to an extended sax solo by Dick Parry above a new riff before song dissolves into a link to the next track.
"Welcome to the Machine" is a textual track with an abundance of synth and sound effects and the most substantial in studio production. However, this is probably the least musically creative as it is just a strummed acoustic which guides along the dark and mechanical sound effects with little to no traditional rhythms. The song does build a bit in the middle but then unfortunately reverts back to same arrangement for the last verse, missing an opportunity to bring it to a stronger sonic level. The album's second side starts with Gilmour's wild, treated guitar riffs which are expertly accompanied by Waters' bass and Wright's electric piano for a rich rhythmic experience. Wright then adds the signature synth riff, leading to the verses which feature guest Roy Harper on lead vocals, who was brought in when both Waters and Gilmour were unsatisfied with their respective attempts at singing the song. In any case, Harper's style fits nicely with the Pink Floyd sound, seeming to split the difference between Waters and Gilmour in style, while adding his own flourish to the end of each chorus. The final two minutes of the song are dedicated to a Gilmour guitar lead over increasingly funky rhythms by the rest of the band, especially Mason who gets more and more intense as the outro proceeds.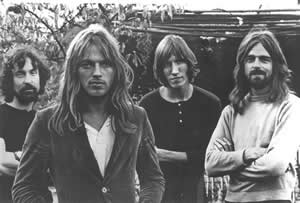 Starting with a unique sonic intro, "Wish You Were Here" is the true highlight of the album, as stripped-down acoustic track featuring Gilmour's gruff and folksy vocals. The song's full arrangement contains tremendous plethora of musical tid-bits ranging from a county-type piano, to a bluesy, slide acoustic lead, to the modern sounding synth pads. This unidirectional track's hook comes during the single final verse. which leads to the song's climatic outro featuring Gilmour vocally mocking his own lead acoustic while the song fades into a distant wind effect. This leads to the second suite of "Shine On You Crazy Diamond", which starts with a cool bass and guitar thump very reminiscent to "One of These Days" from 1971's Meddle, right down to the distorted lap steel guitar played by Gilmour. After an abrupt return to the main theme for two verses, the suite just as abruptly turns to a funky clavinet-driven section led by Wright, which is entertaining in spite of the fact that it breaks the musical cohesion. The final parts of the song seem to be extraneous as they really seem to lack focus and direction, just pure filler to fill out the album before a long, anticlimactic fade, a really unfortunate way to end this fine album.
Wish You Were Here became an instant commercial success, topping the charts on both sides of the Atlantic, with EMI reportedly unable to print enough copies to satisfy initial demand. Both Gilmour and Wright have cited this album as their favorite by the band and, while it had initially received lukewarm critical reviews, the album has grown to near universal acclaim over the past four decades. Wright and David Gilmour have each cited Wish You Were Here as their favorite Pink Floyd album.
~

Part of Classic Rock Review's celebration of 1975 albums.