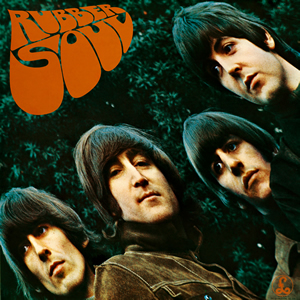 As the years have gone by, Rubber Soul has distinguished itself more and more from the "typical" early album by The Beatles. While the 14 selections remain pretty much bright and poppy, the underlying lyrical content starts to touch on more mature themes, as its center of gravity migrates from teenage love to young adult sex. More importantly are the compositions, the music and the sound production which feature a stream of creative innovativeness by the group and producer George Martin.
Following the band's international success in 1964, the year 1965 saw many new achievements and discoveries for the group, ranging from their reception of Members of the Order of the British Empire (MBE) in June to their first experiences with LSD and other drugs later in the year. During the summer of 1965, the motion picture and accompanying soundtrack album Help! were released and continued their phenomenal chart success. The group's third US tour followed, opening with a then world-record crowd of over 55,000 at Shea Stadium in New York on August 15th, with many more sold out cities to follow. That Fall even saw the premier of an American Saturday-morning cartoon series of the band, the first ever television series to feature animated versions of real, living people.
After the tour, the group had little time to record their sixth album in order for it to hit the markets in time for Christmas. However, due to their second straight year of top-level success, there was little pressure to focus on hit singles, which made this their most cohesive album effort to date. They returned to London in October 1965 and nearly all of the songs were composed and recorded within a four week period into November. The Beatles grew up quite a bit on this album. The harmonies are simple but artfully arranged while the production begins to get a bit "edgy" (without being too revolutionary) but adding more piano and keyboards as well as excess percussion and some non-traditional instrumentation.
Stylistically, the group incorporates contemporary R&B, soul, folk rock, and just a tad of psychedelic music styles. In fact, the album's title is a play on the slang term "plastic soul", which some musicians coined to describe Mick Jagger of The Rolling Stones when he attempted to replicate the "soul" singing style.

Rubber Soul

by

The Beatles
Released: December 3, 1965 (Parlophone)
Produced by: George Martin
Recorded: EMI Studios, London, October-November, 1965
Side One
Side Two
Drive My Car
Norweigen Wood
You Won't See Me
Nowhere Man
Think For Yourself
The Word
Michelle
What Goes On
Girl
I'm Looking Through You
In My Life
Wait
If I Needed Someone
Run For Your Life
Group Musicians
John Lennon – Guitars, Keyboards. Vocals
George Harrison – Guitars, Sitar, Bass, Vocals
Paul McCartney – Bass, Piano, Vocals
Ringo Starr – Drums, Percussion, Organ, Vocals
The album opener, "Drive My Car", reaches back to The Beatles' roots as a pure rocker with little deviation, save for the overdubbed piano during chorus sections and Ringo Starr's cow bell throughout. Lyrically, the comical phrases are augmented by the title, which is an old blues euphemism for sex. Rubber Soul's next two tracks feature incredible production value. John Lennon's, "Norwegian Wood (This Bird Has Flown)", is where the group takes its first real leap into the unknown as an acoustic folk song with a complementing sitar riff played by George Harrison. This works to gives a mystical feel to this story of what seems to be about a love affair that has lost its spark and the fire that was once warm and welcoming becomes vengeful in the end. Some have credited this song as the conception of the "world music" genre. "You Won't See Me", is a somewhat forgotten gem by Paul McCarftney. It is piano driven with fine chord progressions and melodies throughout. The bridge section shows off McCartney's complex compositional skills, while the three part-harmonies throughout are another highlight to the song.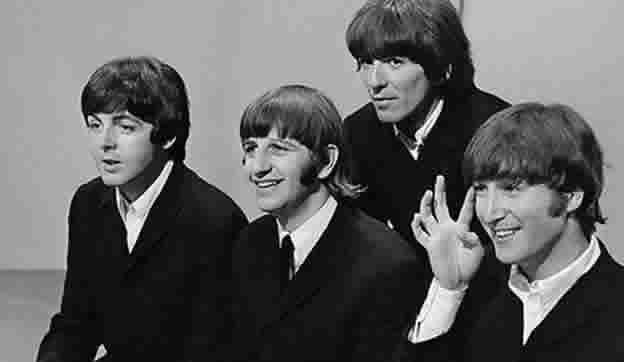 "Nowhere Man", features clever lyrics and philosophical commentary by Lennon, all while remaining melodic and pop-oriented. Harrison provides a slight guitar lead after first verse, while McCartney and Starr thumb out good rhythms throughout on this track which reach number 3 on the pop charts in America. "Think for Yourself", is the first of two compositions by Harrison this album and features an intriguing "fuzz" bass line by McCartney, complemented by a Vox Continental organ played by Lennon, giving it a total mid sixties vibe. While still entertaining, "The Word", is the first song in the sequence which is not absolutely excellent, as the harmonies seem a bit too forced. However, this track does contain a cool piano backdrop and outstanding drums by Starr. The first side wraps with another unique track, the European folk-influenced, "Michelle", complete with lyrics partially in French. This melodramatic love song is beautifully produced with rich background harmonies and Chet Atkins-style finger-picked electric guitar by McCartney for great sonic effect. "Michelle", which was originally written as a spoof on French Bohemians during the Beatles' early days, was re-written with proper lyrics for Rubber Soul and eventually won the Grammy Award for Song of the Year in 1967.
Side two of the album is not quite as excellent as the first side, but still contains solid songs throughout. "What Goes On", is Starr's country and western influenced contribution, in which he sings lead vocals and receives partial compositional credit for the only time on the album. Lennon's, "Girl", features great folk rhythms and melodies and previews some of his finer solo works years later. With more fine harmonies, the songs lyrics paint a vivid picture of a character who drives the protagonist crazy but is mesmerizing nonetheless;
Was she told when she was young that pain would lead to pleasure? Did she understand it when they said… That a man must break his back to earn his day of leisure? Will she still believe it when he's dead?"
Following McCartney's bright and sparse acoustic pop track, "I'm Looking Through You", comes Lennon's masterpiece of this album, "In My Life". Everything about this two and a half minute ballad showcases the Beatles at their best in 1965, The opening guitar notes, which were written by McCartney but played by Harrison, instantly tug at heartstrings. The poetic lyrics drip with sentimentality and lead to the climatic, Baroque–style piano lead played by Martin, which got a unique effect when the producer recorded it at half speed and found an authentic-sounding harpsichord result when played back at the normal rate. The first of its kind, Lennon wrote the song as a long poem reminiscing on his childhood years, themes which would be further explored by Beatles' members on future band albums.
"Wait", features great choruses and a decent bridge by McCartney along with a creative percussive ensemble and pedal-effected guitars, but is otherwise a weak song for this album. This is followed by Harrison's smooth classic, "If I Needed Someone", which features deliberate vocals, a sweet guitar and upbeat rhythms. This song was nearly simultaneously recorded and released as a cover by the Hollies and became a minor hit for that group. While Rubber Soul is a bright album overall, it concludes with the dark and violent, "Run for Your Life", an ode to domestic violence or perhaps the "outlaw country" of 1965, as presented by Lennon. A very far cry from the "Give Peace a Chance" theme of the near future, it is hard to discern if this is serious or dark comedy lyrically, but musically it contains a plethora of guitar textures – from the strummed acoustic, to the slide electric and rockabilly lead – which make it undeniably catchy overall.
Like all albums to that point, Rubber Soul was released with differing British and American versions, with the British version eventually becoming canon (and hence, the one we review here). The album was another commercial success, originally staying on the charts for nearly a year, with several chart comebacks throughout the decades. Within the following year of 1966, The Beatles would continue to accelerate their recording innovations with the follow-up, Revolver ,and give up on touring completely to strictly become a studio-oriented band.
~
Part of Classic Rock Review's celebration of 1965 albums.