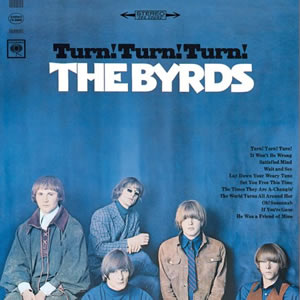 The Byrds finished their breakout year of 1965 with their second highly acclaimed and commercially successful album of that year. Turn! Turn! Turn! built on the group's distinct, multi-guitar-timbre, folk/rock sound with a fine mixture of original, cover, and reinterpreted traditional tunes. Of the originals on this album, guitarist and vocalist Jim McGuinn's contributions were on par with those by Gene Clark, who had been The Byrd's primary composer of original material up to that point in time.
McGuinn, Clark, and David Crosby formed the group as a folk trio called, The Jet Set, in early 1964. However, McGuinn had become a fan of the Beatles early music and began to fuse his solo folk repertoire with acoustic/rock versions of their songs. While rehearsing new material, the band began to bridge the gap between folk music and rock and soon drummer Michael Clarke was added to the band. The group made some demos and released one single on Elektra Records, "Please Let Me Love You", under the name, "The Beefeaters", in October 1964. Bassist / mandolin player Chris Hillman joined the band in late 1964, rounding out the original five-piece lineup. Next, with a recommendation from jazz trumpeter Miles Davis, the group was signed to Columbia Records and decided to rename themselves (one final time) to The Byrds. In early 1965, the group reached immediate fame with an original cover of Bob Dylan's "Mr. Tambourine Man", followed by their debut album of the same name, which reached the Top 10 on the album charts during the summer of 1965. That same summer, the group toured England and was being promoted as "America's answer to the Beatles".
With this international success, The Byrds returned to Columbia Studios in Hollywood with producer Terry Melcher to record a second album. By now, folk rock was becoming a growing trend and the group was primed to fully capitalize on their momentum. However, the recording of Turn! Turn! Turn! was not without its tensions, as Crosby (who had one co-writing credit on the album) accused McGuinn and Melcher of conspiring to keep his songs off of the album. Crosby had written a handful of originals which were rejected for this album, as had Clark, who had three additional tracks rejected. Most of these songs were included in the extended 1996 CD reissue of the album.

Turn! Turn! Turn!

by

The Byrds
Released: December 6, 1965 (Columbia)
Produced by: Terry Melcher
Recorded: Columbia Studios, Hollywood, June – November, 1965
Side One
Side Two
Turn! Turn! Turn!
It Won't Be Wrong
Set You Free This Time
Lay Down Your Weary Tune
He Was a Friend of Mine
The World Turns All Around Her
Satisfied Mind
If You're Gone
The Times They Are a-Changin'
Wait and See
Oh! Susannah
Group Musicians
Jim McGuinn – Guitars, Vocals
David Crosby – Guitars, Vocals
Gene Clark – Guitars, Harmonica, Vocals
Chris Hillman – Bass, Vocals
Michael Clarke – Drums, Percussion
The signature guitar orchestra led by McGuinn's jangly twelve-string Rickenbacker dominates the music of the opening title track, "Turn! Turn! Turn! (To Everything There is a Season)". These guitars are complimented by perfectly harmonized vocals, and Clarke's rolling drum pattern under the chorus sections. While it is filled with so much sustained guitar textures, it stops on a dime several times between each verse/chorus sequence, including a false ending before a coda with extra intensity. The song was originally composed by Pete Seeger in the late 1950s, with many of the lyrics were lifted from Chapter 3 of the Book of Ecclesiastes, possibly written by King Solomon in the 10th century BC. With that, the song holds the distinction as the #1 pop hit with the oldest lyrics.
Like the opener, "It Won't Be Wrong", is another upbeat track but with more standard love song style lyrics. Cowritten by McGuinn and Harvey Gerstand, this track features some interesting style changes which make it unconventional and a bit strange. Clark's, "Set You Free This Time", is a country/pop flavored track, especially in its vocal approach. In fact, this is the first song to feature solo lead singer, with harmonies used sparingly and with Clark's fine harmonica solo as the song fades out. "Lay Down Your Weary Tune", is the first of two Bob Dylan covers on the album and is set up like a spiritual with the chorus/hook featuring heavy harmonies. Musically, this song has much the same jangly vibe and strong drums as previous tracks, but with an added heavy bass presence by Hillman. The first side concludes with an original rendition of the traditional folk tune, "He Was a Friend of Mine", a finger-picked acoustic song with stripped down arrangement and a slight, distant organ by Melcher under the later verses.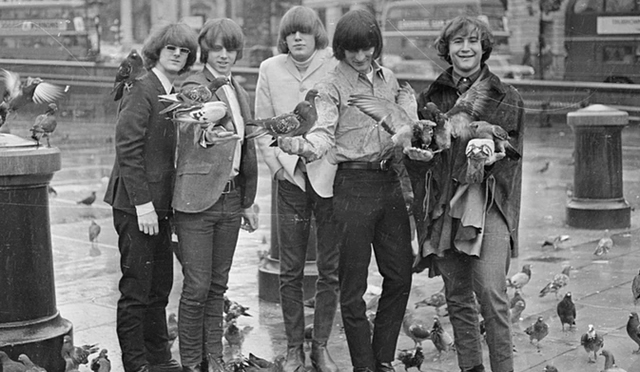 "The World Turns All Around Her", is a fine, pop-oriented composition by Clark which may only suffer from lack of strong rhythm presence in production mix. "Satisfied Mind", follows as a country-esque cover of a folk song by Red Hayes and Jack Rhodes. Along with the fine sparse instrumentation and harmonica lead, this track is highlighted by profound and philosophical lyrics;
Money won't buy back your youth when you're old, a friend when you're lonely or a love that's grown cold / The wealthiest person is a pauper at times compared to the man with a satisfied mind…"
Clark's, "If You're Gone", is different than any other track on the album. Vocal-centric with a slow-rock backing, the song has distinct and interesting, almost haunting, chanting low-register vocals. While not quite as potent as their cover of, "Mr Tambourine Man", the Byrds' cover of, "The Times They Are a-Changin'" ,still dekuvers somewhat of an interesting arrangement of the Dylan classic. Further, the group members were pleasantly surprised when Beatles George Harrison and Paul McCartney showed up during the recording of this track. "Wait and See", is the only song to feature Crosby as a co-writer, along with McGuin, while the group chose to do a souped up version of the popular campfire song, "Oh! Susannah", to close the album.
Turn! Turn! Turn! peaked in the Top 20 of album charts in both the US and UK. However, The Byrds wasted little time moving forward musically, as they released their controversial breakthrough single, "Eight Miles High", just two and a half weeks after this album's release. Just two months later, Gene Clark left the group in February 1966, commencing a wave of personnel shifts which would continue through the duration of the group's career.
~
Part of Classic Rock Review's celebration of 1965 albums.