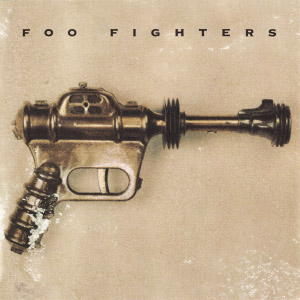 With the suicide of Nirvana front man Kurt Cobain abruptly ending what looked like a promising rise for the rock trio in 1994, the group's drummer, Dave Grohl, decided to write and record independent material as a "cathartic experience". The resulting work, Foo Fighters, an album and act which derived its name from a term World War II aircraft pilots would use to describe various UFOs. No one (even Grohl) at the time knew that this album would act as the commencement of a highly successful rock band for decades to come.
The name originally served as a proxy, intentionally used by Grohl to preserve his anonymity after recordings were completed. Those recordings took place over just one week in October 1994 at Robert Lang Studios in Seattle, with Grohl frantically recording all instrumentation and vocals himself. Along with producer Barrett Jones, the duo spent long days recording up to four songs each day in the order that they would ultimately appear on the album. Having never been a front man, Grohl was initially insecure about his singing so he often double-tracked and applied added effects to his voice. Many of the compositions were initiated during Grohl's time in Nirvana, as he would often bring a guitar along on tour. However, there were many parts composed on the fly during the short studio time.
Grohl originally pressed a limited number of LPs and cassettes to pass out among fellow musicians and friends. He had been offered a permanent gig as drummer for Tom Petty and the Heartbreakers and briefly considered taking it before Petty heard one of his tapes and encouraged Grohl to pursue "the solo thing". Soon these tapes reached some major labels and Grohl signed with Capitol, who accepted the original recordings but had them remixed. Grohl then recruited a full band to forge a live show and fulfill Capitol's request for a photo of a full band.

Foo Fighters

by

Foo Fighters
Released: July 4, 1995 (Capitol)
Produced by: Barrett Jones and Dave Grohl
Recorded: Robert Lang Studios, Seattle, October 1994
Album Tracks
Primary Musician
This Is a Call
I'll Stick Around
Big Me
Alone + Easy Target
Good Grief
Floaty
Weenie Beenie
Oh, George
For All the Cows
X-Static
Wattershed
Exhausted
Dave Grohl – Lead Vocals, Guitars, Bass, Drums
The opener, "This Is a Call", is actually one of the more recent songs written by Grohl and, right from the jump, his sense of melody and accessibility is evident along with his penchant for unabashed, hard-edged rock. the song starts with some double vocals above strummed electric for one line before the song explodes into a full and intense rock arrangement and it peaked at #2 on the Modern Rock Tracks chart. "I'll Stick Around" is more like a traditional Nirvana song with rotating riffs and a quasi-punk feel. The song's vocal vibe ranges from detached whine to emotional screed with the music following perfectly throughout. The third song, "Big Me", displays a third distinct type of talented musical style by Grohl. As a calm and melodic pop song, the track displays a knack for effective use of repetition and arrangement in getting the songs message out in a quick and effective way.
"Alone + Easy Target" dates back to 1991 and is another good jam, albeit not quite as innovative as the first three songs. "Good Grief" is driven by steady, upbeat drums and drilling guitar textures and the choruses get a little punk intensive, while "Floaty" contrasts with a pleasant 12-string acoustic intro before launching into a flange-drenched steady rock sway during the verses. "Weenie Beenie" brings the effects to a nearly absurd level with its textures and heavily treated vocals. While this is all fun as a headbanger, there is not much in terms of musical substance. "Oh, George" returns to melodic hard rock and is a loose tribute to George Harrison, who he calls his "favorite Beatle".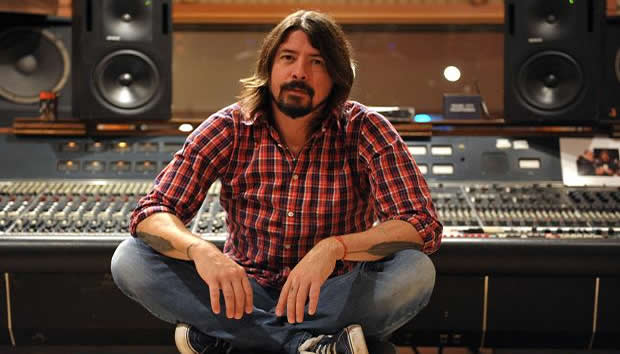 Coming down the stretch, Foo Fighters maintains its energy and vibrancy while offering more diverse selections. "For All the Cows" is another Nirvana-esque track, starting with calm, jazzy verses and exploding into heavy punk screeds during the choruses. "X-Static" is notable as the only track with an outside musician, as Greg Dulli of Afghan Whigs plays guitar. "Wattershed" is a punk jam with nearly screamed vocals that rail against mailmen, banks, record contracts, and other divergent subjects. "Exhausted" closes things out and works great with its title as the closing track to this rapidly recorded collection. The track is notable for an extremely long "feedback" section in the middle, before the main musical riff reprises to shepherd out the album.
Foo Fighters charted well throughout the world and was promoted through several tours domestically and internationally. These tours served to gel the members as a proper "group" and much success would follow, starting with the 1997 second album, The Colour and the Shape, and continuing well into the next century.
~

Part of Classic Rock Review's celebration of 1995 albums.