by Julia Dragomirescu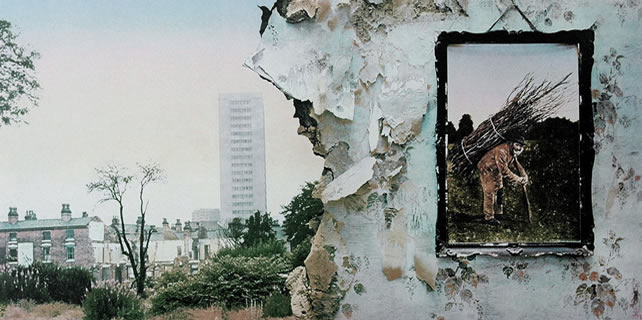 I hear the "ding dong" sound as I enter the vinyl record shop. The smell of antiques wafts gently through the air, beckoning to the wanderer to enter a realm of nimble-fingered guitarists and pre-Raphaelite-faced singers. Enchanted, my eyeballs focus on the simple black lettering, shifting from one category to the next. My eyes refocus on the last one labeled "Rock." Rushing to the stack, I madly flip through it, reaching further and further, holding my breath when the holy grail appears before my eyes: Led Zeppelin IV! I knew today would be my lucky day. And it doesn't even smell that bad. Proud of my extraordinary find, I whisk it away to my house and gently open the sleeve. Before doing so, I analyze every minuscule detail of the cover, noticing that it bears no title. A strange old man catches the viewer's eye, he carries a gigantic bundle of sticks on his back and has a simple wooden walking cane. This painting has a countryside background nailed onto what appears to be the wall of a peeling building when the front and back cover are viewed together. When opening the inner sleeve, a charcoal background lights up the wise old man and the lantern that guides his way. He stands atop a cliff, as intricate as a spider web, while peering at the miniature town below him. At last, the shiny black disc slides into my hands. Mysterious symbols appear on the label. Not paying much heed to them, I laboriously place the vinyl record on the player. I gently pick up the needle and anticipate the first chords of the singer and guitarist in harmony. I can feel the music flow into my ears physically shaking my heart and reminding me of the power and force of music, especially Led Zeppelin's music. I will now take you on a journey to discover the answers to the following questions: Why is Led Zeppelin, a band from the 1970s, still popular today with audiences, especially the younger generation? What has caused their music to survive while other bands have been forgotten?
I decided to start off my research by looking more closely at general facts about the band in order to test my own knowledge and maybe find out something new. I went on Led Zeppelin's music portal and found that they were an English rock band that started up in 1968 by Jimmy Page, the producer and guitarist of Led Zeppelin. Robert Plant became the vocals of the band as well as the harmonica accompaniment. John Bonham thumped away on his drums while John Paul Jones played the bass guitar, mandolin, and was the keyboard master of the group. The band mostly played hard rock songs, with a few softer more acoustic songs in between. Led Zeppelin's inspiration came from African-American blues singers, such as Muddy Waters and Howlin' Wolf. From there they developed their signature sound: a turbulent, guitar-oriented blues rock medley. Led Zeppelin experimented further by incorporating reggae, funk, soul, Celtic, classical, Indian, pop, Latin, Arabic and country behind the blues and folk background of many of their songs. They are considered valuable today for their ongoing commercial success, past artistic achievements and influence over others then and now. All of their original studio albums reached the top 10 of the Top 100 Billboard of the US, with their sixth album, Physical Graffiti, rising to number one. Ok, wait, stop! I thought. These statistics are great, but are they the true representation of why and what makes Led Zeppelin popular with young people today? I decided the answer was no. I steered away from electronic sources and chose to go old-fashioned.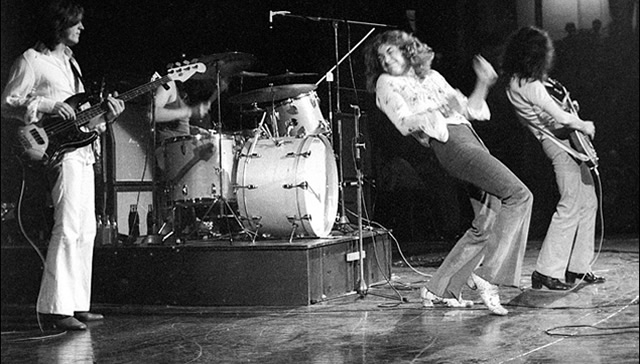 In Barney Hoskyns' book Led Zeppelin IV, he describes the mood of the recording room when the band first met. The future members knew that something great had happened right from the very beginning when they stepped into the room. In the studio, there wasn't much to see. John Paul Jones recalls the dim atmosphere of the room; "It was wall-to-wall amplifiers and terrible, all old," but that didn't bring them down one bit as Page took the lead and corralled them all into action: "Jimmy counted it out and the room just exploded." Bonham followed and set the rhythm and beat with his drums while the rest just fell into place. Plant became the focus with his booming voice and Page joined in to support him, complementing each other. John Paul Jones bass guitar set the right tone, as they harmonized "Train Kept a-Rollin" an old Johnny Burnette Trio rock n' roll song. Together, they created the perfect jigsaw puzzle. This description, (not much of a scene really), was a good start to understanding the band's dynamic but didn't give me any concrete descriptive details to paint a picture on why the band was a success today.
Hitting a dead end, my first intention was to actually contact the real band members and get them to tell me their perspectives and experiences with younger people of my generation. I grabbed my laptop and found some fan mail and official websites with email addresses. I first tried to contact Robert Plant since he is my favourite member of the band. I spent a long time scanning Google search results and I found absolutely nothing. Disappointed, I tried the other band members and found an email address for Jimmy Page. I emailed him and asked him for an interview. The email came back to me and stated that the address did not exist. Frustrated, I remembered that I read a while ago an interesting blog post about the band's references and inspirations for songs. I found a name attached to that article: Steven Markham. I emailed him, asking him for an interview, trying to seem professional despite being a high school student. He emailed me back immediately, success! I shouted quietly in my head because everyone else in the house was already in bed asleep.
Steven Markham, an alumnus of the University of Chester, is an expert on Led Zeppelin's music and gave his overall impressions of the band:
I think that their strongest point is that they are, individually, superb musicians with a technical mastery of their instruments and voices. Their use of English folk music as well as the usual blues and rock influence also makes them stand out amongst their peers and produces melodic and harmonic structures that are unique. The 'Rock Gods' look, style and stage posing also made them iconic figures as did their refusal to 'play the game' within the music industry; refusing to release singles, not using their faces on album covers and the brutal management style of Peter Grant"
I also decided to interview some cover bands. I emailed around 20 different bands from the US, UK and Canada. Only 8 bands got back to me: Led Zeppelin 2, Letz Zep, Coda, Led Zeppelica, Crimson Daze, Black Dog, Boot Led Zeppelin and A Whole Lotta Led. However, only 5 of them actually answered my questions. I asked them what originally led them to become Led Zeppelin fans. Robert Miniaci, Coda's singer, had this to say;
When I was about 11 years old, I was sitting at the family stereo with headphones on listening to the radio. I tuned into a local station and there was a song on already a third way in. I didn't know what the song was, the title, or who the band was. What happened to me was that I was struck with this incredible feeling. This energy that made the hair on my arms rise. I never heard a song like this. In that instant it was the most incredible song I had ever heard. So, eventually the song ended with a blistering guitar solo. The DJ came back on, and said, 'Well that was Black Dog by Led Zeppelin.' The very next day I was going through my older brother's record collection, because I had a feeling he had some Led Zeppelin records. Sure enough I found an album, that had no writing on it, nothing to indicate who created this record. I was to learn that this was Led Zeppelin's untitled fourth album. From that moment onward, it became a discovery of Led Zeppelin. I was immediately addicted to their music. I had to learn everything about them, and what their music was all about. I spent hours locked in my bedroom listening and learning, and singing along. To this very day, I still feel the same about the band and their music."
My second question was trying to probe what they thought made the band stand out, what was specifically unique to Led Zeppelin. Letz Zep's Billy Kulke exclaimed;
With Zeppelin, all the musicians are masters of their instrument, pushing back the boundaries of music. All four members contributed to the sound and the appeal of the band. Yes, there had been rock bands, and great musicians before, but not a band with all four trailblazing in a way Zeppelin did. To compare with other bands, they may fall onto a successful formula, then flog it to death. Zeppelin never sat on their laurels, but were always looking to advance, and change, and try new things. They were never content to sit on past glories. Whatever your mood, there is a Zeppelin period that satisfies this: the raw power of "Whole Lotta Love," to the acoustics, and the prog-rock of No Quarter."
Greg Reamsbottom from A Whole Lotta Led had an enthusiastic response;
It's about how the music makes you FEEL. Bands like the Sex Pistols technically sucked in terms of musicianship (a problem Zeppelin certainly didn't have!) but they made you FEEL something…that's what counts! Led Zeppelin's music SWINGS…the way the guitar, bass and drums lock together (always described as "tight, but loose"!) just works…few bands have that little bit of magic. Add Plant's stratospheric vocals and you have something unique. It's basically just the blues (something primal) with a heavy, psychedelic twist."
One thing that really grabbed me when I was just starting to get to know Led Zeppelin was not only the amazing riffs and vocals, but also their strange and mystical lyrics. I think the creativity of their lyrics cause the listener to be compelled to hear more. Steven Markham contrasts two of their styles and the impact Led Zeppelin's music has on him:
When you play their acoustic and 'quieter' tracks there is a melodic beauty that transports you to simpler times, somewhere between Merrie Olde England and Tolkien. When they turn up the volume there is a primal energy that erupts through the speakers."
As I delved deeper behind their inspirations and meanings of their songs and albums, I found a multitude of references. Jimmy Page was clearly the major contributor to Led Zeppelin's more odd and "spiritual" songs. It is evident that he had vast knowledge on the occult, folk mythology and fantastical literature and was fascinated by it. He has been described by Barney Hoskyns' as, "a satanic Paganini [playing Dazed and Confused on stage], an evil minstrel with his face obscured behind a curtain of black hair." Mr. Markham's article on Led Zeppelin caused me to become more interested in the band. Since childhood, I remember being fascinated by books and story-telling. My dad would read fairytales and myths to me (almost) every night before bed. I remember the way he would "present" them to me, describing them in such a way that the characters appeared real. Anyways, I also remember that I would listen to the music channel on TV, watching different videos of Abba, Bee Gees and other vintage bands. I didn't realize then, but music is a form of story-telling. It captures the audience with a particular rhythm or beat and lets the lyrics follow naturally. A lot of Led Zeppelin's songs cover different topics like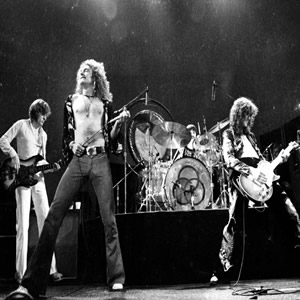 love, mythology, religion and folk stories. This is one reason why I love music and why I liked particular songs by Led Zeppelin, like Stairway to Heaven. However, I thought that this was not the case for everyone, especially other young people who listened to music because it made them feel a certain way. Now, that's in general of course and doesn't apply directly to the band. So, I decided to look online in chat forums that were geared towards the younger generation.
On Quora, in a topic called "What is so great about Led Zeppelin?", a 21-year-old named James Cook made two interesting comments:
The music they created defined a genre, transforming rock music from a tired rehash of old blues standards into a whirling dervish of musical energy and primal force. Songs like Immigrant Song and Kashmir transport the listener to distant lands…..When you listen to a Led Zeppelin song, you're listening to something other than four men in a cramped studio. You're listening to fifty years of blues music driven into a frenzy by Jimmy Page's studious years of listening to every release by the American blues masters. You're listening to all the folkish tradition of the English countryside in Robert Plant's vocals. You're listening to the musical theory and melodical genius of John Paul Jones. You're listening to John Bonham, whose drumming style once led Jimi Hendrix to comment, 'Boy, you've got a right foot like a rabbit!' When you're listening to a Led Zeppelin song, you're listening to the combined output of four of the most talented musicians who ever lived, along, of course, with that unknown factor."
On another website titled, Debate.org, there was a poll taken where users answered 'Yes' or 'No' to the question, "Is Led Zeppelin the best rock 'n' roll band of all time?" 78% said 'yes' and 22% said 'no.' KaeciMill compared Led Zeppelin to other bands for the 'yes' section;
No other band has achieved their level of musical sophistication as well as having a catalogue as unique and accomplished. In the decades following Zeppelin there have been metal bands who surpassed them techniquely. However, Zeppelin had better song writing abilities and that is why their songs remain timeless. If you play a later era album by The Beatles you could argue the songs are as good if not better than Zeppelin's but they fall short musically with uncompromising artistic statements. In comparison, Black Sabbath and Pink Floyd lack certain aspects of career fulfillment. Sabbath's late 70s work pales miserably in comparison to their early achievements and lacks the diversity of Zeppelin. Pink Floyd may have released musical masterpieces like "The Wall" and "Dark Side of the Moon" but certainly were not as prolific, with only 3 or 4 defining albums. Zeppelin has 6 pretty much undeniable classic albums, that's excluding their last two. In the years to follow no other group has released 6 albums of that calibre in their career. Even artists as great as Hendrix can't make that claim, despite how profound their influence. Even 90s greats like Nirvana can't reach Zeppelin's level of artistic fulfilment."
In the 'no' section Anonymous makes some disagreeable comments,
Led Zeppelin were half of a great band. As everyone seems to say, Led Zeppelin had one of the greatest-ever rhythm sections in all of rock music. Bonham and Jones were incredible not only in how good they sounded, but also in how they were, as players, capable of getting out of the way and providing an underlying propulsion for Plant and Page to work on. But Plant and Page were the problem; the prior is, let's face it, not a very good singer, and the latter, while a very good guitar player, sacrificed actual depth in his song writing for pretentious myth-making. So what Led Zeppelin ended up being was a great drummer and bassist adding propulsion to shallow, nerdy totems. Art should have higher standards."
What!? I thought after reading that. I guess everyone is entitled to their own opinions, but that was a little crude, I concluded.
I tried to find someone on the forum, Quora, that lived in my area. I found a few kids that lived close by and tried to contact them. I was wondering if I could see their personal collection of vinyl records and the stories behind how they got them, especially the Led Zeppelins. I got about 3 people to agree to give me their email. Most of them had around the same collection that I had which made me really dispirited. The one kid that had a more extensive collection told me that he now lives in Barrie [he forgot to update his profile]! Seeing that I couldn't find anyone with an extraordinary vinyl record collection, specifically with Led Zeppelin records, I settled with my dad's (technically mine as well) potpourri. Since I had failed in finding a stranger that I could conduct a live interview with, the next best thing was to interview my dad who also influenced my music taste.
As you enter our condominium suite the kitchen is the first thing you see. A very homey looking island counter and black accessories creates a warm and pleasant atmosphere. As you pass the kitchen area you realize that the boundaries blur between different spaces and all of a sudden you find yourself in the living room. Dark bookshelves line the walls with various subject matters. Paintings of different sizes stand out against the coffee hued walls. When you reach the spiral staircase to your left, you notice a large collection of records. As you skim through, it is clear they are separated by categories, like jazz, pop, electronic and rock. In the rock section you'll find Led Zeppelin IV, Houses of the Holy, Led Zeppelin II, Led Zeppelin III and Physical Graffiti. In the CD section you'll also find The Best of Led Zeppelin and Latter Days: Best of Led Zeppelin Volume 2. After coming into the room and pretending that I was at an interview with a person I hadn't met before, I sat down on the futon, setting the mood for a casual and relaxed session. I asked, "What caused you to become interested in Led Zeppelin?" as I was getting ready to scribble down on my notepad what he had to say. "Their expressive music: the melody as well as the lyrics. Also, at the time when I started to love hard rock music, in the Communist [in Romania] era, a contributing factor was my growing love for the English language and the Occidental [Western] life. This also powered my desire and the dream I had to 'escape.'" Satisfied with the unique answer I had received, I continued: "What do you think are the band's strongest points? What makes them stand out when compared to other bands?" He replied,
Besides what I have already mentioned previously, both the melodies and lyrics, I believe Led Zeppelin is one of the best bands due to their genre diversity but also, at the same time, being able to maintain their characteristic orchestral line. Also, Robert Plant's exotic voice definitely makes them stand out from the crowd.
I reached my third and final question, "Can you describe the impact their music has made on you?" I inquired.
It makes me feel good, better. It relieves all stress that has been accumulated throughout the day."
His answer was concise and simple which I liked very much because he described the number one reason why people like music: it brightened their mood after a demanding and tiring day. I gave a quick smile, shook his hand and said that it was a pleasure to be here, "Thank you." I walked out the door and immediately came back in. Now it's time to get back to work, I thought as I cracked my knuckles and sat quietly while the noise of the keys clacking accompanied my thoughts.
A recurring topic came up while I was doing my research, so I thought it would be interesting to learn more about it. That problem was the copyright conflict Led Zeppelin had with other artists. In Barney Hoskyns' Led Zeppelin: The Oral History of the World's Greatest Rock Band he claims that other bands, not just Led Zeppelin, that appeared from the British blues upswing of the 60s, stole riffs from African Americans who were also ripped off by their contracts from the 40s and 50s! Hoskyns describes Jimmy Page's attitude toward this notion as indifferent and callous and was awarded song writing credit when he didn't deserve it. Robert Plant clearly states Page's actions back then,
I think when Willie Dixon [Zeppelin's "Whole Lotta Love" was stolen from Muddy Water's "You Need Love" which was purloined from Dixon] turned on the radio in Chicago 20 years after he wrote his blues, he thought, 'That's my song.' When we ripped it off, I said to Jimmy, 'Hey, that's not our song.' And he said, 'Shut up and keep walking.'"
Jimmy ended up blaming Robert in an interview with Guitar World that he was supposed to change the lyrics but didn't fulfill the task. But does this change the value of their music? I thought to myself. I decided to ask the tribute bands what they thought of the situation. Coda brought out what I think is one of the truest responses,
I guess the band should have given credit at the time the albums were released. I feel those early blues songs inspired the band and that they had no other intention but to pay homage to the early blues legends. They were fans of the music and loved it to death. Remember, the blues is like a quilt. Everybody absorbs what came before them, they will pay homage by playing those songs, then adding to them, their own brand of inspiration. It's a story that every one contributes a chapter to. Remember also, that one single person cannot be given full credit for creating the blues. That's impossible. The king of the Delta Blues himself, Robert Johnson, didn't create the blues, and probably interpreted lyrics and songs in his repertoire that he heard orally from someone before him. But I would never take that title away from him and his stature in blues history. He helped influence so many! So back to the point of your question. I fully believe with all my heart, it all boils down to inspiration."
A Whole Lotta Led had an equally true answer,
Zeppelin freely admitted that they used/borrowed/ripped off stuff from the guys that influenced them…it's always been that way, and we still see this in music today. They were certainly inspired by such songs, enough so that they sometimes copied them verbatim, but Zeppelin took those songs and made them "their own," playing them in a way no one had thought of before."
Going back to my opinion, I don't think the copyright scandal necessarily devalues their music because they truly reinvented the songs they "borrowed." It is true that what they did was wrong, not properly crediting the artists they were inspired from, but that doesn't change the fact that fans love their music regardless.
Overall, I think that people love Led Zeppelin and they have stood the test of time because of the raw power and synergy of their music. Led Zeppelin will continue to be one of the greatest rock bands of all history.
~
Julia Dragomirescu is a Romanian-born Canadian. Currently in her last year of high school at John Fraser Secondary School, she decided to take a course called Writer's Craft this year. It is a class where students discover different styles of writing like poetry, narrative, satire and new journalism; as well as what techniques to use to improve their writing. She has a love of reading and has now discovered a love of writing. which has led Julia to become passionate about discovering new stories about various subjects.
~
Works Cited
Email interviews (including attempted) with Steven Markham, Boot Led Zeppelin, Led Zepplica, Sam Rapallo, A Whole Lotta Led, Black Dog, Crimson Daze, Letz Zep, Get the Led Out, Dread Zeppelin, Lez Zeppelin, Fred Zeppelin, Led Zeppelin 2, Talztop, Michael White & The White, Song Remains the Same, Led Zeppelin Show, Crunge, Coda, Scott Calef, Paula Mejia and Dave Lewis
Hoskyns, Barney. Led Zeppelin IV. New York, NY: Rodale, 2006. Print.
Hoskyns, Barney. Led Zeppelin: The Oral History of the World's Greatest Rock Band. Hoboken, NJ: John Wiley & Sons, 2012. Print.
"Is Led Zeppelin the Best Rock 'n' Roll Band of All Time?" Debate.org. Debate.org, n.d. Web. 13 Jan. 2016. .
Live interview with lifelong fan Alex Dragomirescu
Markham, Steven. "The Occult Symbolism of Led Zeppelin." Mysterious Times. WordPress, 03 Dec. 2013. Web. 30 Oct. 2015. .
"The Led Zeppelin Portal." Wikipedia. Wikimedia Foundation, n.d. Web. 30 Oct. 2015.
"What Is so Great about Led Zeppelin?" Quora. Quora, n.d. Web. 13 Jan. 2016. .