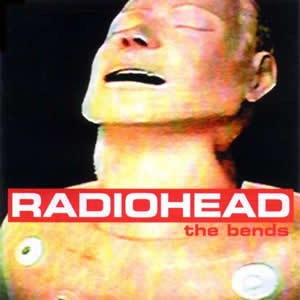 The Bends is the classic rock coming of age album by Radiohead, for which they received critical acclaim as well as chart and commercial success. This 1995 album was at once a major shift in the group's musical direction as well as a move towards accessible tunes, as reflected in its five charting singles. A major contributor to this compositional evolution was the more sprawling approach in front man Thom Yorke's songwriting, who delivered more global lyrical themes in comparison to the personal ones of earlier work. In turn, the music was sweeping and dynamic with diverse styles and arrangements added to their three-guitar attack to forge a grand and forceful sound.
The group's first album was 1993's Pablo Honey, which featured a strong alternative / grunge presence. This brought some international success and much subsequent touring. The following year, Radiohead released the EP, My Iron Lung, featuring some early versions of tracks which would be re-worked for The Bends. However, this EP had poor commercial success.
The Bends was produced by John Leckie, with Radiohead working on song arrangements for the album through the entirety of 1994. Work on the album was slow through the initial months, as the group felt pressure to create the perfect follow-up to Pablo Honey. An initial release date of October 1994 was pushed back several months as Leckie taught the band "how to use the studio in different ways".

The Bends

by

Radiohead
Released: March 13, 1995 (Capitol)
Produced by: John Leckie
Recorded: Abbey Road and RAK Studios, London, August–November 1994
Album Tracks
Group Musicians
Planet Telex
The Bends
High and Dry
Fake Plastic Trees
Bones
(Nice Dream)
Just
My Iron Lung
Bullet Proof..I Wish I Was
Black Star
Sulk
Street Spirit (Fade Out)
Thom Yorke – Lead Vocals, Guitars, Piano
Jonny Greenwood – Guitars, Piano, Keyboards
Ed O'Brien – Guitars, Vocals
Colin Greenwood – Bass
Phil Selway – Drums, Percussion


Extra-present drums set the pace for the odd, spaced-out beat of the opening track "Planet Telex". Released as a single, the track features some tremolo keyboard and guitar textures, with the chorus offering the most rewarding part of this otherwise bland emo screed. The title track, "The Bends", follows with a strong rock arrangement through a long riff intro. The verses revert back to a more steady arrangement but the song rocks well throughout with lyrics that are thematic. The ballad "High and Dry" is the first real highlight of the album, as Yorke's vocals are pleasant and melodic above a blend of acoustic and electric guitars by Jonny Greenwood and Ed O'Brien. Written well before the album sessions, there was much debate on whether this light song would even be included on the album. Not only was it included, but it was also a successful single.
"Fake Plastic Trees" is another acoustic track but, unlike the previous ballad, this has more of a psychedelic, early Pink-Floyd-like vibe. "Bones" follows with a strong rhythmic presence by bassist Colin Greenwood and drummer Phil Selway as well as some topical tremolo guitar and a ringing distant guitar. This short, three-minute song finishes with strong rock riffs and accents. "(Nice Dream)" follows with a descending, four-chord acoustic riff in the intro which sets the meter for the moderate folk/alternative song. The best part of this track are the excellent post-chorus guitar layers. Another fine track, "Just" starts with a strummed intro, soon accompanied by a strong distorted electric. When it fully kicks in, this track features a great musical arrangement in verses to accompany the fine vocal melodies, perhaps the finest on the album.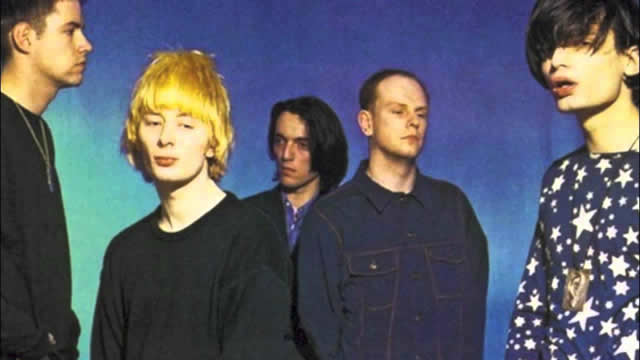 "My Iron Lung", the title track from the previously released EP, is an odd art of noise. The first part of song is built droning rhythm and jangly guitar melodies, while the second section is nearly incoherent in a deliberate attempt at pure noise. Alternative to the core, whine in vocals but song is saved by good melody and arrangement. On "Permanent Daylight", Yorke's vocals hide within a wall of noise, while "Bullet Proof..I Wish I Was" employs space-like psychedelic effects using echo and sustain in the background with a slow, acoustic folk in foreground. "Black Star" returns to upbeat rock with a full arrangement fading in through the intro and moderate verses with cool guitar textures and good drumming elsewhere. "Sulk" features an interesting, slow waltz shuffle drum beat upon which the rest of the textures are built. Each verse adds more sonic candy, especially with the guitar, bass, and keyboard textures. "Street Spirit (Fade Out)" concludes the album with a dark, repeating riff and elongated vocal phasing, making it a bit anti-climatic for an album ending.
While The Bends charted well in several countries throughout the world, it only peaked at #88 in the US, making it an initial disappointment. However, this album has only grown in stature and influence over the two decades following its release, with many Brit pop bands taking cues from many of its songs.
~

Part of Classic Rock Review's celebration of 1995 albums.