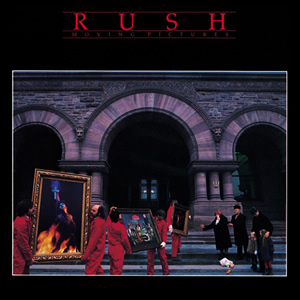 Since the arrival of drummer Neil Peart in the summer of 1974, Rush had produced six consecutive quality albums rock albums, up to and including Permanent Waves in 1980. Then came Moving Pictures which, in many ways, was their musical masterpiece and in all ways would become the most popular album they ever released. This album also would represent a crossroads for the band, at once showcasing many elements of the sound that they had forged throughout the late 1970s while also mildly previewing their new wave influenced sound of the early 1980s. In this sense, it may well be the most diverse album that Rush ever produced as well as the most complete and rewarding album overall of 1981, making it Classic Rock Review's Album of the Year for that year.
Following the success of the 1976 concept album, 2112, the group delved further into progressive rock with the "Cygnus X-1" concept which spanned two albums and culminated with the 12-part instrumental "La Villa Strangiato" from the 1978 album Hemispheres. With Permanent Waves, released on the first day of the new decade, Rush began to alter their style with some reggae and new wave elements to complement the hard rock core, a sound they expanded upon when production began on this album in late 1980.
Moving Pictures was the seventh consecutive album produced by Terry Brown, who played a huge role in forging Rush's sound during this classic phase of the career. It is also the first album where Geddy Lee plays some keyboards and bass on each and every song, complementing Alex Lifeson's guitar style and sound, which is distinct on every song. As a premiere rock drummer, Peart had long experimented with different styles and time signatures, and he continues to do so on Moving Pictures. But as the band's primary lyricist, Peart explores more diverse subjects than he had in the past, finding lyrical inspiration in classical literature as well as contemporary events.

Moving Pictures

by

Rush
Released: February 12, 1981 (Mercury)
Produced by: Rush & Terry Brown
Recorded: Le Studio, Morin Heights, Quebec, Canada, Oct-Nov 1980
Side One
Side Two
Tom Sawyer
Red Barchetta
YYZ
Limelight
The Camera Eye
Witch Hunt
Vital Signs
Musicians
Geddy Lee – Bass, Synths, Vocals
Alex Lifeson – Guitars, Synths
Neil Peart – Drums & Percussion

The final song on the album, "Vital Signs", contains a dual reggae/electronica influence that would have fit perfectly on their next studio album, Signals. "Witch Hunt" features dramatic sound effects, a deliberate arrangement, and guest keyboardist Hugh Syme, who also designed the album's signature covers. This song would later be revealed as the third part of the "Fear" series, released chronologically in reverse. As Peart explained in an interview;
"The idea for the trilogy was suggested by an older man telling that he didn't think life was ruled by love, or reason, or money, or the pursuit of happiness, but by fear…"
Moving Pictures is also the last album from the era to include an extended piece, "The Camera Eye". The track paints a lyrical and musical picture of the metro activity of New York City and London, with the title deriving from works by American author John Dos Passos. To this point in their career, Rush had included a track of seven minutes or more in length on each of their first eight albums (including Moving Pictures), but would not do so again for over 30 years. Another rarity on future Rush albums would be a pure instrumental. "YYZ" is a fantastic and thrilling little jam that showcases each of the trio's musical virtuosity. Musically, the song displays a steady, trance-like motif with many showcase sections for each musician, with its title coming from the airport code from the group's hometown Toronto Pearson International Airport.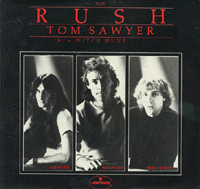 The best known song on the album, and probably the band's most popular song ever, is "Tom Sawyer". The song was co-written by Canadian lyricist Pye Dubois, who gave a poem to the band entitled "Louis the Lawyer" and asked if the band would be interested in putting it to music. Peart then added "the themes of reconciling the boy and man in myself, and the difference between what people are and what others perceive them to be", by using the American literary metaphor. Musically, this steady but complex song incorporates a heavy use of synths, differing time signatures and accessible melodies. "Limelight" was another hit off the album, which portrays Peart's uneasiness with fame. It contains one of rock music's most famous riffs, delivered by Lifeson in a perfectly cultivated crunch of distorted guitar that sounds as good as any sound he had ever cultivated. Peart's lyrics speak of his slight disillusionment with fame and the growing intrusions into his personal life, complete with Shakespearian references.
The tour-de-force of the album is the fantastic "Red Barchetta", a vivid action story about a joyride in a car taken during a dystopian future where such actions are unlawful. The song was inspired by the futuristic short story "A Nice Morning Drive," by Richard Foster, published in 1973, which Peart adapted with his own love of classic automobiles. A true classic jam, this complex song was recorded in one take and contains some of the best bass playing by Lee, who really shines on this track.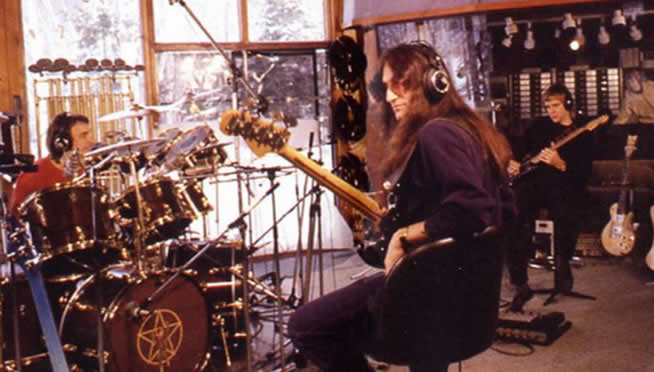 Moving Pictures was the first Rush album to top the Canadian album charts and nearly did the same in the US and the UK, reaching the Top 3 in both those countries. The album went on to reach quadruple platinum status world wide and it still sounds as fresh and relevant, multiple decades after its release. During Rush's 2010–11 Time Machine Tour, the album was played live in its entirety for the first and only time.
~

Part of Classic Rock Review's celebration of 1981 albums.