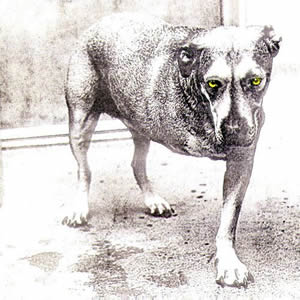 Alice in Chains took a whole bunch of personal turmoil and spun it into a fine album with their 1995 self-titled release. Informally referred to as "The Dog Record", this third release saw the band building on their established atonal style as well as branching out with some accessible pop/rock tracks that helped the album sell over three million copies and reach double platinum status. This album is also notable as the group's final studio release with original vocalist Layne Staley, as they would not complete another studio album before his death in 2002.
Following the massive success of their 1992 album, Dirt, Alice In Chains worked through a grueling tour schedule. However, bassist Mike Starr longed for home and was replaced by Mike Inez in advance of their acoustic-based, chart-topping album, Jar of Flies, released in early 1994. Soon after its release, Staley entered rehab for heroin addiction, which caused the group to cease touring and be replaced during the Woodstock '94 festival.
Through the Spring and Summer of 1995 the group recorded Alice in Chains in Seattle with producer Toby Wright. Few of the songs had been written before the recording sessions began and, as Staley continued to struggle with addiction, guitarist Jerry Cantrell stepped up as chief composer as well as lead vocalist on several of the earliest tracks. Cantrell was facing his own turmoil after the break-up of his long time girlfriend, but this lent to helping him create some of the album's signature tunes.

Balance

by

Van Halen
Released: November 7, 1995 (Columbia)
Produced by: Toby Wright & Alice in Chains
Recorded: Bad Animals Studio, Seattle, April–August 1995
Album Tracks
Group Musicians
Grind
Brush Away
Sludge Factory
Heaven Beside You
Head Creeps
Again
Shame In You
God Am
So Close
Nothin' Song
Frogs
Over Now
Layne Staley – Lead Vocals, Guitars
Jerry Cantrell – Guitars, Vocals
Mike Inez – Bass
Sean Kinney – Drums



The album's opening track as well as lead single, "Grind" is both slow and doomy, yet infectiously catchy. Cantrell made heavy use of wah effect on his guitars and Staley provided good harmonies to Cantrell's lead vocals during the chorus breaks. "Brush Away" is less effective than the opener but does contain a nice effect of dual guitars. "Sludge Factory" follows with a slow drudge through initial sections and cool overdubs during the 'B' section. The song drifts into a long middle section which includes some distant spoken words and impressive drum patterns by Sean Kinney.
Cantrell's "Heaven Beside You" is the first really great song on the album. It has a classic rock approach while maintaining an alternative edge, built on the acoustic guitar throughout with some later overdubbed electric guitar riffs and slight lead sections, all adding to the overall majesty of the song. The track was released as a single and reached the Top 5 of the Mainstream Rock chart in 1996.

"Head Creeps" has a nice vibe with animated rhythms by Inez and Kinney and a wild effect on Staley's vocals all through its theatrical passages. Another successful mainstream rock track, "Again" employs the most direct heavy metal approach with its deadened hard guitar texture, rolling drums, thumping bass, and chanting vocals. "Shame In You" features a steady but deliberate drum pattern by Kinney before it breaks in with a fuller arrangement, ultimately finishing.
This album does descend to a nadir during the next three tracks. After a feedback drenched intro works its way into a freaky, slow groove. "God Am" becomes rather dry and listless for the duration. "So Close" continues much of this same vibe, albeit in a more succinct fashion, while on "Nothin' Song" the vocals follow guitar through the verses while the choruses change direction in tone and tempo.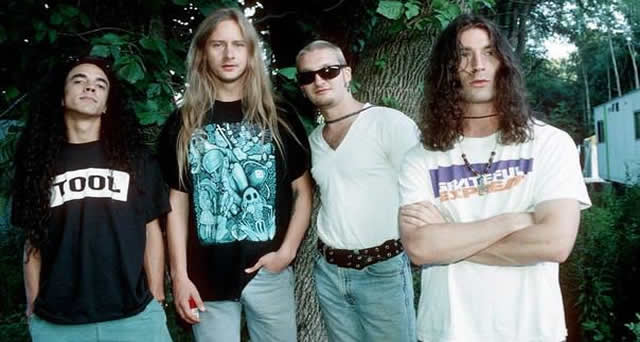 Wrapping things up are a couple of stronger tracks. The eight minute acoustic epic "Frogs" is slow, dark, and theatrical with Inez's slicing bass and potent musical interlude between providing the early highlights. Later, a long outro section is quite entertaining, even though it remains very slow and steady with no deviation. The closer "Over Now" may be the most pop-oriented track on the album, with its pleasant guitar textures complementing the simple but effective vocal melodies and lyrics. The slight bridge and outro section bring a little more sonic candy to this song which features Cantrell on lead vocals.
Tracks from Alice In Chains received Grammy nominations in 1996 and 1997 and the album was up for several other industry awards. Debuting at number one, the album stayed on the Billboard 200 chart for nearly a year. While no tour followed the album release, the group did perform a single show in April 1996, which was recorded for a live MTV Unplugged album later that year.
~

Part of Classic Rock Review's celebration of 1995 albums.