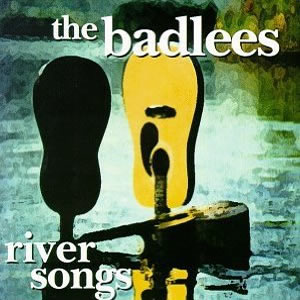 After honing their sound for half a decade, The Badlees found their first real commercial success with River Songs. Originally released as the quintet's third independent studio album in early 1995, the album was re-released internationally after the group signed with Polydor/Atlas later in the year. Led by guitarist and chief songwriter Bret Alexander, the group produced solid songs with scaled back musical arrangements utilizing an array of acoustic and native percussion instruments as well as a heavy use of harmonica as a lead instrument.
In early 1992, The Badlees released their first full-length album, Diamonds In the Coal, which featured a nice blend of pop, rock, and folk tracks. However, they decided to change directions for the 1993 follow-up, The Unfortunate Result of Spare Time, which had a slicker and more streamlined production style. Although disappointed with the overall result of this second album, the group worked hard to promote it through constant touring. This lead to the band getting the incredible opportunity to be one of the first Western rock bands to perform in mainland China during the 1994 Qingdao Beer Festival in August of that year.
After returning from China, the group started work on their third full length release. The daily 50-mile commute along the Susquehanna River inspired the title, River Songs, as they traveled to Harrisburg, PA to record the album. The deliberate musical intent of this record was to return to the distinct style they began forging in their early years.

River Songs

by

The Badlees
Released: February 28, 1995 (Rite-Off)
Produced by: The Badlees
Recorded: The Green Room, Harrisburg, PA, September-November 1994
Album Tracks
Group Musicians
Grill the Sucker
Angeline Is Coming Home
Fear of Falling
Angels of Mercy
Queen of Perfection
Bendin' the Rules
Gwendolyn
Ore Hill
Nothing Much of Anything
Song For a River
I Liked You Better When You Hated Yourself
Pete Palladino – Lead Vocals, Harmonica
Bret Alexander – Guitars, Mandolin, Dobro, Vocals
Jeff Feltenberger – Guitars, Vocals
Paul Smith – Bass, Vocals
Ron Simasek – Drums, Percussion
The brief, 73 second opening instrumental, "Grill the Sucker" was meant to make an immediate statement foreshadowing the tone of the subsequent album. It starts with a fade in of Ron Simasek's drum shuffle soon joined by the group in a blue-grass inspired stomp which includes such rustic instruments as the dobro, stumpf fiddle, and jaw harp. Unfortunately, the later release changed the running order so this intended opening statement gets lost in the mix. Co-written by longtime band collaborator Mike Naydock, "Angeline Is Coming Home" would become The Badlees' highest charting single. Driven by the signature harmonica and fine vocal melodies of Pete Palladino, it features artful lyrics about an addict's triumphant return from rehab.
A true highlight on the album, "Fear of Falling" is built upon Alexander's mandolin and melodic lyrics which speak of reaching for lofty goals, failing, and then getting up and trying again. Musically, the mandolin is blended with acoustic and electric guitar as well as some strategic Hammond organ by guest Robert Scott Richardson. Throughout the song, there is a potent mix of backing harmonies by Jeff Feltenberger and Paul Smith with Palladino providing the climatic closing crescendo of harmonica intermixed with vocal ad-libs.
Through the middle part of the album, the group alternates between upbeat pop/rock and more somber, folk-influenced tracks. "Angels of Mercy" features intelligent lyrics, chanting hooks, and entertaining guitar riffs, while "Queen of Perfection" features a heavy dose of dark humor along with an opening harmonica that harmonizes with an electric guitar and an interesting, country-like ending. The dramatic and deliberate "Bendin' the Rules" was co-written by Alexander, Naydock, and Smith and it is notable for containing two of the very few proper guitar leads on the album. The highlight of this part of the album is "Gwendolyn", a strong pop song with an excellent hook that pulls you right in. The track is pure musical fun and entertainment, starting with the high-pitched wail by Feltenberger and a later strong blues/rock guitar lead.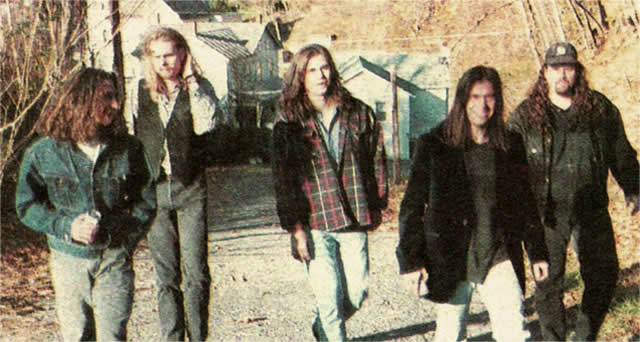 "Ore Hill" is Feltenberger's sole composition on River Songs as a pure folk / Americana track with delicate acoustic guitar complimented by mandolin, harmonica, and interesting drum patterns. The thumping rocker "Nothing Much of Anything" seems a bit out of place at this point in the album but still features a good building chorus section along with interesting guitar textures by Alexander and bass patterns by Smith.
The quasi-title track "Song for a River" is actually about a person, using the "river" as a metaphor for that person's life. The song was composed by Alexander and Naydock in the early 1990s but was not used because it was difficult to develop due to its length and unique arrangement. Eventually, Alexander decided to simply "talk" through the verses and add a repeating chorus throughout. Ultimately, the song employs three lead singers; Alexander, Palladino, and Feltenberger, whose majestic scat vocal notes were a tip of the hat to Pink Floyd's "The Great Gig In The Sky". Closing out this eight minute track is a fine outro of pure acoustic folk instruments. The album concludes with the light and entertaining "I Liked You Better When You Hated Yourself", complete with sarcastic nostalgia and a middle yodeling section which became a fan favorite during subsequent live performances.
Following the success of River Songs, the band embarked on several national and international tours, supporting headlining acts such as Jimmy Page & Robert Plant, Bob Segar, Greg Allman, and The Gin Blossoms. They would shoot a Hollywood music video and record a follow-up material in a world class studio before reverting back to being a top-notch independent band for many more years.
~
Check out The Badlees' Career Profile on Modern Rock Review

Part of Classic Rock Review's celebration of 1995 albums.