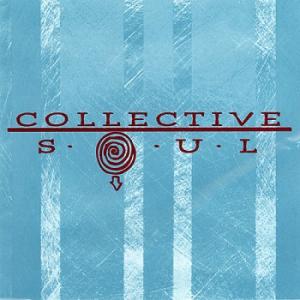 Collective Soul reached its full musical promise and commercial success with their 1995 self-titled second album, sometimes referred to as their "blue album". Here, the rock quintet from Georgia struck a nice blend of 1980s-style hard rock and early 1990s-style grunge rock to forge a distinctive sound which resonated well with rock fans in the mid nineties. Although far from ground breaking in originality and compositional quality, Collective Soul is solid from end to end and may be the most interesting overall release of 1995, hence making it our Album of the Year.
Although it was quite successful, group leader Ed Roland did not feel that Collective Soul's 1993 debut album, Hints, Allegations, and Things Left Unsaid rose above the level of a professional demo. He even went so far as to refer to Collective Soul as the group's "first record, flat out". Still, with the phenomenal success of the song "Shine", Roland put together a proper band, starting with fellow guitarists Ross Childress and Ed's younger brother Dean Roland. The debut album eventually went double-platinum and the group immediately landed on major tours through 1994, including an appearance at the Woodstock '94 Festival.
Later in the year, the group headed to Miami to record Collective Soul along with co-producer Matt Serletic. Although Ed Roland remained the predominant songwriter, with fifteen of his tracks recorded in the studio, Childress also contributed some help with a few compositions. Due to the group's rising popularity and demand for live performances, the album was recorded, mixed and mastered rather quickly, but still achieved optimal sonic results.

Collective Soul

by

Collective Soul
Released: March 14, 1995 (Atlantc)
Produced by: Ed Roland and Matt Serletic
Recorded: Criteria Studios, Miami, October-December 1994
Album Tracks
Group Musicians
Simple
"Untitled"
The World I Know
Smashing Young Man
December
Where the River Flows
Gel
She Gathers Rain
When the Water Falls
Collection of Goods
Bleed
Reunion
Ed Roland – Lead Vocals, Guitars
Ross Childress – Guitars, Vocals
Dean Roland – Guitars
Will Turpin – Bass, Vocals
Shane Evans – Drums



The album starts with the distant funky rap of "Simple" before the full song kicks in and remains strong and upbeat throughout, setting up the simple yet effective tone of the album. The second track falls into the same type of approach as the opener but with much more melody and other sonic intricacies. This untitled track is kind of unique (albeit a bit unprofessional), falling second in the running order, as opposed to the typical "hidden track" at the end of many 1990s albums.
Cowritten by Roland and Childress, the moody, acoustic folk ballad "The World I Know" is rich with orchestral elements to complement the somber lyrics and vocal delivery. There is good melodramatic motion throughout, especially when moving between distinct parts of the song which, as a whole, is a clever bit of melancholy which feels neither forced nor drab. The song peaked at #19 on the pop charts and spent several weeks at the #1 spot on the Mainstream Rock chart. An over-the-top sharp riff with slightly hip-hop rhythms drive the track "Smashing Young Man". This song's tongue-in-cheek lyrics were written in response to Smashing Pumpkins' lead vocalist Billy Corgan, who earlier accused Collective Soul of plagiarizing music, with some poetic responses;
Beggar's description of what I've been missing / Exploit your position, don't think I didn't listen…Success is so tragic, pain is your gadget / Your tongue's just lashing, just bitching by habit / Hey I hope you're feeling a little purer now…"
The most grunge-influenced track with its fantastic fits and starts, "December" brilliantly displays the band's ability to write songs that are at once totally unique but radio friendly. The intro and verse guitar is finger-picked and accompanied by deeply harmonized vocals through the verses. Drummer Shane Evans provides some hand percussion in the second verse and well timed lead-ins before the choruses. The song was another hit for the group, peaking in the Top 20 on the pop charts. "Where the River Flows" follows with a heavy rock riff and gaited drums throughout, leading to "Gel", another rock gem from this album. On many levels the musical heart of Collective Soul, "Gel" opens with a stripped down section that perfectly sets up the energy of the song proper. Later comes a good bluesy guitar by Childress with riff rudiments in the mid-section, while the brief, simple but highly effective lyric which gets the song's point across in a brevity to match its title.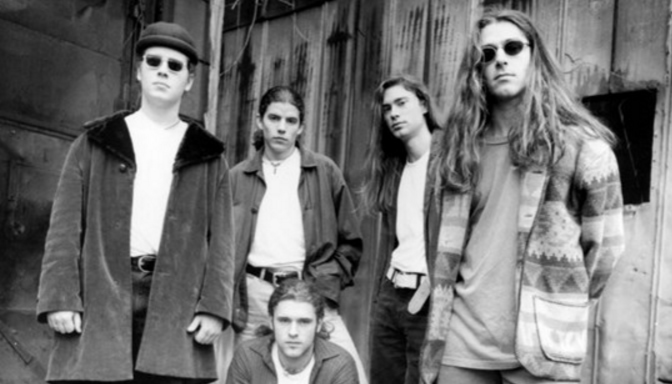 The latter part of the album contains some lesser known but equally fine tracks to nicely round off this album. "She Gathers Rain" is a bit over the top with interplay between the opening guitar riff and strong drum beat but, as song settles into a groove, it is quite entertaining. "When the Water Falls" features nice bass work by Will Turpin, who provides the glue between the two complementing guitar riffs in the intro, with a later sweet musical arrangement and acoustic added to the mix along with complex lead and backing vocal arrangements. "Collection of Goods" features nice sonic effects throughout with a crisp guitar riff, worthy of earliest-era Rush, while "Bleed" moves towards more mechanical passages of guitar textures, with each section in turn, like passing through an assembly line. The album concludes with "Reunion", a song which fully shows off the group's Southern roots. This fine closer includes soulful vocals by Roland as well as a chorus of Gospel-like backing vocalists and a slide acoustic guitar to accentuate this simple but excellent song which concludes this simple but excellent album.
Collective Soul became the band's highest selling album and spent well over a year on the Billboard album charts. Following its release, the group spent little free time, embarking on an extended national tour the next day, followed by an immediate commencement of writing and recording material for their next album.
~

Part of Classic Rock Review's celebration of 1995 albums.