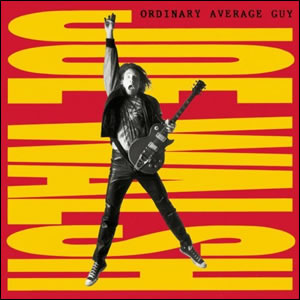 Joe Walsh's long solo career was beginning to wind down by the early nineties, in part due to a decades long "party" which was starting to take its toll on him personally and professionally. His ninth solo studio album, Ordinary Average Guy, is hardly his most heralded or successful. However, this was an important record in the sense that it takes a nostalgic look to the past as well as a sobering assessment of the present. Also notable here is Walsh's inclusion of several fine ballads, a musical area which he had rarely explored to that point in his long career.
After The Eagles broke up in 1980, Walsh dove into his solo career which he began with Barnstorm in 1974 and continued in between Eagles albums with releases such as 1978's But Seriously, Folks. In 1981, Walsh released the commercially successful There Goes the Neighborhood, which spawned the single, "A Life of Illusion", a song originally intended for Walsh's first solo album. Later in the decade, Walsh released You Bought It – You Name It and The Confessor, the latter of which included heavy input by Stevie Nicks. 1987's Got Any Gum? would be Walsh's final release of the decade and a commercial disappointment.
In 1990, Walsh reunited with former Barnstorm drummer Joe Vitale to co-produce Ordinary Average Guy. This album also features vocal and composition contributions by former Survivor lead vocalist Jimi Jamison as well as backing vocals by the legendary Ringo Starr.

Ordinary Average Guy

by

Joe Walsh
Released: April 23, 1991 (Epic)
Produced by: Joe Walsh & Joe Vitale
Recorded: August 1990
Track Listing
Primary Musicians
Two Sides to Every Story
Ordinary Average Guy
The Gamma Goochee
All of a Sudden
Alphabetical Order
Look at Us Now
I'm Actin' Different
Up All Night
You Might Need Somebody
Where I Grew up (Prelude to School Days)
School Days
Joe Walsh – Lead Vocals, Guitars, Keyboards
Waddy Wachtel – Guitars
Joe Vitale – Drums, Percussion, Keyboards, Bass
The album begins  with "Two Sides to Every Story", co-written by bassist Rick Rosas. It starts with a harmonica lead, accompanied by a basic rock drum beat and chanting vocals and is fun and entertaining overall, albeit lyrically a bit clichéd. The title track, "Ordinary Average Guy", is a fun bag of sonic candy which acts as a near modern adaptation of the famous "Life's Been Good", complete with rock/reggae elements and textures and the spoof-like lyrics. "The Gamma Goochee" cover song sounds like a great party tune with thumping bass and subtle synths to complement the vocal chanting and call and response crowd effects.
"All of a Sudden" is the first song on the album to depart from the established "party mode", with somber and introspective lyrics on growing older. Co-written by Jamison, this track showcases fantastic music to match the vibe and mood.  With slide electric guitar interludes over some steady synths, bass and drums and a saxophone lead by Larry Otis,  this is the high point of Ordinary Average Guy. Unfortunately, this is immediately followed by the album's low point, "Alphabetical Order", a complete throwaway song, which seems like it is a mockery of rap but even misses the mark on that front.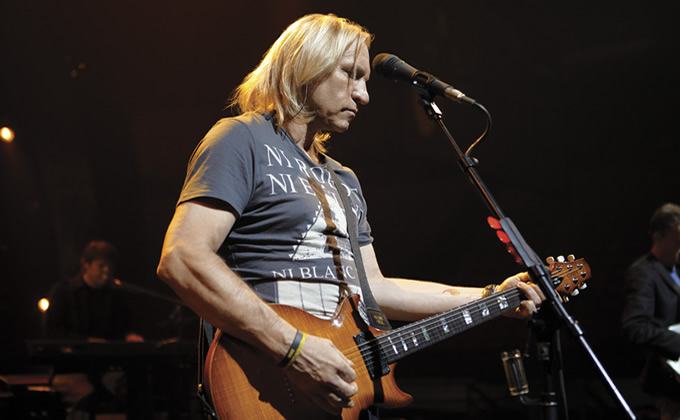 On the second half of the album, the material is more evened out with accessible pop/rock. "Look at Us Now" has a rollin' drum intro with slowly developing, harmonized slide guitar. The song proper maintains the beat while adding riff rudiments to accent the vocals, in an approach reminiscent of material on John Lennon's Plastic Ono Band more than two decades earlier. "I'm Actin' Different" has an acoustic backing throughout with steady but strong rhythms and a slight Soul vibe as the song goes along. "Up All Night" features some over-the-top synths along with Latin-flavored percussive effects, while the cover "You Might Need Somebody" features a unique mix of 1980s Adult contemporary with Walsh's persistent talk box guitars leading a built-up layer of fine guitar textures. The album concludes with a suite of two songs which nod back towards adolescent years. On "Where I Grew up (Prelude to School Days)" a synth arpeggio accompanies the solo Walsh vocals with little additional arrangement, while Vitale's "School Days" wraps things up with the drummer taking lead vocals in a quasi doo-wop rock with eighties-style production overtones.
While a couple of songs were Mainstream Rock hits, Ordinary Average Guy failed to break the Top 100 on the Album charts. Similarly, its follow up Songs for a Dying Planet in 1992 was equally non-commercial and critically panned, and Walsh would not release another solo album for two solid decades.
~

Part of Classic Rock Review's celebration of 1991 albums.