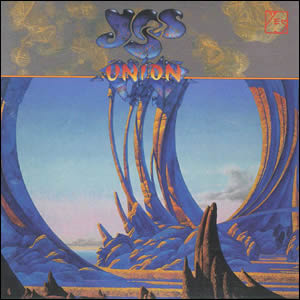 The 1991 album, Union, is unique not only among the vast collection of Yes albums, but is a unique release among all mainstream rock albums. At the time they were recorded, the fourteen tracks were recorded by two distinct groups which later merged into a single, eight man group, with all members having a prior history in Yes. In fact, members from all of the previous incarnations of the group are present on this album save for the group's original guitarist Peter Banks and short-time vocalist Trevor Horn.
Horn had replaced Jon Anderson for the 1980 album Drama, but Anderson returned for the commercially successful 90125 in 1983. Along with Anderson, the lineup of that album included guitarist Trevor Rabin, bassist Chris Squire, keyboardist Tony Kaye and drummer Alan White. This same line-up remained for the studio album, Big Generator, which also had notable commercial success. However in September 1988, Anderson split from this variation of Yes and formed Anderson Bruford Wakeman Howe (ABWH) with former Yes members guitarist Steve Howe, keyboardist Rick Wakeman and drummer Bill Bruford, as well as former King Crimson bassist Tony Levin. This new branch of the classic band released an eponymous album in 1989, which went gold in the United States.
However, when ABWH produced material for a second album in 1990, Arista Records owner Clive Davis initially refused to release the record because he felt the initial mixes were insufficient. Anderson approached Rabin, who had been planning a new album and incarnation of Yes with ex-Supertramp vocalist Roger Hodgson. When Hodgson dropped out, it was agreed that Anderson would record lead vocals on the Rabin-led material and both projects would be merged as a "reunited" Yes project. Union features nine primary musicians (although there is no track where they all play together) and four producers with material recorded in no less than seven studios throughout Europe and the United States.

Union

by

Yes
Released: April 30, 1991 (Arista)
Produced by: Jonathan Elias, Steve Howe, Trevor Rabin, Mark Mancina & Eddie Offord
Recorded: Various Studios in Correns, Paris, Devon, London, Los Angeles, New York City, 1989-1990
Track Listing
Group Musicians
I Would Have Waited Forever
Shock to the System
Masquerade
Lift Me Up
Without Hope
Saving My Heart
Miracle of Life
Silent Talking
The More We Live – Let Go
Angkor Wat
Dangerous (Look in the Light of What You're Searching For)
Holding On
Evensong
Take the Water to the Mountain
Jon Anderson – Lead Vocals
Steve Howe – Guitars, Vocals
Trevor Rabin – Guitars, Vocals
Tony Kaye – Keyboards, Vocals
Rick Wakeman – Keyboards
Chris Squire – Bass, Vocals
Tony Levin – Bass
Alan White – Drums, Vocals
Bill Bruford – Drums
As for the material itself, it is a bit scattered and incohesive in the album's final form, with specific, individual parts being greater in total than the whole. The first two tracks may be the strongest original ABWH songs. "I Would Have Waited Forever" was co-written by producer Jonathan Elias and alternates between driving rock sections and complex, vocal-driven parts. "Shock to the System" is a strong edged rocker, featuring Howe's strong riffs and a steady drum beat by Bruford.
The finger-picked acoustic instrumental "Masquerade" is a real highlight of the early album as a very folky yet technically proficient piece which shows what a fantastic instrumentalist Howe is. This track earned a Grammy Award nomination for Best Rock Instrumental Performance in 1992. "Lift Me Up" is the first and best track from the Rabin/Squire faction and features decent progressions throughout and may be the most cohesive track on the album. The first single released from the album, "Lift Me Up" reached the top of the Album Rock Tracks chart. Shortly after, another Rabin track, "Saving My Heart", was also released as a single as a percussion driven track with some reggae elements.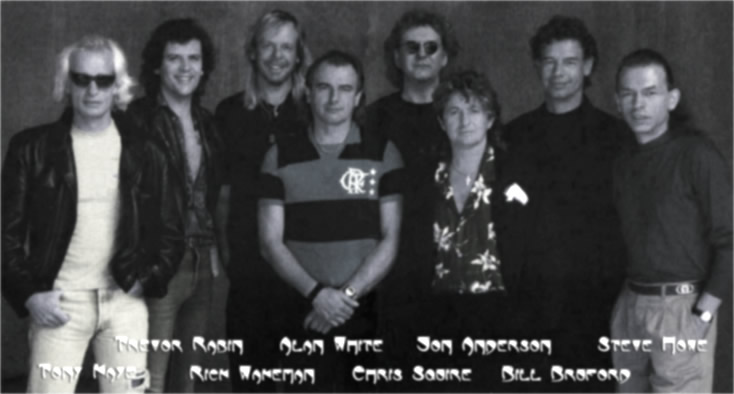 Co-written by producer Mark Mancina, "Miracle of Life" has a whole lot of eccentric instrumentation, such as banjo, playing on the same riff and rudiments through a long intro. After two full minutes, the verses begin with alternating lead vocals by Anderson and Rabin and featuring some pulling rhythms of Squire's bass, which all work to make it a pleasant listen. We return to the ABWH material with Howe's "Silent Talking", which features a Rush-like, extended riff pattern and extensive keyboards by Elias and, although relatively short at 4 minutes, this is probably the most genuine progressive rock track on the album.
Union descends to a nadir through the latter tracks, which include the lazy soundscapes of "The More We Live – Let Go", the Eastern soundscapes and recited Cambodian poetry of "Angkor Wat", and the pure eighties pop/rock approach of "Dangerous (Look in the Light of What You're Searching For)". However, the album does end on a high note with a medley starting with Levin and Bruford's rhythmic instrumental "Evensong" and moving to Anderson's haunting but inspired "Take the Water to the Mountain", builds to a bright climax.
Following the album's release, Yes supported Union with a massive arena tour which helped the album sell over 1.5 million copies worldwide. Many group members have expressed dissatisfaction, especially the former members of ABWH (save Anderson), as that group dissolved following this album and Anderson re-joined the 1980s version of Yes moving forward.
~

Part of Classic Rock Review's celebration of 1991 albums.