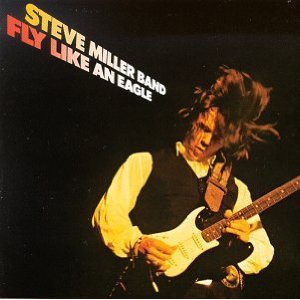 With his ninth studio release, Steve Miller struck commercial gold in the quadruple platinum selling 1976 album, Fly Like An Eagle. The music on the album moves through phases of psychedelic-folk, acid-blues, soul, blue grass and other types of roots genres, while the lyrical melodies and hooks help to maintain a pop-centric sensibility which results in a very accessible, catchy and easy listen throughout.
Miller formed the Steve Miller Band in San Francisco in the late 1960s as a psychedelic/blues group and soon negotiated a fairly lucrative five album deal with Capitol/EMI in 1967. Those five albums were recorded and released within a relatively short period of time (1968-1971) to mixed commercial success. The better tracks from these five were rolled into the 1972 double album compilation, Anthology. The following year, the group went through a major change in personnel as well as musical approach for the chart-topping album The Joker.
As producer of Fly Like An Eagle, Miller entered the studio in 1975 with bassist Lonnie Turner and drummer Gary Mallaber and ultimately recorded enough material for a double length LP. Miller instead opted to release two single albums concurrently, with Book of Dreams following a year later in May 1977.

Fly Like An Eagle

by

Steve Miller Band
Released: May 20, 1976 (Capital)
Produced by: Steve Miller
Recorded: CBS Studios, San Francisco, 1975-1976
Side One
Side Two
Space Intro
Fly Like an Eagle
Wild Mountain Honey
Serenade
Dance, Dance, Dance
Mercury Blues
Take the Money and Run
Rock n' Me
You Send Me
Blue Odyssey
Sweet Maree
The Window
Primary Musicians
Steve Miller – Lead Vocals, Guitars, Keyboards
Lonnie Turner – Bass
Gary Mallaber – Drums, Percussion
Miller's synth arpeggios using an ARP Odyssey machine set the mood for the title track, "Fly Like an Eagle". Slow and soulful, the track musically features Miller's slightly funky intro guitar riff and the choppy Hammond B3 organ by Joachim Young. Miller's lead vocals and hook carry this Top 5 song best with a soaring sensation to match the song's title and the slightest recurring synths for effect. Written by Steve McCarty, "Wild Mountain Honey" enters from the dissolve of a previous track as a psychedelic folk song with Eastern influence. A synth lead over subtle percussion, with the slightest flavoring of sitar. this song is a bit elongated to absorb the full vibe and complete this smooth but psychedelic opening sequence.
"Serenade" is a transition tune, as an adventurous, driving strummed folk/rock song with harmonized vocals throughout, which works to ease the album's sound down towards the roots music to follow. On "Dance, Dance, Dance", the album takes a radical turn away from the mid-seventies space/pop towards a pure blue grass diddy with multiple acoustic instrument textures. This track was co-written by Joseph and Brenda Cooper and features an authentic lead dobro by John McFee as the musical highlight of this hoe-down. The cover of the 1940s song "Mercury Blues" follows and is delivered in an effective way which maintains its original R&B feel while subtly adding mid-seventies rock elements. The popular "Take the Money and Run" commences side two by continuing the "down home" sequence. An anthem for the slacker outlaw, this catchy and upbeat tune features slight chanting lyrics and excellent drumming by Mallaber throughout, with Miller delivering a thick and chorded guitar which works with the sharp and dynamic beats.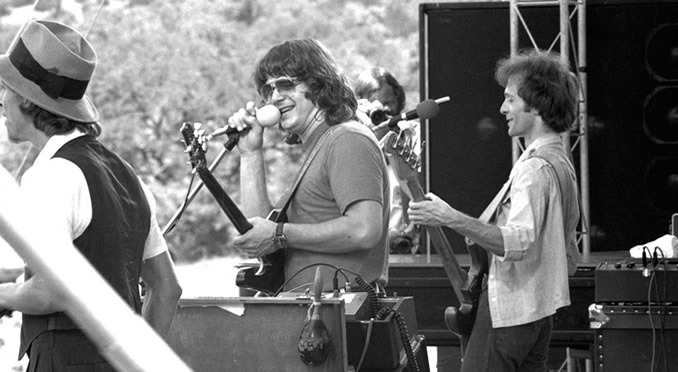 The aptly titled pure pop/rocker "Rock n' Me" flew to the top of the charts as an inversion of Free's earlier hit "All Right Now". The rock guitar riff sets the edge before the song proper utilizes deadened classic rock chord patterns all under the exceptional vocal melodies and a traditional tourist effect lyric, which names several American cities along the way. After a forgettable rendition of Sam Cooke's "You Send Me", the album recovers with a couple of interesting tracks. "Sweet Maree" is an authentic acoustic blues with a wild harmonica by James Cotton. This song keeps a very basic arrangement through several distinct sections with only some fine electric blues guitar and slight tambourine percussion joining the ever-present acoustic and harmonica. The closing track, "The Window", slowly swells into a soulful organ/acoustic groove with sonic textures similar to the title song, book-ending the album in a fine, consistent way.
Fly Like An Eagle was a hit worldwide, peaking at #3 in Miller's native USA. The following year's Book of Dreams was a similar success, making the mid-to-late seventies the most successful phase of Miller's long career.
~

Part of Classic Rock Review's celebration of 1976 albums.