Odelay is a rich sonic tapestry which incorporates elements of grunge, punk, folk, country, blues, rap and other elements, including a heavy use of sampling from established songs. The album was the fifth overall and second major label release for Beck and became his breakthrough effort into mainstream critical and commercial success. Overall, this record is an eclectic, zig-zagging experience which seems to employ an effort to include something for various groups of musical fans.
A pre-high school drop out from Los Angeles, Beck Hanson worked a stream of menial jobs while trying to establish a career as a folk and blues performer in the late 1980s. After migrating to New York, Beck became involved in the East Village's anti-folk scene and began to write free-associative songs. In 1992, he recorded the experimental, hip-hop infused anthem, "Loser", which was released as a limited, 500-copy single in early 1993 but received heavy radio play and topped the Modern Rock Tracks chart. Between 1993 and 1994, Beck released three independent albums; Golden Feelings, Stereopathetic Soulmanure, and One Foot In the Grave; as well as the major-label debut Mellow Gold in 1994. Beck also began performing on major tours and festivals, a workload which made it quite ironic that he was deemed king of "the slacker generation".
In its original sessions, Odelay was slated to be an acoustic-driven album. Eventually, Beck abandoned this approach and enlisted the Dust Brothers (E.Z. Mike Simpson and "King Gizmo") as co-producers, who infused their heavily-treated, layered percussive back-beats to many of the tracks. Odelay was also the first full-fledged production where Beck had the time and budget to indulge in compositional creativity.

Odelay

by

Beck
Released: June 18, 1996 (DGC)
Produced by: Beck Hansen & The Dust Brothers
Recorded: various studios, 1994-1996
Album Tracks
Primary Musicians
Devils Haircut
Hotwax
Lord Only Knows
The New Pollution
Derelict
Novacane
Jack-Ass
Where It's At
Minu
Sissyneck
Readymade
High 5 (Rock the Catskills)
Ramshackle
Beck Hanson – Lead Vocals, Guitars, Keyboards, Bass, Harmonica, Percussion
Mike Boito – Keyboards, Trumpet
Joey Waronker – Drums, Percussion
Most of the songs on Odelay were co-written by Beck, John King and Michael Simpson, starting with "Devils Haircut". This opener features a heavy rock riff with the first of many sampled electronic rhythms, complete with well-placed sound effects between the verses and choruses. "Hotwax" changes direction with a bluesy acoustic intro, soon joined by electric elements in an enjoyable groove through the heart of the song as well as a slightly hip-hop vocal approach by Beck. "Lord Only Knows" replicates the Rolling Stones' many renditions of country/rock, especially in the vocal delivery and upbeat acoustic rhythms with slide electric overtones. "The New Pollution" is a basic, repetitive sample song with a decent vocal melody until the mid-section, which includes a distant saxophone and some good keyboard effects, while "Derelict" features a longer and more complex repeating percussive pattern in trying to accomplish a certain dark vibe. "Novacane" is the first track on the album which goes full hip-hop, excessive scratching et all.
The album regains focus with the sixties flavored folk/pop, "Jack-Ass". Featuring a good mixture of acoustic and electric guitars and a sharp xylophone pattern. This song samples a cover of the classic "It's All Over Now, Baby Blue", originally by Bob Dylan on the album Bringing It All Back Home. The even more popular,
"Where It's At", features a great, laid back electric piano during intro and verse before launching into full robotic hip-hop chorus chant as a nice fusing of genres. The song was written and first performed in 1995, and features some of the better lyrics and rhyming on the album;
Pick yourself up, off the side of the road, with your elevator bones and your whip-flash tones / Members only, hypnotizers, move through the room like ambulance drivers…"
"Minus" is a track that is a bit different, production wise, as it gets into a decent but thick rock groove before unfortunately breaking apart near the end. The whistling intro of "Sissyneck" soon breaks into a quasi-country/rap, which is at once stylistic but also partially farcical. Ultimately, the fine slide steel guitar by guest Gregory Liesz makes this song worthwhile as a fine listen.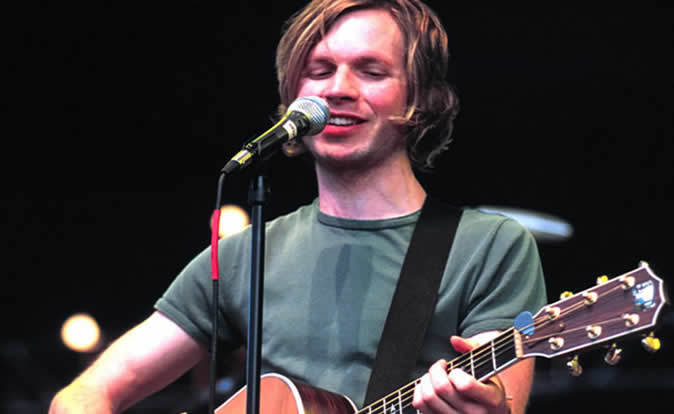 The album wraps up unevenly with its three final disparate tracks. "Readymade" delves back into the avante garde, driven by Beck's bass and guitar rhythms and vocal melody along with short flourishes of interesting lead instruments. "High 5 (Rock the Catskills)" is the dreadful nadir of the album as a kitsch hip-hop rendition which detracts from the finer elements of the album. The album concludes with the excellent dark ballad "Ramshackle", with a laid back acoustic arrangement and slightly harmonized vocals during the choruses that sweeten it up just enough to make it all soar.
Odelay was a Top 20, platinum selling album on both sides of the Atlantic and received several Grammy nominations in years subsequent to its release. In the wake of its release, the album at once propelled Beck's career and opened up scrutiny on the legalities of album sampling use in new albums, which pretty much assured that this exact approach would not be replicated again.
~

Part of Classic Rock Review's celebration of 1996 albums.