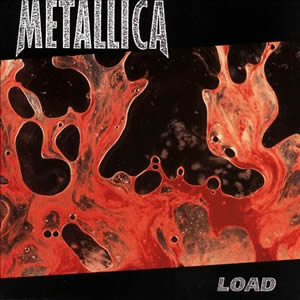 Five years in the making, Metallica took a semi-radical turn on their sixth studio album, Load. The album incorporates elements of alternative rock, blues, southern rock and even country while remaining rooted in the group's traditional brand of heavy metal. While this musical progression caused a bit of controversy among long time fans, the album was an immediate commercial hit and was their fastest selling out of the gate.
The group's 1991 breakthrough, Metallica ("The Black Album"), brought Metallica to the mainstream and sparked several years of touring throughout the world, including a headlining slate at Woodstock '94. In the summer of 1995, the group took a short break before returning to the studio later that year.
Songs for the album were mainly written by lead vocalist / guitarist James Hetfield and drummer Lars Ulrich, while lead guitarist Kirk Hammett played a large role in shaping the sonic direction of Load with the many guitar styles and textures. The album was produced by Hetfied, Ulrich and Bob Rock, who was instrumental in migrating the band's sound closer to the mainstream.

Load

by

Metallica
Released: June 4, 1996 (Elektra)
Produced by: Bob Rock, James Hetfield & Lars Ulrich
Recorded: The Plant Studios, Sausalito, CA, May 1995–February 1996
Album Tracks
Primary Musicians
Ain't My Bitch
2 X 4
The House Jack Built
Until It Sleeps
King Nothing
Hero of the Day
Bleeding Me
Cure
Poor Twisted Me
Wasting My Hate
Thorn Within
Ronnie
The Outlaw Torn
James Hetfield – Lead Vocals, Guitars
Kirk Hammett – Guitars
Jason Newsted – Bass, Vocals
Lars Ulrich – Drums
The strongest trait of Load's nearly eighty minute odyssey is how cohesive the album is in spite of its abundance of genres and tones. The opener "Ain't My Bitch" is nearly a pure pop/rocker with choppy riff and rhythms, which made it a hit on the U.S. Mainstream Rock charts. "2 X 4" starts with Ulrich's drum intro into a slightly bluesy hard rock, featuring slide guitars by Hammett. "The House Jack Built" goes through several distinct sections as the song unfolds, with a very theatrical feel overall. Sound effects from Hammett's guitar act as a dramatic guide throughout, climaxing with a wild talk-box lead section.
"Until It Sleeps" starts with fretless bass section by Jason Newsted before it breaks into the melodic verses. The picked electric riff throughout is the highlight of this track, which remains laid back and moderate throughout and became Metallica's first and only Top 10 hit on the pop charts. "King Nothing" starts with wild feedback effect before Newstead's driving bass ushers in the building main riff, in an arrangement very similar (right down to the middle nursery rhyme section) to "Enter Sandman" from the previous album. In all, this is the most traditional-sounding and raw song on the album thus far.
The best overall track on the album, "Hero of the Day" is built on Hammett's simple but brilliant guitar pattern and executed with differing arrangement elements from heavy rock to strummed acoustic with electric accents. The later lead section is equally simple but ever more excellent and the song ends in hard-rock crescendo making it an instant classic which still sounds potent 20 years later. The picked guitar and bass intro of "Bleeding Me" shows the band pointing towards an alternative rock / grunge approach, in the same manner as bands like Alice in Chains. This song remains fairly moderate and consistent until about 5 minutes in, when it takes a more direct, metal approach for the duration. On the eighties-flavored "Cure", the guitar textures are fairly interesting but the composition itself is rather weak, while "Poor Twisted Me" has guitar tones which fall somewhere between Van Halen and ZZ Top reaching legit rock heights towards the end, making it an overall fine track. "Wasting My Hate" starts as pure upbeat blues before breaking into an intense hard rocker with cool, returning riffs.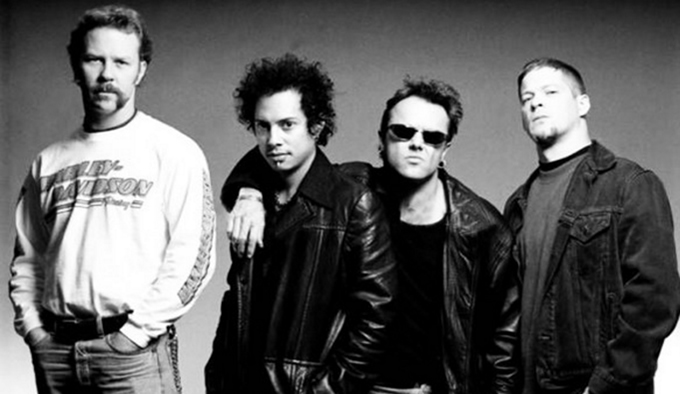 Hetfield wrote the ballad "Mama Said" about his difficult relationship with his mother, who died of cancer when he was 16 years old and is a real heartfelt folk song by Hetfield with emotional intensity throughout. Acoustic throughout, when this song fully kicks in, it is almost country with pedal steel and later a heavier slide guitar, while the bridge contains further layered guitars and harmonized vocals. On "Thorn Within", the group returns to a slow metal format with multiple riff variations, not as strong as this album's best, but certainly not a throwaway track either. "Ronnie" works its way in with an excellent, bluesy riff and keep the simple blues/rock anthem feel throughout. While the song is five minutes long and repetitive, it never gets stale because if its excellent execution and tonal qualities, making it a highlight of the latter part of the album. Unfortunately, the album concludes with the unfocused and bloated "The Outlaw Torn", a nearly ten-minute droning and slightly interesting track, which is far from the best way to complete the album.
Load debuted at number one on the Billboard album charts and went on to top charts in over a dozen countries around the globe. Metallica's momentum continued as they headlined Lollapalooza in mid-1996 and followed-up with the 1997 "sequel" album, Reload, which featured many tracks started during the production of this album.
~

Part of Classic Rock Review's celebration of 1996 albums.