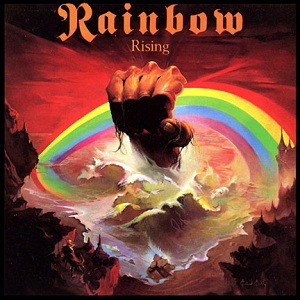 Rainbow returned with a revamped lineup and fresh approach for the group's second studio album, Rising. The record is comprised of six solid compositions which are comparable to the material the band had done before with dynamic and tight performances. The quintet started as a project by former Deep Purple guitarist Ritchie Blackmore after he departed from that group because he was unhappy with the stylistic direction of the group on their 1974 albums, which drifted towards funk rock and away from the band's signature hard rock.
Blackmore established Rainbow when he joined with the American rock band, Elf, in 1975. Blackmore wanted to record some material that was rejected by Deep Purple members and he enlisted Elf vocalist Ronnie James Dio who in turn suggested his band mates to back up on the recordings. Soon, this project turned into the album Ritchie Blackmore's Rainbow, with the album name (and ultimately the band name) inspired by the famous Rainbow Bar and Grill in Hollywood, CA. However, Blackmore was unhappy about the live performances of many in the Elf line-up and he fired everybody except Dio.
Keyboardist Tony Carey, bassist Jimmy Bain, and drummer Cozy Powell were recruited to complete this second incarnation of Rainbow. Further, Blackmore began constructing interesting chord progressions, inspired by his new found interest in playing cello and composing material with Dio supplying mythical lyrics. Rising was recorded in less than month in Munich, Germany with producer Martin Birch in early 1976.

Rising

by

Rainbow
Released: May 17, 1976 (Polydor)
Produced by: Martin Birch
Recorded: Musicland Studios, Munich, Germany, February 1976
Side One
Side Two
Tarot Woman
Run with the Wolf
Starstruck
Do You Close Your Eyes
Stargazer
Light In the Black
Primary Musicians
Ronnie James Dio – Lead Vocals
Ritchie Blackmore – Guitars
Tony Carey – Keyboards
Jimmy Bain – Bass
Cozy Powell – Drums
From the jump, the sound of this album features sonic elements which are beyond its time. "Tarot Woman" starts with a long, wild synth intro by Carey, which sets a dramatic stage before Blackmore's guitar riff gradually fades into the song proper. This opening track has a definitive Deep Purple quality especially during Blackmore's soaring guitar lead. "Run with the Wolf" settles into a more conventional rock sound, still employing dramatic and satisfying overtones, but much more compact and succinct in its delivery.
"Starstruck" follows as the best overall rocker on the first side, based on classic heavy blues rock constructs and the rollicking rhythms by Bain and Powell and an excited melody by Dio, whose vocals soar and shout with great emotion. The most ordinary song on the album, "Do You Close Your Eyes" is a pretty standard hard rock song in the vein of mid seventies contemporaries like Kiss, and it does suffer slightly from compositional underdevelopment and sonic overproduction.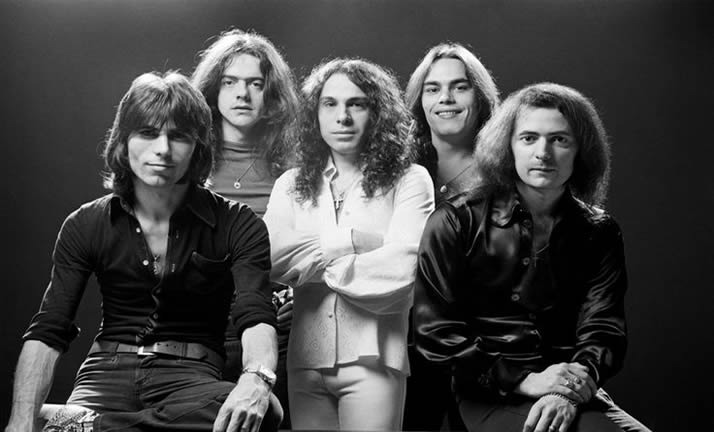 The album's second side features two extended tracks, each with a duration of over eight minutes. "Stargazer" is the epic track from Rising, starting with an interesting and inventive drum intro and working its way through several slow but powerful sections, with potent lead vocals by Dio and fantastic lead trade-offs by Blackmore and Carey. The song features mystical lyrics which tell the fable of a wizard who builds a tower from which to fly only for him to fall and die like any mortal man and includes a contribution by the Munich Philharmonic Orchestra. The rudiment-filled hard rocker "A Light in the Black" completes the album and sets a template for the future sounds of groups like Judas Priest and Iron Maiden. This closer is highlighted by an incredible instrumental section with multiple keyboard and guitar leads.
Rising did well on the UK charts but not quite as well in the US. However, the influence of this album would reverberate for decades and it is considered by many to be Rainbow's best overall album. Rainbow continued with several more albums through various lineups in the late 1970s and early 1980s. The biggest change occurred when Dio left Rainbow in 1979, briefly replacing Ozzy Osbourne in Black Sabbath shortly afterwards. Ultimately, Blackmore would rejoin the classic Deep Purple lineup for the 1984 album Perfect Strangers and Rainbow disbanded in April of that year.
~

Part of Classic Rock Review's celebration of 1976 albums.