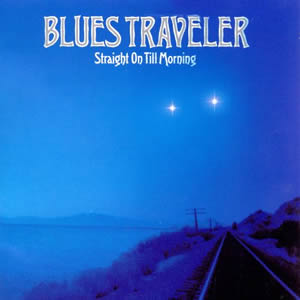 With a newly found international audience waiting for nearly three years for Blues Traveler to release a follow-up to their breakthrough album, the group ultimately found a mixed reception for their 1997 album Straight On Till Morning. While this album continues along the same basic sonic path as the the group's 1994 blockbuster, Four, Straight On Till Morning differs in the sense that it contains no big radio hits and the group experiments with differing sub genres.
Four was fueled by the Grammy winning single "Run-Around" and the catchy, quasi-ballad "Hook", which introduced a more mainstream audience to the formerly jam-band oriented group. This popularity only grew when Blues Traveler appeared at Woodstock '94, toured with The Rolling Stones and were featured prominently on the popular television shows Roseanne and Saturday Night Live. In addition, several of the group's tracks were included on film soundtracks as their modern interpretation of classic, Chicago-style blues had become chic in the middle 1990s. In 1996, Live from the Fall, a double live album featuring recordings from the band's 1995 was released and achieved platinum status in sales.
Straight on Till Morning was produced by Steve Thompson and Michael Barbiero, the same team that produced Four. The objective with this album was to continue the commercial success of its predecessor while trying not to alienate the group's core fan base which desired more of their jam band output. On that note, an over
20-minute piece, called 'Traveler's Suite", was composed but ultimately left off the album.

Straight On Till Morning

by

Blues Traveler
Released: July 1, 1997 (A&M)
Produced by:Steve Thompson and Michael Barbiero
Track Listing
Primary Musicians
Carolina Blues
Felicia
Justify the Thrill
Canadian Rose
Business As Usual
Yours
Psycho Joe
Great Big World
Battle of Someone
Most Precarious
The Gunfighter
Last Night I Dreamed
Make My Way
John Popper – Lead Vocals, Harmonica, Guitar
Chan Kinchla – Guitars
Bobby Sheehan – Bass
Brendan Hill – Drums, Percussion
A moderate but infectious slide riff by guitarist Chan Kinchla introduces the opening track, "Carolina Blues". Here, the verses have a growling, bluesy melody and the bridge section builds to a crescendo before settling into final verse section. This song was also the first single released from Straight On Till Morning. "Felicia" follows as a track built on cool, slightly funky bass riff by Bobby Sheehan and the song is performed just a bit more rapidly than it should but this works on a kind of spastic groove level. "Justify the Thrill" is another funk screed, which seems a bit underdone melodically but is worthwhile due to the extended harp solo by front man John Popper. Compared to previous albums, Popper does less of his signature harmonica playing on this album but he certainly makes due with his opportunities.
A penny-whistle intro aptly introduces the light, candy store rocker "Canadian Rose", a song Popper wrote about a fictional character when he realized he had not spent any real time in Canada. On "Business as Usual", the guitar, bass and harmonica form a really tight funk jam to introduce a quasi-rap song, while "Yours" is delivered as a tradition love song. This latter song starts as low-fi solo-acoustic-folk diddy before softly reaching a richer arrangement complete with a string section with a later highlight being Kinchla's souring, feedback-laden guitar lead. "Psycho Joe" was co-written by Sheehan and is one of the more straight-out pop oriented tunes on the album, with a slightly reggae rhythm. In contrast, "Great Big World" was co-written by drummer Brendan Hill and finds the band back in the familiar territory of a heavy blues jam vibe.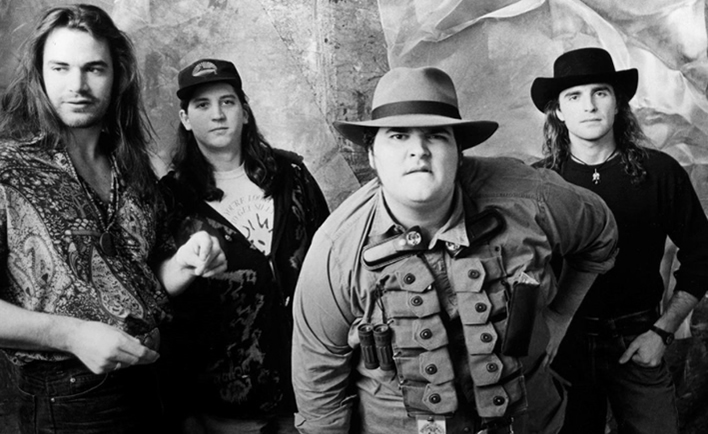 Hidden away later on the album are some musical gems, which probably get lost in the album's excess running time. "Battle of Someone" is probably the most interesting song of the latter part of the album due to its atypical, jazzy rhythm which gives all the band members plenty of room to embellish throughout its six minute duration. "Most Precarious" is a bright acoustic, pop-oriented track with a "La Bamba"-like shuffle throughout, while "The Gunfighter" returns to some well tread territory and lacks in any real originality. "Last Night I Dreamed" was composed solely by Kinchla and features a rapid mariachi, three-chord jam with Hill's cool drum beat and some excess percussion throughout. "Make My Way" concludes the album and unfolds like a Southern R&B / Gospel track, complete with electric piano, funky organ and a chorus of female backing vocals.
By the end of the 1990s, Blues Traveler met with some personal hardship when Popper had emergency heart surgery followed by the tragic death of Sheehan due to a drug overdose. Although the band decided to carry on into the new millennium, they would not again achieve the high level of success like they did in their nineties heyday.
~

Part of Classic Rock Review's celebration of 1997 albums.