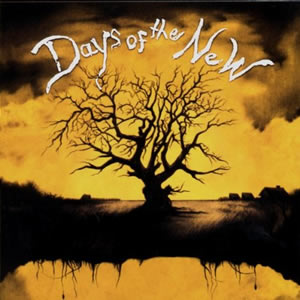 Days of the New came out of the gate in 1997 and forged their own style of dark acoustic rock. This style is expertly exhibited throughout the group's debut album which features a dozen tracks written by lead vocalist and guitarist Travis Meeks. The first of three self-titled albums, Days of the New was relevant and successful in 1997 due to its fresh acoustic approach and catchy vocal hooks.  The album has held up well over the course of the two decades since it was first released.
The group got its start in the Indiana suburbs of Louisville, KY as a rock trio called Dead Reckoning. At the time of its formation and recording of this debut album, Meeks, bassist Jesse Vest and drummer Matt Taul were all still teenagers. Soon the group turned towards an exclusively acoustic sound and added a second guitarist, Todd Whitener.
After just three live performances in 1996, the freshly named Days of the New was signed by producer Scott Litt and recorded this debut album the Fall of that year. In time, this initial release would be nicknamed the "Orange" or "Yellow" album after the color of its cover and would sell over a million and a half copies worldwide.

Days of the New

by

Days of the New
Released: June 3, 1997 (Geffen)
Produced by: Scott Litt
Recorded: Woodland Studios, Nashville, Tennessee, October-November 1996
Track Listing
Group Musicians
Shelf in the Room
Touch, Peel and Stand
Face of the Earth
Solitude
The Down Town
What's Left for Me?
Freak
Now
Whimsical
Where I Stand
How Do You Know You?
Cling
Travis Meeks – Lead Vocals, Guitars
Todd Whitener – Guitars, Vocals
Jesse Vest – Bass
Matt Taul – Drums
The opening hit track "Shelf in the Room" stays mellow and moderate throughout while maintaining enough melody and mood to propel it to sustain its pop viability. The song would reach the Top 5 of the Mainstream Rock Tracks chart in 1998 and become a radio staple for several years. Another popular song, "Touch, Peel and Stand" features a more dynamic approach and a bit more tempo than the opening track. During the verses, Meeks' vocals mimic Vest's bass line, while the choruses feature some fine harmonized vocals, which all helped make this the group's biggest charting hit. "Face of the Earth" follows with a bit more complex arrangement and some lead vocal effects, while "Solitude" has an odd-timed, waltz like beat as a backdrop for the now common acoustic riffs and vocal-drone motifs.
"The Down Town" is the best overall song on the album with its unique chord progression and infectious rhythms. The second single from the album, this song topped the Mainstream Rock charts in 1998 and is one of the more upbeat tracks. "What's Left for Me?" features a finger-picked intro with strong rhythmic rudiments later joining, while "Freak" plays on a musical arpeggio and repeated, honed in lyrical themes.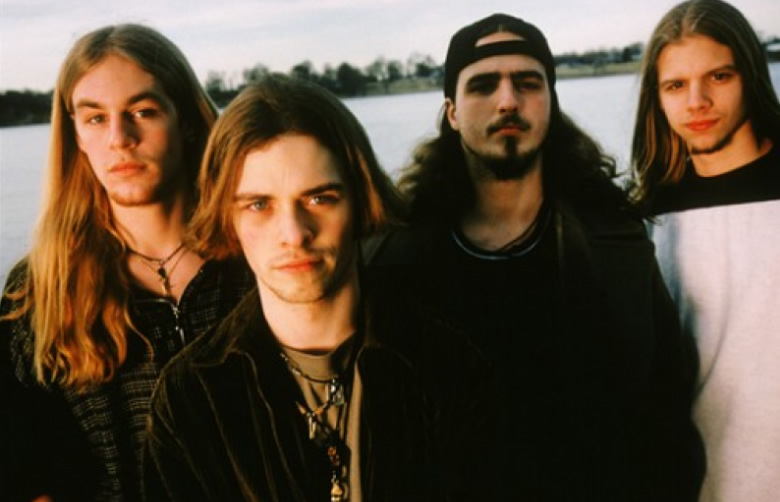 Later in the album there are a few more interesting moments before it all begins to lose steam. "Now" comes close to being a sad ballad, softer and more introspective than much of other material, and it features great variations of pick and strums and an extended, multi-part acoustic lead with slightly Spanish style by Whitener. "Whimsical" has additional fine musicianship and unique arrangements, while "Where I Stand" comes in with an acoustic / Western like jam before the song proper steers it back into the grunge direction – this also features some layered vocal motifs and arrangements and some hand percussion during the later jam section.
Unfortunately, by the time we reach "How Do You Know You?", we've reached the point where everything becomes repetitive and even slightly annoying. The low-fi closer "Cling" does little to remedy this, save for the chiming guitars which, while still acoustic, have an almost electric feel.
Shortly after releasing Days of the New, the group got on the touring circuit with Metallica and Jerry Cantrell starting in West Palm Beach, Florida on June 24, 1998. Meeks later criticized this billing, stating that, due to their acoustic sound, Days of the New should have toured with a group like Dave Matthews Band. However, inner discord between Meeks and the other band members caused some cancelled shows and, ultimately, this original incarnation of the band split in 1999. Meeks formed a new band under the name Days of the New and recorded a second album in late 1999.
~

Part of Classic Rock Review's celebration of 1997 albums.