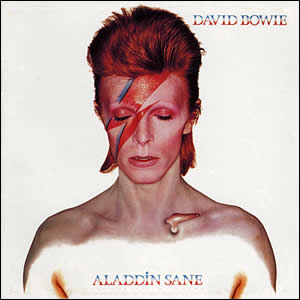 The sixth studio album by David Bowie, 1973's Aladdin Sane furthers the narrative, begun on the previous year's hit album The Rise and Fall of Ziggy Stardust and the Spiders from Mars, of the fictional Ziggy Stardust character in what Bowie deemed "Ziggy goes to America". In fact, the majority of the album was written and recorded during the previous album's tour and it's music reflects the pros of performing in new found superstardom and the cons of the wear and tear of constant touring.
Many have compared the approach of this album with that of Bowie's 1970 third album, The Man Who Sold the World, which had a heavier-than-typical rock sound, marking a departure from Bowie's previous predominant folk rock style. Another similarity is in lyrical content, with The Man Who Sold the World referencing schizophrenia, paranoia and delusion while In contrast, Aladdin Sane is a pun on "A Lad Insane", believed to have been inspired by the recent diagnosis of David's brother Terry Jones with schizophrenia.
Co-produced by Ken Scott, most of Aladdin Sane was recorded at Trident Studios in London in early 1973, the album is the fourth to feature a solid rock backing band, led by guitarist Mick Ronson, along with several guest musicians to provide a rich diversity of musical sub-genres.

Aladdin Sane

by

David Bowie
Released: April 13, 1973 (Columbia)
Produced by: Ken Scott & David Bowie
Recorded: Trident Studios, London & RCA Studios, New York, October 1972-January 1973
Side One
Side Two
Watch That Man
Aladdin Sane (1913-1938-197?)
Drive-In Saturday
Panic in Detroit
Cracked Actor
Time
The Prettiest Star
Let's Spend the Night Together
The Jean Genie
Lady Grinning Soul
Primary Musicians
David Bowie – Lead Vocals, Guitar, Synths, Saxophone, Harmonica
Mick Ronson – Guitar, Piano, Vocals
Mike Garson – Piano, Keyboards
Trevor Bolder – Bass
Woody Woodmansey – Drums
The sloshy opener, "Watch That Man", features heavily distorted guitars over a steady rock beat. The thick arrangement includes a backing chorus harmony during the hook sections and the overall vibe represents a slight change of musical direction. The title track, fashioned "Aladdin Sane (1913-1938-197?)", alternates between the ethereal, avant- garde piano verses, musically led by Mike Garson, and the more rocking choruses which combine for a psychedelic feel throughout. Adding a further dimension, the song's coda includes a short quote from the popular song "On Broadway".
"Drive-In Saturday" has a doo-wop-like bass line and beat but with a Bowie-esque vocal melody before the tune works towards a more standard pop/rock tune musically. Lyrically, the song describes a post-apocalyptic, futuristic world where inhabitants watch old porn films in a drive in theater to learn how sex is performed. "Panic in Detroit" comes back to the topical present as it is lyrically based  on Iggy Pop's descriptions to Bowie about experiencing the 1967 Detroit riots. The song employs a Bo Diddley-like "hand-jive" beat by Woody Woodmansey before a more complex bass line by Trevor Bolder takes over in the verses. Closing out the original first side, "Cracked Actor" features straight forward rock music with some raunchy, risque sexual lyrics.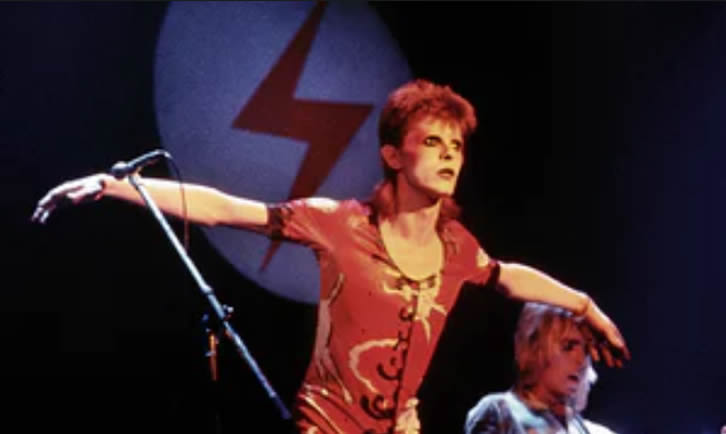 The burlesque verses of "Time" feature music hall piano by Garson before the track explodes into a full rock arrangement led by Ronson's strategically clear riffs. The track reaches a nice climax in the long coda section as Bowie provides scat vocals over the guitar lead. "The Prettiest Star" is another old-timey structured song with doo-wop backing vocals and topped with modern sonic rock elements, while the album's only cover song, "Let's Spend the Night Together", has a short, spaced out intro before breaking into a jazzed-up, pre-punk version of the Rolling Stones classic. This is slightly interesting upon first listen but ultimately a forgettable version of song.
A refreshing rebound of two fine tracks close album , starting with the sloshy, riff-driven, bluesy rock jam of "The Jean Genie". Recorded in New York, this is one track with a nice amount of sonic space to let the listener enjoy this simple but entertaining song, which became Bowie's biggest pop hit to date when it peaked at #2 in the UK. "Lady Grinning Soul" starts with a final long piano intro by Garson before the song proper kicks in with gently strummed acoustic, rapid, staccato piano and high-pitched but soft lead vocals, Compared in style to a James Bond theme, there is a slight flamenco guitar lead before another verse and a climatic coda to complete the album.
With over 100,000 advance orders, Aladdin Sane debuted on top of the UK charts, reaching the Top 20 in the US. Over time, it would go on to sell over 4 million copies worldwide. A few months after the album's release, Bowie dramatically announced the "death" of the Ziggy Stardust character towards the end of a live concert.
~

Part of Classic Rock Review's celebration of 1973 albums.