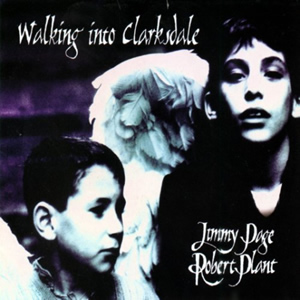 Nearly two decades after they recorded the final Led Zeppelin studio album with 1979's In Through the Out Door, guitarist Jimmy Page and vocalist Robert Plant  collaborated on an album of new original music with Walking Into Clarksdale. With a blend of world music and alternative rock elements along with modern production techniques, this is not a Zeppelin album in any sense nor was it designed to be so. Instead this stands as a unique work within the long solo catalogs of either artist.
Page and Plant re-united in 1993 after casual discussions between the two about performing on the popular MTV Unplugged television series, which had been a rousing success for artists ranging from Eric Clapton to Tesla to Nirvana. Producer Bill Curbishley, who had been managing Plant since the 1980s and began managing Page in 1994, was able to close the deal and, in August 1994, they recorded performances in London, Wales, and Morocco of several re-arranged Led Zeppelin tunes along with four new tracks. These performances were aired on MTV in October, with the album No Quarter: Jimmy Page and Robert Plant Unledded released in November 1994. Following the successful release of this album, Page and Plant launched a world tour backed by bassist Charlie Jones, drummer Michael Lee, and a small orchestra of musicians and background singers.
Walking Into Clarksdale was recorded and produced by Page and Plant along with engineer Steve Albini over the course of five months at Abbey Road Studios in London. Albini, an indie rock producer known for his harsh and brutal recordings, took some dynamic chances in mixing the guitar phrases, Mideastern drones, sawing strings, and repetitive drum patterns which proliferate this album's sound.

Walking Into Clarksdale

by

Page & Plant
Released: April 21, 1998 (Columbia)
Produced by: Jimmy Page & Robert Plant
Recorded: Abbey Road Studios, London, 1997-1998
Track Listing
Primary Musicians
Shining in the Light
When the World Was Young
Upon a Golden Horse
Blue Train
Please Read the Letter
Most High
Heart in Your Hand
Walking into Clarksdale
Burning Up
When I Was a Child
House of Love
Sons of Freedom
Robert Plant – Lead Vocals,
Jimmy Page – Guitars, Mandolin
Charlie Jones – Bass, Percussion
Michael Lee – Drums, Percussion



The album begins with "Shining in the Light", featuring an interesting acoustic progression along with the rhythmic feel of a rotating riff. The string sections in between verses help build the musical momentum of this track. "When the World Was Young" follows, built with a gently thumping bass by Jones and methodical guitar motifs by Page, Quiet tension is built for about two and a half minutes before the song explodes into a Zeppelin-like heavy section where drummer Michael Lee finally gets to perform a full rock beat, The song's lyrics, while slightly obscure seem to focus on a mystical afterlife. "Upon a Golden Horse" starts with a full-fledged electric intro which gives way to calmer, waltz-like verses as Plant attempts to hit the vocal stratosphere (but doesn't quite reach it) while Page provides the record's first heavy blues guitar lead before being overtaken by the rich string arrangements of Lynton Naiff. "Blue Train" is a sad ballad led by Page's uniquely structured guitar lead and Plant's melancholy lyric;
Lost in my darkness now, the rain keeps falling down
Light of my life, where have you gone?
Love's true flame dies without the warmth of your sun…"
On "Please Read the Letter", Plant provides harmonies with himself through most of the track, previewing the prevalent arrangements on the later album Raising Sand, where he will team up with Alison Krauss, re-record this track and win a Grammy in 2009. On this original version, while Page provides his signature heavy rock riffing in the verse, while the overall feel has a more country/folk vibe. The indelible "Most High" features an electronic percussion loop accompanied by droning guitar as a song that finally realizes the Eastern rock fusion that Page and Plant had been loosely experimenting with for a quarter century. Further, the guest musicians Ed Shearmur and Tim Whelan give the track a bit of crisp sonic candy, much needed on this album of subtle arrangements.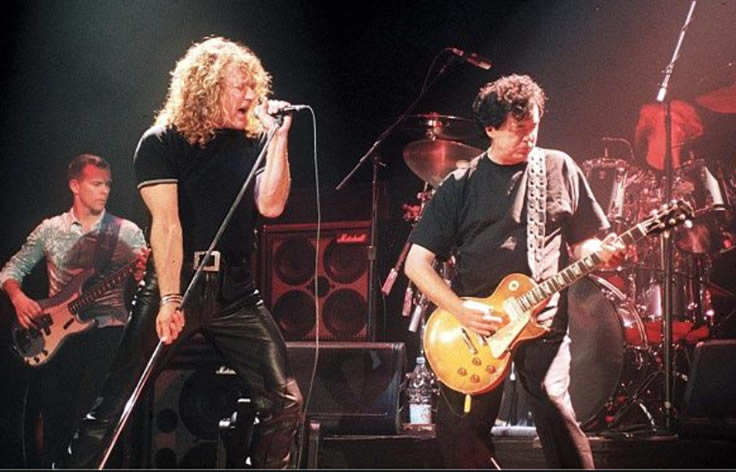 A calm, Western guitar sound by Page, accompanied by Plant's soft but soulful vocals make "Heart in Your Hand" an atmospheric tune with very calm rhythms. This is vastly contrasted by the heavy rocking title song, "Walking into Clarksdale", which celebrates the duos history and love of the blues. While musically a throwback with little spurts of Zeppelin-esque blues-rock flourishes, the song may be the most potent lyrically with references to being born with blues in the soul as well as the infamous "Devil at the crossroads" legend which is tied to the physical location;
And I see twelve white horses walking in line
Moving east across the metal bridge on highway forty-nine
And standing in the shadows of a burnt out motel
The King of Commerce Mississippia waited with his hound from hell…"
After the final highlight of the title track, the album winds down with some slightly interesting, albeit weaker material. "Burning Up", while decent musically, seems to be one of the more under-cooked or disjointed tracks on the album, followed by "When I Was a Child" with a heavy use of tremolo/volume effects on the atmospheric guitars and soaring, soulful vocals by Plant throughout. "House of Love" returns to the electronic percussion but with less effect than "Most High" as the guitar and bass parts don't quite jive with the percussion and give it more of a demo feel. The closer "Sons of Freedom" is a spastic, proto-punk track with differing sonic qualities through its duration.
While Walking Into Clarksdale reached the Top 10 on both sides of the Atlantic and achieved Gold record status, it was an overall commercial disappointment in comparison to its predecessor. Page planned on continuing with a follow-up album and reportedly began writing over a dozen tunes. However, Plant grew tired of the larger arena and decided he wanted to get back to playing clubs, there by disbanding the partnership. To date (20 years later), Walking Into Clarksdale is the last studio recording by Jimmy Page.
~

Part of Classic Rock Review's celebration of 1998 albums.