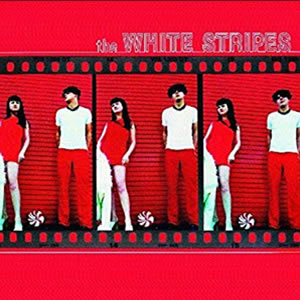 The self-titled 1999 debut by the Michigan based debut, The White Stripes was at once a nod back to the American blues from the century about to end and a preview of the minimalist arrangements trend of the century to come. With great economy, the husband and wife duo of vocalist/guitarist Jack White and drummer Meg White deliver a loud, raunchy, unique blend of blues, punk, country and metal among this generous collection of both originals and covers.
Jack Gillis met Meg White while he still was in high school and a drummer in a local band. The two began to frequent local music venues together. The two married in 1996 and Jack defied convention by taking his wife's surname. The following year, Meg first began to learn the drums as Jack migrated to guitar and they found a surprising synergy together as a duo. They chose the name "The White Stripes" due to their last name and Meg's love of peppermint hard candy. They also deliberately crafted their mysterious image by only outfitting their production in only the colors red, black and white, refusing to be interviewed separately, and occasionally (and bizarrely) presenting themselves as brother and sister.
In 1998, The White Stripes recorded and released the singles "Let's Shake Hands" and "Lafayette Blues" on the Detroit-based independent label Italy Records. The debut album was recorded in Detroit in January 1999 with producer Jim Diamond and released in the summer of that year.

The White Stripes

by

The White Stripes
Released: June 5, 1999 (Sympathy for the Record Industry)
Produced by: Jack White & Jim Diamond
Recorded: Ghetto Recorders and Third Man Studios, Detroit, January 1999
Track Listing
Group Musicians
Jimmy the Exploder
Stop Breaking Down
The Big Three Killed My Baby
Suzy Lee
Sugar Never Tasted So Good
Wasting My Time
Cannon
Astro
Broken Bricks
When I Hear My Name
Do
Screwdriver
One More Cup of Coffee
Little People
Slicker Drips
St. James Infirmary Blues
I Fought Piranhas
Jack White – Lead Vocals, Guitars, Piano
Meg White – Drums
Starting with the original ,"Jimmy the Exploder", The White Stripes album contains 17 total tracks with just a handful clocking in at more than three minutes. Early on, there is a good cover of Robert Johnson's "Stop Breaking Down", where Jack White provides a slide lick repeated throughout. "The Big Three Killed My Baby" refers to the major Detroit automakers and the charge that they are manufacturing automobiles which are intentionally engineered to become prematurely obsolete.
"Suzy Lee" features a beautiful bluesy electric slide by guest Johnny Walker set in between Jack White's heavy riffing that makes this a bit of a modern classic, while "Sugar Never Tasted So Good" is a bit less refined and more spontaneous with Meg White providing some odd percussion effects. This album was officially dedicated to Delta blues legend Son House and the track "Cannon" features an a cappella section of the traditional American gospel blues song "John the Revelator". The hyperactive "Broken Bricks" was co-written by Stephen Gillis as a full-fledged garage-rock romp.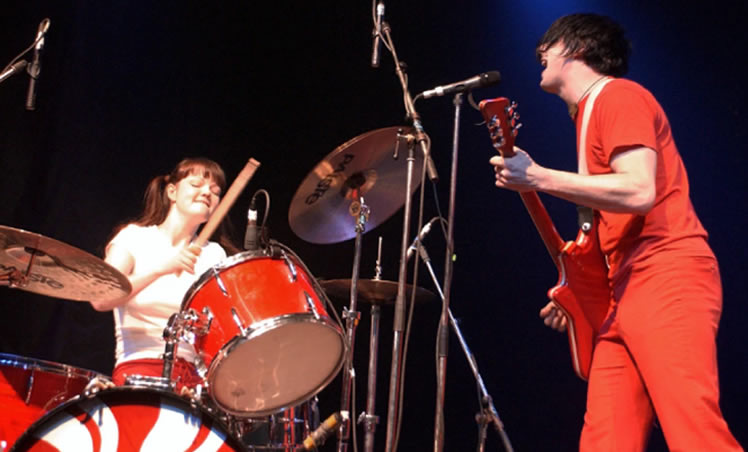 Not all the tracks on The White Stripes are top-notch and, in fact, some are pure filler and/or downright frivolous. These include (the aptly titled) "Wasting My Time", "Astro", "Screwdriver", "Little People" and "Slicker Drips". However, the latter part of the album is saved by a couple of good renditions of cover songs. The isolation tone of Bob Dylan's "One More Cup of Coffee" is followed by the traditional "St. James Infirmary Blues", where Jack White breaks the formula and plays a decent piano throughout. Walker returns to provide slide guitar on the album closer "I Fought Piranhas".
While The White Stripes did reach Gold status in the United States, it didn't really receive much attention or critique until a few years later when the duo's fame began to spread. Still, this set the pace for more success to come in the new millennium, starting with 2000's De Stijl, the home recorded analog follow-up album.
~

Part of Classic Rock Review's celebration of 1999 albums.