Buy Couldn't Stand the Weather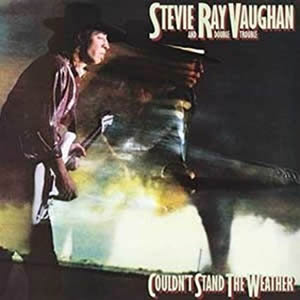 Couldn't Stand the Weather is the critically acclaimed sophomore release by Stevie Ray Vaughan and Double Trouble. The album features an equal mix of original compositions and cover songs, all executed masterfully by Vaughan and company's original interpretation of classic Texas-style boogie blues. While the album was put together in a hurry following a frenzy of recording and touring during that year, the spirited energy works perfectly within this 1984 snapshot of musical lightening.
Vaughan had been an active musician since he was a teenager in the late 1960s, performing in groups called Brooklyn Underground and Southern Distributor. Bassist Tommy Shannon first heard Vaughn play at a Dallas club and they later began performing together in a band called Krackerjack. Around this time, Vaughn also gained experience as a studio session musician and by sitting in with blues legends like Buddy Guy, Jimmy Rogers and Albert King and groups such as ZZ Top. Double Trouble was officially formed in Austin, TX in 1978 as the trio of Vaughn, Shannon and drummer Chris Layton. However, recognition of the group outside of Texas would take nearly a half decade when record producer Jerry Wexler recommended them for the Montreux Jazz Festival, where there controversial performance (later released on DVD in September 2004) garnered widespread attention. Jackson Browne offered the group free use of his personal recording studio in downtown Los Angeles .  The group recorded ten songs in two days which became the group's debut album Texas Flood. While in the studio, Vaughan received a call from David Bowie who invited him to record sessions for his upcoming studio album, Let's Dance, released in April 1983.
After the success of Texas Flood, the group returned to the studio in short time to record a follow-up. Couldn't Stand the Weather was recorded through much of January 1984 with producers Richard Mullen, Jim Capfer and John Hammond at the Power Station in New York City.

Couldn't Stand the Weather

by

Stevie Ray Vaughan
Released: May 15, 1984 (Epic)
Produced by: Richard Mullen, Jim Capfer, Stevie Ray Vaughan and Double Trouble
Recorded: Power Station, New York City, January 1984
Side One
Side Two
Scuttle Buttin'
Couldn't Stand The Weather
The Things (That) I Used to Do
Voodoo Chile (Slight Return)
Cold Shot
Tin Pan Alley
Honey Bee
Stang's Swang
Group Musicians
Stevie Ray Vaughan – Guitars, Vocals
Tommy Shannon – Bass
Chris Layton – Drums
The album begins with the instrumental "Scuttle Buttin'", an upbeat piece which tonally sets the stage for the title track. "Couldn't Stand The Weather" features a definitive, indelible riff with strategic stops led by Layton in between during the deliberative song intro. The song proper has great rhythmic movement and well-placed chord changes under melodic vocals, along with two back to back leads that showcase Vaughn's incredible talent. Next comes the Eddie Jones cover "The Things (That) I Used to Do", a traditional slow blues featuring a guest appearance by Stevie's brother Jimmie Vaughn providing rapid guitar licks in between each vocal line.
A true highlight is the rendition of Jimi Hendrix's "Voodoo Chile (Slight Return)", which maintains much of the psychedelic vibe of the original while adding some hair and with a bit more technical clarity. This version starts with the verse before going into an extended jam before reaching next verse. "Cold Shot" kicks off the second side as an accessible track for pop/rock audiences built on simple but catchy whiny guitar riff which at once complements and contrasts the smooth and reserved vocals of Vaughn.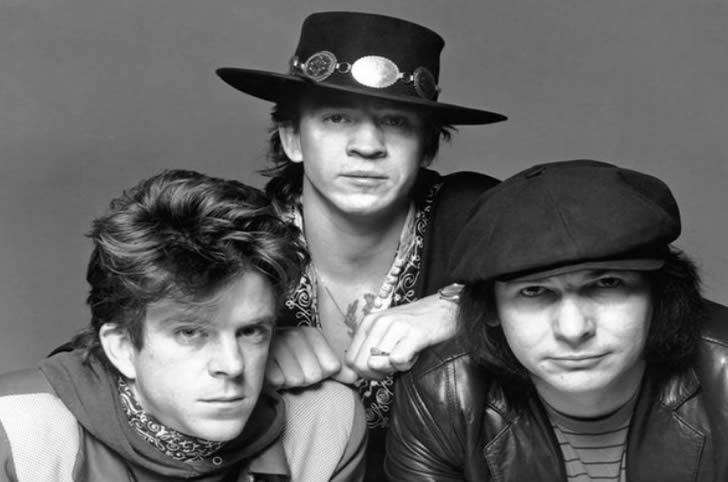 The album thins out a bit through its three closing tracks. "Tin Pan Alley" starts with an extended, fine long intro but this song overall isn't quite as dynamic and seems like a bit of a missed opportunity for this over nine minute track. The much shorter "Honey Bee" returns to upbeat blues, along with slightly silly lyrics as it incorporates some fifties style rock to the distinct blues style as Shannon adds some great bass patterns. "Stang's Swang" is a cool, jazzy instrumental with guests Fran Christina on drums and Stan Harrison on saxophone taking the spotlight, as Vaughn just playing competent guitar chords for an overall odd but interesting epilogue to the record.
Couldn't Stand the Weather reached the Top 40 on the Billboard 200 chart and led to a worldwide tour in support of album. In an interview around the time, Vaughan said his goal for the future was to "keep playing our hearts out. You know, I love the blues. What else is there?"
~

Part of Classic Rock Review's celebration of 1984 albums.