Buy Fullfillingness' First Finale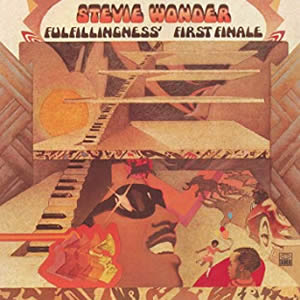 At the age of just 24, Stevie Wonder released his 17th studio album with 1974's Fulfillingness' First Finale. This record came when the composer, musician and vocalist was in the heart of his prime creative output  and features Wonder playing most of the instruments along with an array of backing vocalists. The result is a refined blend of pop, jazz and soul using economical musical arrangements along with a somber and reflective lyrical tone overall.
In 1971, Wonder had allowed his Motown contract to expire after nearly a decade on the famed label as an adolescent star. After two independently recorded albums, he negotiated a new contract with Motown Records which gave him more musical autonomy starting with the 1972 Music of My Mind, a full-length artistic statement with some lyrics that dealt with social and political issues. Talking Book followed later that year and featured a couple of number 1 hits, "Superstition" and "You Are the Sunshine of My Life", which also won three Grammy Awards between them. In 1973 won three more Grammy Awards with the epic social consciousness of the record Innervisions.
Wonder nearly lost his life when he was in a serious car accident while on tour in August 1973. After months of recovering and a renewed sense of faith and personal strength, he got back on tour and developed songs through improvisation and introspection in early 1974. Fulfillingness' First Finale was co-produced by Wonder along with Robert Margouleff & Malcolm Cecil and was recorded at multiple studios in New York City and Los Angeles.

Fullfillingness' First Finale

by

Stevie Wonder
Released: July 22, 1974 (Tamla)
Produced by: Stevie Wonder, Robert Margouleff & Malcolm Cecil
Recorded: Record Plant Studios and Westlake Recording Studios, Los Angeles; Media Sound and Electric Lady Studios, New York, 1974
Side One
Side Two
Smile Please
Heaven is 10 Zillion Light Years Away
Too Shy To Say
Boogie On Reggae Woman
Creepin'
You Haven't Done Nothin'
It Ain't No Use
They Won't Go When I Go
Bird of Beauty
Please Don't Go
Primary Musicians
Stevie Wonder – Lead Vocals, Piano, Keyboards, Harmonica, Drums, Percussion
Michael Sembello – Guitars
Reggie McBride – Bass
Deniece Williams, Minnie Riperton, Shirley Brewer – Backing Vocals
The smooth pop/jazz ballad of the opener "Smile Please" sets the warm vibe for the album, led by Wonder's Fender Rhodes piano and the Latin flavored guitar of Michael Sembello. "Heaven Is 10 Zillion Light Years Away" is ultimately a Gospel song where Wonder conveys confidence in his devotion and is backed by an array of backing vocalists including pop legend Paul Anka. "Too Shy to Say" follows as a different kind of ballad with Wonder's piano complemented by the steel guitar of Pete Kleinow, adding unique ambiance for this otherwise vocal-driven ballad.
The album takes an upbeat turn with "Boogie On Reggae Woman", a Top 5 pop hit which melds reggae with mid-seventies and displays Wonder's incredible mastery of technologically diverse instrumentation. "Creepin'" is a pure soul love song featuring a small array of then-cutting-edge synthesizers, while the political and funky "You Haven't Done Nothin'" is melodically entertaining with nice horn arrangement and features Wonder's overdubbed orchestra of percussive elements. This second side opener also features members of The Jackson 5 on background vocals.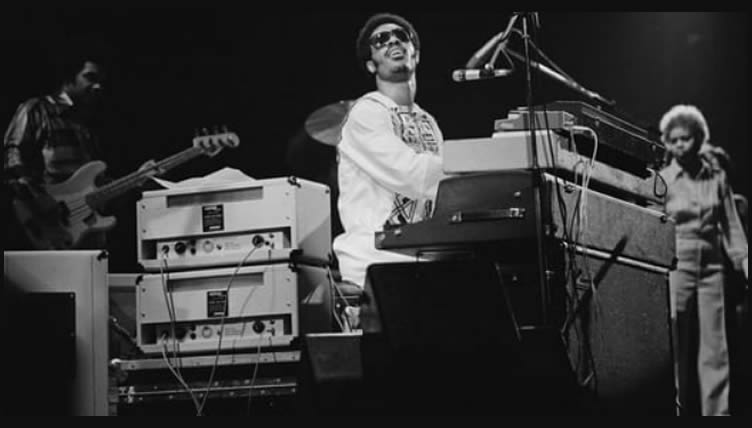 The latter part of this record is where the pure genius resides. "It Ain't No Use" returns to the spiritually driven theme with the expert use of backing vocals in a smooth soul vibe swelling to a stronger hook while maintaining its overall compositional integrity. The haunting "They Won't Go When I Go" was co-written by Yvonne Wright and features a sound both ancient and modern as well as a chorus of self-harmonizing by Wonder. With a combo of his smooth and upbeat styles along with great melody and strategic backing vocal chants, Wonder delivers a masterpiece with the aptly titled "Bird of Beauty", which is also rhythmically interesting due to his fine drumming and Moog bass. "Please Don't Go", an excellent, upbeat love song closes the album with a style that forecasts the best elements of modern day R&B, including a fine mix of electric piano and synths and a sweet, piercing harmonica lead to climax the mood before the crescendo of the final verse and coda brings it all home.
Fullfillingness' First Finale was Wonder's first to officially top the Pop Albums charts and, like its two predecessors, this album received three Grammy Awards, including Album of the Year, Best Male Pop Vocal and Best Male Rhythm and Blues Vocal Performance. In fact, when Paul Simon won the Album Of The Year Grammy the following for year for Still Crazy After All These Years, he sarcastically thanked Stevie Wonder for not making an album in 1975.
~

Part of Classic Rock Review's celebration of 1974 albums.