The second of the initial trio of albums by The Stooges which were considered integral to the development of punk rock, Fun House, has consistently grown in critical stature in the half century since it's release in the summer of 1970. Though commercially unsuccessful, this recording a pure raw energy and animalistic sexuality as been described in positive ways ranging from "exquisitely horrible" to "sixties psychedelic rock trapped in the reality of 1970" to "competent monotony with intellectual appeal".
Stooges front man Iggy Pop, born James Newell Osterberg, started as a drummer in local Ann Arbor, Michigan bands in the early 1960s. In an effort to create a "new form of blues music", not derivative of historical precedents, he recruited brothers Ron Asheton (guitar) and Scott Asheton (drums) along with bassist Dave Alexander. Being the leader of this new band, Osterberg decided to be the lead singer and soon was christened with the nickname "Pop" by the other band members. With this, he adopted the stage name Iggy Pop by the time the group made its live debut as the "Psychedelic Stooges" in late 1967. They experimented with avant garde methods, incorporating such household objects as a vacuum cleaner and a blender into an intense wall of feedback and soon the group gained a reputation for their wild and unpredictable live performances. While touring with the band MC5 in 1968, the Stooges were discovered by a scout for Elektra Records and they released their self-titled 1969 debut album to disappointingly low sales and bad critical reviews.
Hoping for better results, Elektra head Jac Holzman recruited former Kingsmen keyboardist Don Gallucci the group's second album. Gallucci was initially doubtful that he could capture their live feeling on tape, But once in the studio in Los Angeles, he and the group decided to tear down all soundproofing and discard any isolation methods to emulate their live performances as closely as possible. The result is a very raw sound compared to the advancing sonic qualities of 1970 contemporary records.

Fun House

by

The Stooges
Released: July 7, 1970 (Elektra)
Produced by: Don Gallucci
Recorded: Elektra Sound Recorders. Los Angeles, May 1970
Side One
Side Two
Down on the Street
Loose
T.V. Eye
Dirt
1970
Fun House
L.A. Blues
Group Musicians
Iggy Pop – Lead Vocals
Ron Asheton – Guitars
Dave Alexander – Bass
Scott Asheton – Drums
The influence of some of the more intense numbers by The Doors can be felt in the opening "Down on the Street", with a strong interlocked bass and guitar riff holding the backing track for Iggy Pop's reverberated vocals and chants. Although this song feels raw at first listen, it is more refined than anything that follows and may be the most traditionally produced track on Fun House, even to the point of having Ron Asheton guitar overdubbed during the lead section. "Loose" follows with an interesting drum intro by Scott Asheton as he finds the upbeat groove which, overall, leans more toward the yet-to-be-developed punk genre with a starkly honest lyric.
"T.V. Eye" features a bluesy riff while the vocals are still energetic, wailing and (occasionally) screaming. This very repetitive song builds a tension which never really breaks but does reach a bit of a crescendo late in the song, just before an abrupt stop and restart. Iggy Pop has said he was channeling blues legend Howlin' Wolf while recording "T.V. Eye". "Dirt" has a long drum intro by Scott Asheton as Alexander's bass and Ron Asheton's guitar slowly join in to this overall soulful rocker. Here, Iggy Pop sounds similar to Eric Burdon of The Animals on this one while it is an overall showcase for Ron Asheton, especially during the multi-textured, wah-wah fused guitar lead.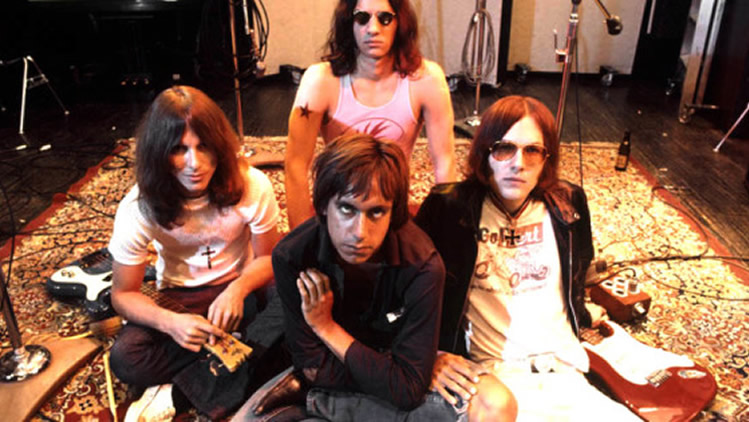 It is quite obvious that the second side of an album derives from a singular jam which now includes saxophonist Steve Mackay, and Gallucci laid this out in side-long linear fashion. On "1970", the rhythmic drums and bass provide backdrop for a pseudo-blues bark on a jam that does provide differing chord structures for the chorus and post-chorus. Late in the song Mackay makes his debut, adding a distinct and original element to the overall sound and vibe. On "Fun House" Mackay is more of an integral part of the sound while Scott Asheton's drumming is a fine adhesive for the overall jam and Iggy Pop's vocals are more strained and desperate than ever, as he technically makes his lyrical finale on the album. "L.A. Blues" wraps things up with, effectively, five minutes of noise, screams and off-beat chops as all five members desperately search for a common ending before settling on a sustained feedback loop by Ron Asheton.
Although Fun House has sold under 100,000 copies to date, it has influenced numerous other artists, with many specifically citing as this as their favorite album. The Stooges and their individual members, soon entered a tumultuous period and it would be nearly three years before they followed up Fun House (with the critically acclaimed Raw Power) but that album was sandwiched in between a pair of band breakups.
~

Part of Classic Rock Review's celebration of 1970 albums.