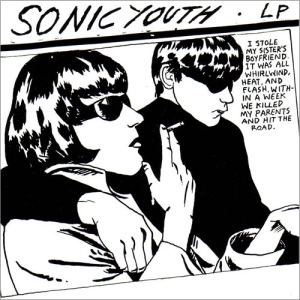 Sonic Youth's 1990 album Goo was a critical success and reached the highest album charting position of the group's career. Their sixth overall release, this was the first after signing their initial major-label recording deal with Geffen Records, which included complete creative control by the band. Goo resulted in an expansion of the group's 1980s sound of combining punk with experimental alt-rock, but with more deliberate references to pop culture and contemporary topics.
Sonic Youth was formed in New York City 1981 by guitarist Thurston Moore and bassist Kim Gordon (who were later married), and they derived their name from MC5's Fred "Sonic" Smith and reggae artist Big Youth. Within a year, guitarist Lee Ranaldo was part of the group. They went through several drummers through their early years and initial recordings before Steve Shelley joined Sonic Youth in 1985. The group's 1988 double album Daydream Nation was a huge critical success, included songs that received significant airplay and has since been chosen by the Library of Congress to be added to the National Recording Registry. With this, the band began looking for a major label deal, eventually landing with Geffen.
A group of about eight demos were recorded by the group in late 1989 before they secured a full recording budget to enter Sorcerer Sound in early 1990 with producer Nick Sansano. The team employed experimental and abstract techniques to achieve unique sound collages and other sonic qualities for this album.

Goo

by

Sonic Youth
Released: June 26, 1990 (DGC)
Produced by: Nick Sansano, Ron Saint Germain, & Sonic Youth
Recorded: Sorcerer Sound Recording & Greene St. Recording Studios, New York City, March–April 1990
Track Listing
Primary Musicians
Dirty Boots
Tunic (Karen's Song)
Mary Christ
Kool Thing
Mote
Disappearer
My Friend Goo
Mildred Pierce
Cinderella"s Big Score
Scooter & Jinx
Titanium Expose
Thurston Moore – Guitars, Vocals
Lee Ranaldo – Guitars, Vocals
Kim Gordon – Bass, Vocals
Steve Shelley – Drums, Percussion


The album opener "Dirty Boots" meanders in with two distinct riffs and the eventual full rhythm arrangement before first verse. The music is intense and biting but Moore's vocals seem half-hearted until the song reaches a "sonic crescendo" with inventive feedback before breaking down and methodically working its way through the instrumental outro. "Tunic (Song for Karen)" was composed by Gordon as a loose tribute to Karen Carpenter. She delivers the lyrics in a mainly spoken word manner under rapid ethereal riffing, offering a very haunting look into inner destructive thoughts. "Mary-Christ" doesn't quite work nearly as well as the opening two tracks as a proto-punk, badly improvised screed.
The album's most famous track, "Kool Thing", features interesting, upbeat rock intro with great drumming by Shelley throughout. The mid section breaks down into a bass-backed spoken word bridge featuring Gordon and and guest Chuck D. The song's title was inspired by an interview that Gordon conducted with LL Cool J and the lyrics make reference to several of the rapper's works. "Mote" is the sole composition by Ranaldo on Goo as well as his only lead vocals. The seven and a half minute track moves from an overloaded feedback intro to basic rock chording to a pure psychedelic and atmospheric trip which persists without form. "Disappearer" follows, featuring a thick upper range and steady rhythm under Moore's melodic vocals and multiple key jumps through the progression into several sonic tunnels.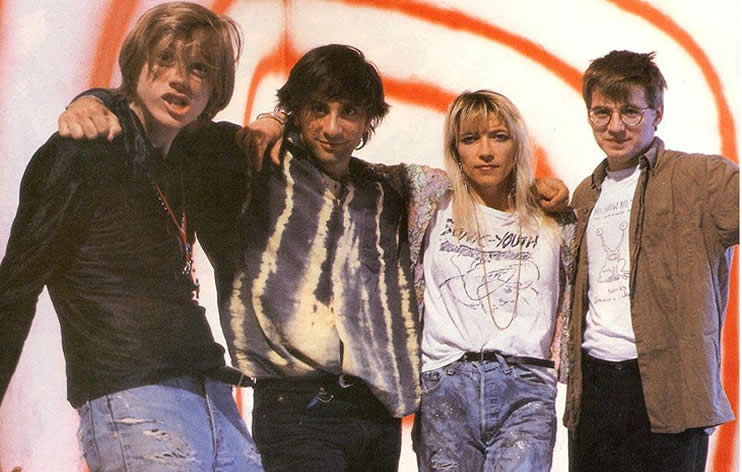 The album does lose momentum over its second half where the group seems to be treading over much of the same ground from earlier on this album. Starting with the quasi-title low-light, "My Friend Goo", and into "Mildred Pierce", which starts with a basic upbeat rhythm before devolving into a feedback overloaded, unintelligible screed. "Cinderella's Big Score" is slightly catchy, but lacks much substance or definition, while "Scooter & Jinx" is a noise collage of more filler. The closer "Titanium Exposé" is a bit interesting with a nearly two minute intro before the melodic verse proper comes in, followed by a slightly interesting bridge jam before a more upbeat, drum-driven jam leads to one last feedback collage to end the album.
Commercially, Goo fared a bit better in the UK than their native US and the album's controversial content helped bring a further buzz beyond that which the group normally received. Through the 1990s and into the new millennium, Sonic Youth's influence continued.
~

Part of Classic Rock Review's celebration of 1990 albums.