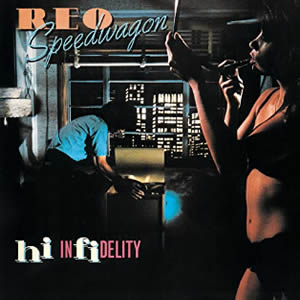 Released in late 1980, Hi Infidelity hit commercial pay-dirt for the Illinois-based group REO Speedwagon. The album strikes a nice balance of accessible pop rockers and ballads as the quintet forged a sound which was at once contemporary and featuring some roots rock elements and, with six of the album's ten tracks landing on the American pop charts, this chart-topping album became the biggest-selling rock album of 1981 in the US and was eventually certified 10 times platinum.
The group's origins date back to 1966 in Champaign, Illinois when keyboardist Neal Doughty and drummer Alan Gratzer formed a cover band that took the name REO Speedwagon the following year. The band signed to Epic Records in 1971 with their self-titled debut album being the first of annual studio albums they released between 1971 and 1976. Vocalist Kevin Cronin briefly joined the group in 1972 before departing for four years and returning in 1976 as their permanent front man. REO found their first real success with their platinum-selling live album Live: You Get What You Play For in 1977, and their 1978 seventh studio record You Can Tune a Piano but You Can't Tuna Fish, which was the group's first to make the Top 40. However, 1979's Nine Lives was a bit of a commercial disappointment.
Hi Infidelity was produced during a time when several group members were struggling with their personal lives. Cronin claimed this made the bond between the band members really strong and forged a sort of continuity between the songs composed by multiple songwriters going through similar experiences. About half the songs were developed during a three-day rehearsal period with the later studio recordings produced by Cronin, Gratzer, guitarist Gary Richrath and engineer Kevin Beamish.

Hi Infidelity

by

REO Speedwagon
Released: November 21, 1980 (Epic)
Produced by: Kevin Beamish, Kevin Cronin, Alan Gratzer, & Gary Richrath
Recorded: June-October 1980
Side One
Side Two
Don't Let Him Go
Keep On Loving You
Follow My Heart
In Your Letter
Take It on the Run
Tough Guys
Out of Season
Shakin' It Loose
Someone Tonight
I Wish You Were There
Group Musicians
Kevin Cronin – Lead Vocals, Guitar, Piano
Gary Richrath – Guitars
Neal Doughty – Keyboards
Bruce Hall – Bass, Vocals
Alan Gratzer – Drums, Vocals
The opener "Don't Let Him Go" begins with an intro with feedback guitar over pointed, "hand-jive" like rhythm, building a tension which is released during the chorus hook. The song was the first Cronin composed for Hi Infidelity and it was released as a single and reached the Top 40. However, it was Cronin's next track "Keep on Loving You" that became the album's biggest hit and REO Speedwagon's first #1 song. While in many ways a classic piano ballad but, "Keep on Loving You" resists being formulaic as full group kicks in during the first pre-chorus section and Richrath provides a fantastic, bluesy lead guitar.
Written by Richrath and band associate Tom Kelly, the pop-oriented "Follow My Heart" is catchy but not quite as high quality as rest of the material on the first side. "In Your Letter" is a much better effort by the guitarist as a fine mixture of first wave rock with a doo-wop like hook. Doughty adds much with his middle, dual piano and organ leads being the most rewarding part of this song, which was released as the fourth single from the album and made the Top 20 on the Billboard Hot 100 chart. "Take It on the Run" completes Richrath's trio of songs to complete the original first side as an adolescent acoustic anthem bookmarked by the classic lyric "heard it from a friend who, heard it from a friend who, heard it from another you've been messing around". In between are some great guitar riffs and lead and a harmonized hook that propelled the song into the Top 10 in 1981.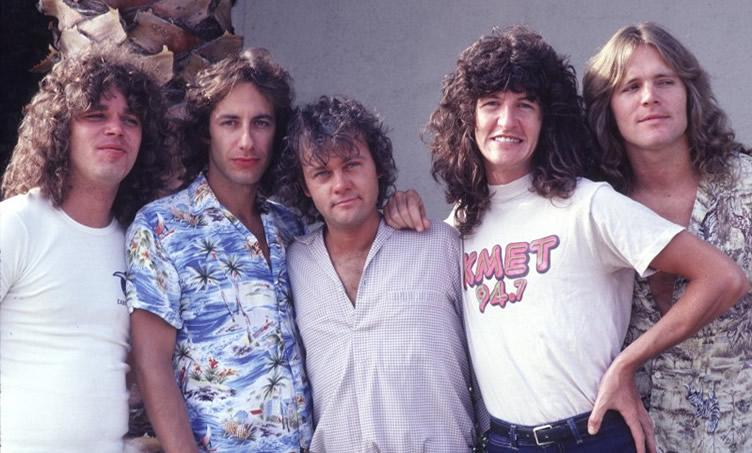 With the exception of a few strong points, the album's second side isn't nearly as potent as its hit-drenched first. "Tough Guys" starts with Little Rascals clip from 1937 before exploring into a pop rock screed, while "Out of Season" features choppy rock verses and good guitar riffin'. "Shakin' It Loose" returns back to fifties themed rock n' roll with heavy dance implications, a great piano lead and solid rhythms by drummer Alan Gratzer, while "Someone Tonight" is a new-wave influenced track by bassist Bruce Hall, who also takes on lead vocals for the song. The album wraps with the excellent and dramatic "I Wish You Were There", where Cronin displays his best vocals on the record and Richrath offers the best of his many guitar leads on this record.
The success of Hi Infidelity launched a 1980s decade where they found more pop stardom, especially as they moved towards a softer, ballad-centric approach on subsequent albums. In October 2004, the band revisited their 1980 classic as they recorded the songs of Hi Infidelity live from beginning to end for an XM Radio special.
~
Part of Classic Rock Review's celebration of 1980 albums.