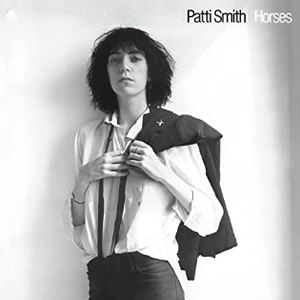 Horses is the 1975 debut album by Patti Smith, an album which has long become considered a breakthrough masterpiece of minimalist originality and poetic improvisation. Smith and her band had no previous recording experience and they developed the album's songs with simple chord progressions nesting Smith's lyrics, which ranged from subjects such as family, contemporary rock icons, and imagined narratives. On Horses the group also incorporated a few classic rock tunes into their extended pieces.
Born in Chicago, Smith was a poet and performance Artists in Paris and New York City born in the late 1960s and early 1970s. She provided spoken word soundtracks for artistic films as well as live plays. She was briefly considered to be lead singer for Blue Oyster Cult, a group for which she would provide lyrics for years to come. By 1974, Patti Smith formed her own rock group with guitarist Lenny Kaye, bassist Ivan Král and drummer Jay Dee Daugherty. The band recorded a single, "Hey Joe / Piss Factory", a hybrid of a rock standard with additional spoken word poetry. Soon, the Patti Smith Group was signed by Clive Davis for his new label, Arista Records.
Recording for this debut album began in August 1975 in New York City with producer John Cale. Smith wanted to make "a record that would make a certain type of person not feel alone" but she did have some differences with Cale on recording methods, which were ultimately worked out.

Horses

by

Patti Smith
Released: December 13, 1975 (Arista)
Produced by: John Cale
Recorded: Electric Lady, New York City, August-September, 1975
Side One
Side Two
Gloria
Redondo Beach
Birdland
Free Money
Kimberly
Break It Up
Land
Elegie
Primary Musicians
Patti Smith – Lead Vocals
Lenny Kaye – Lead Guitar, Bass
Ivan Král – Bass, Rhythm Guitar
Richard Sohl – Piano
Jay Dee Daugherty – Drums
The opening track is a quasi-cover of "Gloria", a popular song first recorded by Van Morrison and his group, Them, a decade earlier. This unique version features Smith's poetry over slower chord progression that eventually works into faster frenzy with the hook release finally coming over three minutes into the song. Cowritten by keyboardist Richard Sohl, "Redondo Beach" is a change up where the music is more in focus due to the fine reggae elements of the tune. The poetic lyrics are based on a fight that Smith had with with her sister Linda, after which her sister disappeared for days, causing Patti to worry that she had committed suicide (fortunately, she did not). "Birdland" is the first of two extended pieces where Sohl's lazy piano plays behind Smith's spoken-word narrative in verses, alternating with sung choruses. The stream of consciousness lyrics were inspired by memoir of Austrian psychoanalyst Wilhelm Reich.
Starting as deliberative and poetic but quickly building to a proto-punk frenzy, "Free Money" is a fantasy about winning the lottery and the song closes the original first side. Starting side two is "Kimberly" a song which is very musically interesting as perhaps an early example of the new wave style, while "Break It Up" is a moderate ballad written as a tribute to Jim Morrison, following Smith's visit of Morrison's grave in Paris.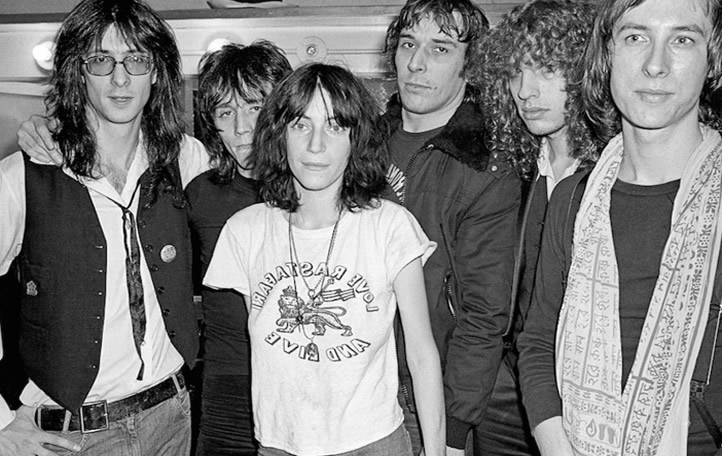 The centerpiece of Horses is the nine and a half minute track "Land", which incorporates the sixties soul classic "Land of a Thousand Dances", This melodramatic piece which builds into a classic rock dance tune is counterbalanced by explicit and violent lyrics that layered masterfully through overdubbed poetry and melodies. In Smith's later memoir, she reveals that primary characters in this song refer to photographer Robert Mapplethorpe and author William Burroughs. Piano, bass and whining guitar make a perfect haunting effect for the closing track "Elegie", purposely recorded on the 5th anniversary of the death of Jimi Hendrix, with the song also generally paying tribute to several deceased rock musicians such as Morrison, Brian Jones, and Janis Joplin.
While Horses received little to no airplay, it was instantly met with critical respect upon release and the album has grown to be a classic over time. The album solidified Smith's influence on the New York punk rock and some have cited it as the first real punk rock album, although it is obvious that this record was not so genre-specific.
~

Part of Classic Rock Review's celebration of 1975 albums.