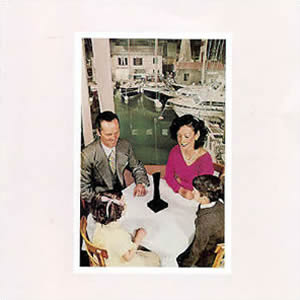 In late 1975, Led Zeppelin had planned a world tour to capitalize of the phenomenal success of their latest album Physical Graffiti. The band was at the absolute zenith of their popularity with a string on top-selling albums going back to 1969. However, a serious car accident involving lead singer Robert Plant while he was vacationing on the island of Rhodes with his wife, made the tour impossible. Plant was confined to a wheelchair for nearly six months and this tilted the band towards writing and recording a new "unplanned" album. The result was Presence, the least successful album in the Zeppelin catalog commercially and one with very mixed reviews critically. However, Presence is the album that the band themselves consider to be their "most important".
During his recovery period in Malibu, CA following the accident, Plant began to write some lyrics. He was soon joined by guitarist and producer Jimmy Page to further work on these compositions. When enough material had been written, bassist John Paul Jones and drummer John Bonham were summoned to rehearsals in California. The band then migrated to Munich, Germany for recording, all with Plant still in a wheelchair. The studio was small, in a basement, and very difficult for Plant to work in. Further, the band found out that they had just 18 days for the entire production as the Rolling Stones had the very same studio booked for their next album, Black and Blue. As producer, Page pretty much stayed awake for the entire 18 days in order to complete the album in Munich.
The result is, perhaps, the most unusual Led Zeppelin album (although each of their albums are quite distinct). Page developed a cleaner, "twang-ier" guitar sound in contrast to his signature "crunch" riffs of earlier days. Bonham's drumming is furious and strong with a sound extended from that on Physical Graffiti, while Jones continued his migration from a dynamic blues to that of a more standard rock bass player. As Plant himself admits, his vocals dynamics suffered a bit due to his confinement. Further, he was a bit upset with the band's management for keeping him from his wife, who was also seriously injured in the car wreck and recovering back in England, mainly due to tax reasons. Still, Robert Plant at 50% is superior to most rock singers and his performance on Presence is far from embarrassing.
The album was completed on November 26, 1975, the day before Thanksgiving, and that American holiday was considered as the title for the album. This title was rejected in favor of "Presence", a representative force surrounding the band. The cover artwork features various images of random people interacting with a black obelisk-shaped "object", a sort of play on the space object in the film 2001.

Presence

by

Led Zeppelin
Released: March 31, 1976 (Swan Song)
Produced by: Jimmy Page
Recorded: Musicland Studios, Munich, November 1975
Side One
Side Two
Achilles Last Stand
For Your Life
Royal Orleans
Nobody's Fault But Mine
Candy Store Rock
Hots On For Nowhere
Tea For One
Group Musicians
Robert Plant – Lead Vocals, Harmonica
Jimmy Page – Guitars
John Paul Jones – Bass
John Bonham – Drums & Percussion
Presence is the only Led Zeppelin album with neither acoustic or keyboard tracks, as the band made a concerted effort to forge and updated version of their earliest "raw" sound. This strategy succeeds well on the first side but is less successful on the second side as the three songs on the first side are far superior to the four on the second. Still, it is refreshing that the band never lost their capacity for experimentation even with this quickly rushed album.
Unlike most albums which tend to build towards an epic song late on either sides this album kicks off right away with "Achilles Last Stand", the tour de force of Presence. The song starts with dreamy, flanged guitar intro by Page which gives way to a rapid trigger-like riff that gets variated throughout. It is a true journey of a song lead by Plant's lyric and vocal telling of his misfortune in the land of the Greek heroes. One flaw with the song is that it lasts just a bit too long and becomes a little repetitive towards the end. It perhaps would have worked better as a 7-minute song than this 10½ minute goliath.
This last point is magnified with the album's closer "Tea For One", another extended cut but with a lot less action. The truth is, the best part of this 9-plus-minute song is the first 21 seconds when the band does a riff completely out of context with the rest of the song, which is a slow and depressing diddy that wallows in misery and desperately cries for a kick into a higher gear at some point. Some have pointed to the shorter songs on the album as "filler", but I believe the filler actually lies within the longer compositions themselves by virtue of repetitiveness. Which begs the question – if the band didn't feel like they had enough material, why not add some older material like they had with Physical Graffiti? We know now that there were some fine, unreleased songs out there like "Traveling Riverside Blues", "Poor Tom", and "Hey, Hey What Can I Do?"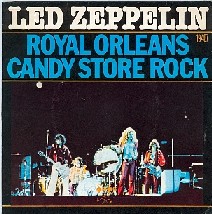 Rounding out side one is a couple of unique Zeppelin gems. "For Your Life" is the quintessential Led Zeppelin song, filled with bluesy licks over a catchy riff and dynamic, much-improvised vocals by Plant belting out lyrics that are hard to decipher completely, but with a vibe "felt" to the bone. The song contains nice changes, an interesting bridge, and a precise, simple, and strong beat throughout by Bonham. "Royal Orleans" is a fun and funky tune allegedly retelling a story involving John Paul Jones and a transvestite.
Launching the second side, "Nobody's Fault But Mine", Plant's guilt-ridden song about bad things befalling him (presumably the car wreck) due to his own actions. The song contains an excellent blues harp solo, unlike anything he had done since "When the Levee Breaks" on Led Zeppelin IV, five years earlier. It is the first of two distinct leads, followed by Page's own bluesy guitar lead, combined these make up the best part of the song. Much like "Achilles", this composition would be better if more succinct and less repetitive, but it is still a fine track.
The heart of the second side contains two fine sounding throwback songs. "Candy Store Rock" is an Elvis tribute, which uses the candy store as an analogy for sex in the same fashion that "Trampled Underfoot" used the car on the previous album. It is not a terrible listen but just a little disappointing in the minimalist approach of Page and Jones. Bonham, on the other hand plays a very interesting beat with entertaining variations throughout. "Hots On for Nowhere" is one of the forgotten gems of the Zeppelin catalog, a stop-start rockabilly riff and beat with some nice changes. It is a song with a very upbeat vibe despite the mainly depressing lyrics.
Presence did initially rush to #1 on the Billboard charts (probably due to the band's popularity alone) but quickly fell and tracks from this album have rarely received airplay. Also, because of it being completely built in the studio, few songs from the album were played live on subsequent tours. Still, despite this initial subdued reception, Presence is an excellent listen that has held up well over the decades and cannot be overlooked by any true fans of Led Zeppelin today.
~
Led Zeppelin online



Led Zeppelin official website
Buy Presence

Part of Classic Rock Review's celebration of 1976 albums.