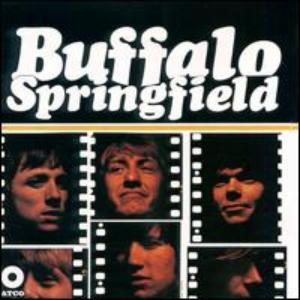 Buffalo Springfield was a very unique rock band. On the one hand, they were loaded with young talent who played together for a very short time in the late sixties before ultimately splitting in several directions and forming some of the top folk-rock acts of the seventies, making Buffalo Springfield tremendously influential in this respect. On the other hand, their actual output was good but far from spectacular and yet they've been inducted into the Rock and Roll Hall of Fame where many superior artists have not, making Buffalo Springfield tremendously overrated in that respect. Similarly, their 1966 self-titled debut album contains many of the same macro traits of the band itself, a pleasant listen throughout but lacking anything really unique or breakthrough that would make it a top-level "classic".
The story of how the group came together is quite entertaining and legendary. Steven Stills was a talented session musician who had tried out unsuccessfully for the Monkees in the summer of 1966. While that band was formed to cash in on the success of the Beatles, producer Barry Friedman wanted to assemble a further band in the folk-rock vein of the Byrds, and assured Stills a contract if he could assemble an adequate band. Stills recruited an ex-band mate, guitarist Richie Furay. One day Friedman, Stills, and Furay were stuck in traffic on Sunset Boulevard when Stills recognized Neil Young driving a black hearse in the opposite lanes. Stills had met Young a year earlier in northern Canada and was deeply impressed by his talent. After making an illegal u-turn and chasing Young down, they pleasantly discovered that he had come to L.A. with bassist Bruce Palmer to try and form a band. With the addition of drummer Dewey Martin, Buffalo Springfield was formed and through late 1966, the band wrote and recorded songs for their debut album.

Buffalo Springfield

by

Buffalo Springfield
Released: December 5, 1966 (Atco Original)
Produced by: Charles Greene & Brian Stone
Recorded: Los Angeles, July-September, 1966
Side One
Side Two
For What It's Worth
Go And Say Goodbye
Sit Down I Think I Love You
Nowadays Clancy Can't Even Sing
Hot Dusty Roads
Everybody's Wrong
Flying On the Ground Is Wrong
Burned
Do I Have to Come Right and Say It
Leave
Out of My Mind
Pay the Price
Band Musicians
Steven Stills – Guitars, Keyboards, Vocals
Rich Furay – Guitars, Vocals
Neil Young – Guitars, Harmonica, Piano, Vocals
Bruce Palmer – Bass
Dewey Martin – Drums, Vocals
Buffalo Springfield was originally released in mono, but when the single "For What It's Worth" became a hit, the album was re-released in stereo with that song replacing "Baby Don't Scold Me", which was never released in a stereo version. All songs were written either by Stills or Young, but record executives insisted that Furay sing the bulk of Young's compositions because they found Young's voice "too weird". Young did sing a few songs on side two, one average song called "Burned" and a better, quasi-psychedelic song, with heavily processed guitars and thick harmonies Called "Out Of My Mind".
Some of the highlights of the first side include Still's "Sit Down I Think I Love You", with a nicely mixed rhythm, moderate beat, and harmonized vocals, and Young's "Nowadays Clancy Can't Even Sing", sung by Furay, a softer song which leans towards the sound of the Rascals. "Flying On the Ground Is Wrong", also sung by Furay, has the approach of a traditional love song with beauty and style, while "Leave" has a rockabilly vibe, with a constant lead guitar and nice chords changes in the verses.
But without a doubt, "For What It's Worth" is the true highlight of the album. It was written by Stills after he witnessed a protest by young people over a Sunset Strip nightclub being closed down, and the police reaction that the protest sparked. The song itself is excellent in its simplicity, with a two chord, rotating pattern understated by the minimal use of acoustic, rhythm guitar, bass, and kick drum and accented by the sharp, single note lead guitar, which is the signature of the song. Stills vocals are perfect for this song and Young breaks in with some fine echoed lead guitar during the later verses. The song went on to become a top ten hit by March 1967, and would be their most popular song as a group.
Buffalo Springfield would produce two more albums before disbanding in 1968. During that time Palmer was arrested and deported back to Canada and was replaced by Jim Messina who would later go on to be one half of the seventies hit-makers Loggins and Messina. Rich Furay would go on to form the pop band Poco, while Steven Stills formed the classic trio Crosby, Stills and Nash. Neil Young went on to have a tremendous solo career as well as occasionally joining up with that trio making it Crosby, Stills, Nash & Young.
~

Part of Classic Rock Review's celebration of 1966 albums.