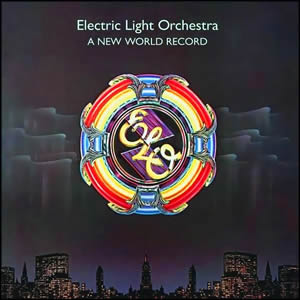 The sixth overall album for Electric Light Orchestra (E.L.O.), A New World Record would become the band's breakthrough worldwide. Lead singer, chief songwriter, and producer Jeff Lynne later said he considered this album to be the band's pinnacle (and he may be right). The album combines the better elements of ELO's of previous works – great pop sensibility and melody with deeper orchestral arrangements and polished production. It is also a transitional album where the sound of the band becomes less progressive and more radio-friendly, with no less than four "hit" songs charting from A New World Record, helping the band to finally break through in their native England.
A New World Record was recorded at Musicland Studios in Munich, Germany, the same location where ELO recorded their previous album Face the Music the year before (it is also the same location where our most recent review Presence by Led Zeppelin was recorded). This studio in the basement of a majestic hotel along with its famed engineer Reinhold Mack.
Many have describe the band's sound as The Beatles advanced about a half decade later, and there is definitely audio evidence to back that assertion, but there is much more here. Although on one level completely unique, the sound that Jeff Lynne and the band forged through the mid-to-late seventies was the perfect soundtrack for the colorful, bright, and "Star Wars" motif of the era. Further, while many sentiments migrated to the polar extremes of disco and punk when abandoning the over-indulgent virtuosity of progressive rock, E.L.O. chose a more mainstream, roots-rock core just as the generation which grew up in the 1950s were feeling nostalgic for this music. This same core was never truly abandoned by the Beatles, through all their late sixties innovation, so there may be the true comparison.

A New World Record

by

Electric Light Orchestra
Released: September 11, 1976 (Jet)
Produced by: Jeff Lynne
Recorded: Musicland Studios, Munich, July 1976
Side One
Side Two
Tightrope
Telephone Line
Rockaria
Mission (A World Record)
So Fine
Livin' Thing
Above the Clouds
Do Ya
Shangri-La
Band Musicians
Jeff Lynne – Lead Vocals, Guitars, Piano
Richard Tandy – Piano, Keyboards, Vocals
Kelly Groucutt – Bass, Vocals
Bev Bevan – Drums, Percussion, Vocals
Mik Kaminski – Violin
Hugh McDowell & Melvyn Gale – Cellos
Louis Clark – Orchestral
A New World Record begins with "Tightrope", which comes in with a deep and doomy synth that gives way to strings and orchestral vocals before finally kicking in fully at around 1:15 with the thumping rhythm of drummer Bev Bevan and bassist Kelly Groucutt. An excellent rock song interspersed with the "edge" of orchestral strings and choral vocals, this song sets the pace for the rest of the album allthe way through its concluding "Shangri-La". This last song seems to be a play on to the theme song to the band's 1974 album El Dorado, both mythical places where the music of E.L.O. tries to take us.
The beautiful and serene "Telephone Line" is a more traditional love song with a definite late-era-Beatles "Golden Slumbers" vibe, especially during the verse. Vocally, the song is superb with Lynn's voice starting at extreme mid-range for the "telephone" effect before slowly morphing towards normalcy and the chorus "do wap" section adds an undeniable hook. In contrast "Rockaria", while still very poppy and entertaining, could not be any less conventional. Perhaps the best song on the album, it literally adds opera to a true rock song, in a way as smooth (if not smoother) than Queen did on A Night At the Opera a year earlier. "Rockaria" constantly fluctuates between an aria and an old time, thumping rock song, all very seamless and sweet, yet truly unique.
The first side ends with "Mission", a quasi-thematic piece with heavy strings throughout with nice sprinklings of Lynne's guitars and Richard Tandy's clavichord. The second side kicks off with "So Fine", a funky song with some modern, almost synthesized sounds complementing that show the band was trying to fit into the disco world as well.
A signature orchestral riff is carried over from "So Fine" to the hit song "Livin' Thing", driven by an excellent acoustic rhythm, some majestic lead vocals, and a couple of violin interludes by Mike Kaminski, This would one of the most popular songs ever by the band. "Above the Clouds" follows as an odd but interesting, McCartney-esque song with thumping piano and a subtle Theremin whining in the background through two verses before breaking down with a slow string-led ending. "Do Ya" is pop/rock at its finest, perfect for the era as a radio hit as well as a nice counter-balace to the more serious material on the album. The song is a simple rocker yet impossible to ignore and puts the album well over the top as a commercial success.
In the wake of the tremendous success of A New World Record, E.L.O. would go on to produce their most ambitious effort the following year with Out Of the Blue in 1977 and would remain a relevant force in the pop and rock world into the early eighties.
~

Part of Classic Rock Review's celebration of 1976 albums.