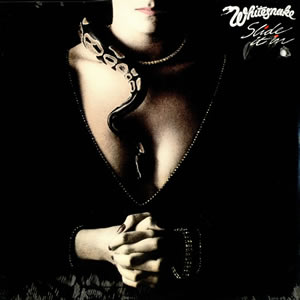 Whitesnake made its first real splash with the release of their sixth album, Slide It In in 1984. Although the album was far from a blockbuster hit, a second version of the album finally established Whitesnake in America and set the stage for greater future success. Under the tutelage of producer Martin Birch, the group found the perfect sound for the mid-eighties hard rock audience. However, this pivotal album for the band was actually constructed during a time of shifting personnel for Whitesnake, with lineup shifts around founder and front man David Coverdale before, during, and after the record's production.
In 1978, Coverdale founded Whitesnake as a solo project following his brief gig as Deep Purple's lead vocalist. The new band's earliest sound utilized some of the blues-rock basics of British groups years earlier. Joining Coverdale in this new band was fellow Deep Purple member Jon Lord on keyboards, guitarist Micky Moody, and a rotating rhythm section. Whitesnake's first four albums did well in the UK but failed to make any waves in the US. In 1981 guitarist Mel Galley, who had spent a dozen years with the band Trapeze, became the group's second guitarist and was on board for the recording of the 1982 release Saints and Sinners, the most critically acclaimed and commercially successful album to date.
First recorded in late 1983, Slide It In cam out as two distinct mixes, each with differing personnel. After the group's new American label Geffen objected to the "flat sounding" mix on the UK release, Coverdale fired Moody and bassist Colin Hodgkinson and had their parts re-recorded by new members John Sykes and Neil Murray respectively, before the entire album was re-mixed and re-sequenced for a U.S. release. While the newer mix was sonically superior overall, some fans lament that it diminishes the presence of Lord's keyboards and the overall bass guitar.

Slide It In

by

Whitesnake
Released: January 1984 (Geffen)
Produced by: Martin Birch
Recorded: 1983
Side One
Side Two
Slide It In
Slow and Easy
Love Ain't No Stranger
All or Nothing
Gambler
Guilty of Love
Hungry for Love
Give Me More Time
Spit It Out
Standing In the Shadow
Group Musicians
David Coverdale – Lead Vocals
Mel Galley – Guitars, Vocals
Jon Lord – Keyboards
Neil Murray – Bass
Cozy Powell Drums
An AC/DC inspired riff and beat on the opening title song is contrasted by Coverdale's distinctly non-AC/DC vocals on this track of rock raunch to the core with not-so-subtle lyrics. "Slide It In" is really an entertaining and melodic musical showcase with a good guitar lead by Moody under an alternate chord structure. Co-written by Moody, "Slow an' Easy" is a track of pure rock drama, slowly unfolding with every note, breath, and rudimentary beat. Built on a diverse collection of guitar motifs, the track takes nearly two and a half minutes until it finally gets to the hook, which contains claps and chants, perfectly setting it up for future arena shows. Held together by Powell's precise drumming, once fully realized this song never relents from its drive, which helped propel the song into the Top 20 of the Billboard Mainstream Rock chart.
Next up in the parade of classic rock gems is "Love Ain't No Stranger", which starts with long synths accompanied by an acoustic guitar, before ultimately kicking into a steady rocker, While there are no real "power ballads" on Slide It In, the short intro verses on this track may be as close as the group gets. "All or Nothing" is pure hard rock in the spirit of groups like Rainbow, solidly built on a heavy metal riff by Galley with dramatic vocal wails by Coverdale and a consistent jam drive throughout. The fine first side closes with "Gambler", which may be the perfect Whitesnake song as a moody track with rotating riffs and great keys. Vocally, Coverdale shows much range within each verse, while the lead section contains back-to-back solos by Lord and Galley, continuing the great hard rock parade.
Unfortunately, the second side is not as potent as the first. It starts with "Guilty of Love", an upbeat rock song which was the first recorded for the album and released as a single in mid 1983. With this, the song was the only one produced by Eddie Kramer. The similarly titled "Hungry for Love" is slightly better than its predecessor due to a better rock jam by the musicians and cool bluesy riff lines by Galley and Murray. "Give Me More Time" is very melodic and well put together and sounds like it should have been a hit song. Constructed in pristine fashion from verse to pre-chorus to chorus, with a great lead section that contains a harmonized lead by Galley over wild drumming by Powell.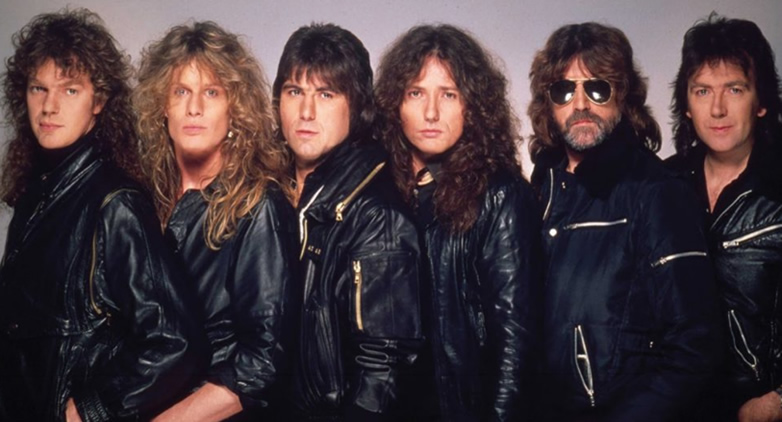 "Spit It Out" continues where the previous song left off, but with the sharp return to sexual gratuitousness. Still, the song is solid musically with nice mid-section built on a rapid hi-hat beat by Powell and slight guitar strumming by Galley before it explodes back for the guitar lead. The album concludes with the apt, steady, and slightly dark rocker, "Standing In the Shadow". While the track pales in comparison to songs earlier on the album, it is probably the best of Coverdale's several solo compositions on the album.
Slide It In did squeak into the Top 40 in America, while reaching the Top 10 in the UK, eventually reaching double platinum in sales. However, the personnel shifts continued as Lord joined a reunited Deep Purple and Powell joined the revamped super group Emerson, Lake, and Powell. Coverdale and Sykes later composed and recorded the blockbuster 1987 album Whitesnake, but Coverdale then fired the entire band for the more "photogenic" younger group that appeared in all the late eighties videos.
~

Part of Classic Rock Review's celebration o 1984 albums.