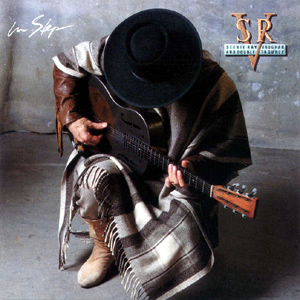 After a four year hiatus from recording, Stevie Ray Vaughan and Double Trouble finally released their fourth studio album, In Step in June 1989. The album's title refers to Vaughan's long process of finding sobriety following a lifetime of alcohol and drug abuse which nearly took his life in 1986. This critically acclaimed and Grammy award winning album is considered Vaughn's best by many as it masterfully blends straightforward lyrics with a musical blend of blues, soul, and rock.
Guitarist Stevie Ray Vaughn formed Double Trouble in 1978 with bassist Tommy Shannon and drummer Chris Layton. However, they would not achieve mainstream success until the mid 1980s after Vaughn was featured on David Bowie's platinum-selling 1983 album Let's Dance. The group was signed to Epic Records and released their debut album, Texas Flood followed quickly by Couldn't Stand the Weather in 1984, with each peaking in the Top 40 on the album charts. For the group's third studio album, Soul to Soul, keyboardist Reese Wynans was hired as a fourth member of the band. After constant touring which included several sold out show recordings for the 1986 double live album Live Alive, Vaughan collapsed after a performance in Germany and nearly lost his life. Vaughn went through rehabilitation soon afterwards.
In late 1988, Double Trouble enlisted producer Jim Gaines to work on their long awaited fourth album, a first for the group which had self-produced their previous albums. After aborted attempts to record in New York City, recording sessions were moved to Memphis and later Los Angeles, where a small horn section was added to augment the sound.

Journeyman

by

Stevie Ray Vaughn
Released: June 6, 1989 (Epic)
Produced by: Jim Gaines & Double Trouble
Recorded: Kiva Studios, Memphis, & Sound Castle and Summa Studios, Los Angeles, January–March, 1989
Track Listing
Primary Musicians
The House Is Rockin
Crossfire
Tightrope
Let Me Love You Baby
Leave My Girl Alone
Travis Walk
Wall of Denial
Scratch-N-Sniff
Love Me Darlin'
Riviera Paradise
Stevie Ray Vaughn – Lead Vocals, Guitars, Dobro
Reese Wynans – Keyboards
Tommy Shannon – Bass
Chris Layton – Drums, Percussion


The album explodes into action with the fun stomp, "The House Is Rockin'", co-written by Doyle Bramhall, a longtime associate of both Stevie Ray and older brother Jimmy Vaughan of The Fabulous Thunderbirds. Ironically, the first real lead on the album is a fine piano solo by Wynans before Vaughn adds his own blistering short guitar lead. "Crossfire" was a group composition with a groovy bass line by Shannon setting the perfect foundation for the bluesy guitar licks between each line. A real highlight of this track which topped the mainstream rock charts comes near the song's end where Vaughn's guitar takes off into a choppy crescendo to complete the track.
Bramhall and Vaughan's "Tightrope" continues the string of entertaining grooves, with Vaughn's vocals being particularly soulful and potent here on this track with overt lyrics about the struggles to stay clean. Next comes a couple of blues cover tunes – Willie Dixon's entertaining "Let Me Love You Baby" with great, upbeat movement, and Buddy Guy's "Leave My Girl Alone", a slow, traditional blues delivered perfectly, especially with Wynans' subtle background organ and Vaughn's fantastic vocals. "Travis Walk" is a short but interesting instrumental with just enough space for piano and guitar lead sections.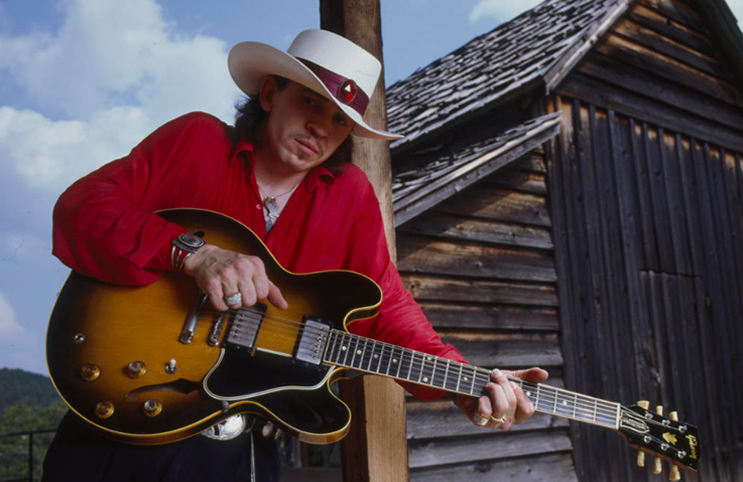 The best track of the latter part of the album is "Wall of Denial", built on rotating riffs for an upbeat effect to an otherwise moderately paced song. The great rhythmic accents by Layton and the array of differing guitar tones employed by Vaughn along with a cool, ascending effect all work to make this an overall great tune. "Scratch-N-Sniff" delves into old time rock n' roll, piano and rhythm driven with Vaugn's vocals falling somewhere between Chuck Berry and Adam Ant, while "Love Me Darlin'" is a perfect rendition of Muddy Waters classic. The album concludes with the deliberative and jazzy instrumental "Riviera Paradise", which persists for nearly nine minutes but remains interesting due to various lead sections and subtle mood changes.
In Step was Vaughan's most commercially successful album, spending nearly a year on the charts and being certified gold. Tragically, this would be his final with Double Trouble as Stevie Ray Vaughn was killed in a helicopter crash in August 1990.
~

Part of Classic Rock Review's celebration of 1989 albums.