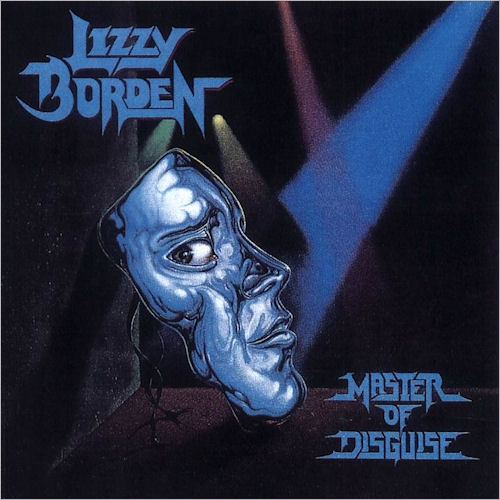 Had Master of Disguise been released five to ten years earlier, it would have a huge commercial success and probably considered a rock classic. But as the climate changed in 1989, Lizzy Borden's strongest and most artistic output was largely overlooked. It may be easy to caricature eighties hair metal, but it is albums like this that show that genre's potential for quality music, which is very diverse, with light and heavy selections dispersed evenly throughout the album. Also adding to the overall theatrical vibe of the album is the fact that Borden employs two distinct voices throughout, often harmonizing to fuse a calm yet desperate effect.
Ironically, the band was around earlier in the decade, making their splash in Southern California during the glam metal days of 1983. Like Alice Cooper, the band and lead singer shared the same female name and Lizzy Borden found minor success due to their image and straight-forward gimmickry. Between 1984 and 1987, the group released a prolific six albums, with the latest of these, Visual Lies, finding their greatest mainstream audience. With their inclusion in the 1988 documentary The Decline of Western Civilization, Part II, Borden was primed to make a big splash with his next record and decided to try something ambitious and controversial.
Most of the original band was replaced, save for Borden himself and his brother, drummer Joey Scott Harges. Producer Elliot Soloman was brought in to play a major role in forging this cohesive and entertaining output, complete with well placed theatrical interludes and sound effects. Every track on the album is distinct and memorable with well-honed riffs, catchy hooks, and tasteful keyboards by Soloman. While Borden's lyrics do touch on some dark subjects, the album never goes too far either way on the mood spectrum, making the sound constantly fresh and interesting.

Master of Disguise

by

Lizzy Borden
Released: July 14, 1989 (Metal Blade)
Produced by: Elliot Soloman
Recorded: Springtime Studios, January-May 1989
Track Listing
Primary Musicians
Master of Disguise
One False Move
Love Is a Crime
Sins of the Flesh
Phantoms
Never Too Young
Be One of Us
Psychodrama
Waiting in the Wings
Roll Over and Play Dead
Under the Rose
We Got the Power
Lizzy Borden – Lead Vocals
Ronnie Jude – Guitars
David Michael Phillips – Guitars
Mike Davis – Bass
Elliot Soloman – Keyboards
Joey Scott Harges – Drums, Piano, Vocals


The orchestral tune up and intro section gives way to driving guitar riffs and drum beats of "Master of Disguise". The fine chorus slows it down to a melodic and methodical showstopper and a great Ritchie Blackmore-like guitar lead blazes through before the song starts all over with riffs and orchestration returning during the masterful outro, which really sells the theatrical element of this piece. The mood comes down a bit with the solemn "One False Move". A doomy bass riff by Mike Davis introduces the song along with strings and a marching drum beat, many of the same elements you'd expect from Pink Floyd's The Wall. The layered vocals deliver the dark vocals very effectively in this short but effective piece that segues into the intro of "Love Is a Crime". Starting with about a minute of television and telephone sound effects before a gently picked acoustic intro section that is disrupted by an upbeat rock arrangement during the song proper, which also uses a funky horn arrangement.
Rollicking drums introduce the upbeat "Sins of the Flesh", a rocker which is entertaining enough but does get a little redundant as it goes along. Howling dogs and tolling bells then introduce "Phantoms" is put together like a stage overture and starts with sullen vocals and choppy piano before an ethereal synth part breaks things up until the song enters into its inevitable hard rock riff-driven body – However, this song does have a definite compositional edge not usually found in much "hair metal material". "Never Too Young" is a ballad, delivered with melodic rock vocals, perhaps the closest thing to a true power ballad on the album, although the subject matter is far from love song material. Salomon's piano is potent throughout, especially during the dramatic bridge before the guitar lead – Borden's vocal harmonies are richer here than on any other track
While the second half of the album is not as potent the first, there are some highlights. "Be One of Us" actually begins with "Phantom of the Opera" intro on pipe organ before the heavy rock body of the song kicks in with a good eighties chorus hook and harmonized guitar lead by the twin newcomers of Ronnie Jude and David Michael Phillips. "Psychodrama" contains intense and haunting orchestration, which eventually builds to a massive crescendo. "Under the Rose" is a melancholy song with deeply picked acoustic notes, harmonized vocals, and deep and dark lyrics
"Standing in the shadows behind the scenes, understudy zero, you'll never know it's me…"
The rest of the album is basic eighties hard rock pomp and pump. The best of these is "Waiting in the Wings", but the most popular was "We Got the Power", complete with MTV video, but an unfortunate closer for this otherwise brilliant album.
Master of Disguise turned out to be the last best effort by Lizzy Borden, as the next decade brought rapid change to the musical climate. By the early '90s, Lizzy Borden disbanded before later reforming to tour on the oldies circuit.
~

Part of Classic Rock Review's celebration of 1989 albums.