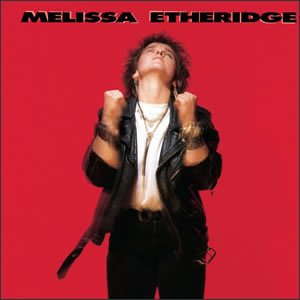 In 1988, Melissa Etheridge released a strong and passionate debut album which was built during several years of grinding out recognition, one small venue at a time. With this well earned pedigree behind her and a drive and determination for success ahead, Etheridge found a rather unique niche and filled a rather huge void in the popular music scene of the late 1980s. Her raw-throated vocals, confessional compositions, and simple yet effective acoustic-built music totally contrasted the flash and fluff which saturated the conventional airwaves and this stunning debut helped clear the path for the seismic shift in the music scene which would occur a few years later.
A native of Leavenworth, Kansas,  Etheridge began performing at age eight and was involved in many stage productions through high school. She later moved to Boston to attend Berklee College of Music, but dropped out to pursue a musical career in California. There, she played countless acoustic gigs, slowly building a following and muddling through several rejections until finally receiving a publishing deal to write songs for movies starting with the 1987 movie Weeds starring Nick Nolte. Shortly after, Etheridge got a full record deal with Island Records.
The album was produced by Etheridge and Niko Bolas along with a couple members of the backing band. The songs were built in the light of Bob Dylan and Bruce Springsteen, along with a sensitive female bravado and passionate delivery which is captured well in the production. While there is little thematical variation on Melissa Etheridge, it is a very even album which delivers potent tracks throughout.

Melissa Etheridge

by

Melissa Etheridge
Released: May 2, 1988 (Island)
Produced by: Melissa Etheridge, Niko Bolas, Craig Krampf, & Kevin McCormick
Recorded: October 19–25, 1987
Side One
Side Two
Similar Features
Chrome Plated Heart
Like the Way I Do
Precious Pain
Don't You Need
The Late September Dogs
Occasionally
Watching You
Bring Me Some Water
I Want You
Primary Musicians
Melissa Etheridge – Lead Vocals, Guitars
Johnny Lee Schell – Guitars
Kevin McCormick – Bass
Wally Badarou – Keyboards
Craig Krampf – Drums, Percussion
The album begins with the fine "Similar Features" which kicks off with measured bass notes before moving into a moderate arrangement led by Etheridge's acoustic and the subtle electric guitar phrases by Johnny Lee Schell. "Chrome Plated Heart" arrives with a boogie-blues rhythm held together by the kick drum of Craig Krampf along with a slight riff by Schell. Here Etheridge really shines through vocally with biting lyrics;
"I got a two dollar stare, Midas in my touch and Delilah in my hair
I got bad intentions on the soles of my shoes with this red hot fever and these chromium blues…"
A production masterpiece, "Like the Way I Do" has a consistently strummed acoustic accented by a sharp, double-beat rhythm by bassist Kevin McCormick during the verse. The song uses an ingenious, minimalist approach, which pretty much went against the grain of every production technique of the late eighties and is a good example of the of Etheridge's early material with dramatic vocals telling a story of heartbreak and longing bordering on obsession. As the singer once explained, her songs are not so much about sadness and anger then they are written about "internal conflicts".
The middle part of the album contains some uniquely arranged songs. "Precious Pain" is a softer, folksy acoustic tune musically (albeit the lyrics are just as sharp as anywhere else). The first three songs of the second side – "The Late September Dogs", "Occasionally", and "Watching You" – all use minimalist arrangements, with "Occasionally" taking this to the extreme with Etheridge's vocals accompanied only by a slight percussive thumping of the acoustic guitar body.
The song which captures the overall angst of the album is "Bring Me Some Water", a tune as dramatic as can be pulled off while staying within the realm of good taste. Nominated for a Grammy, the tune captures the main theme of hunger for affection and pain of unrequited love. Melissa's obsession with romantic break-ups and recriminations may narrow the range of the album, but make this work sound relevant and viable a quarter century later. The thumping rhythm and bit of funky bass drives the closer "I Want You", a fine tune of unbridled desire to complete the album.
The Melissa Etheridge album peaked at #22 on the Billboard charts and initiated her steady rise to the top of the pop world in the early 1990s, when Etheridge started to abandon her musical pursuits for celebrity causes. Never quite recreated in intensity or quality, this first album was a career highlight for the singer/songwriter.
~

Part of Classic Rock Review's celebration of 1988 albums.